2016 Ford Focus RS Unveiled: Ford's Hot Hatch Set To Compete With Subaru And Volkswagen [SLIDESHOW]
Ford's 2016 Focus RS has garnered quite a bit of attention since it was first rumored mid-2014, most notably as the company's first foray into all-wheel-drive performance hatchbacks since the early 1990s Escort RS Cosworth. Ford attaches its "RS" moniker only to its fastest and most extreme street cars, typically developed in Europe.
Now that Ford has officially announced the car's existence, including a U.S. release date, we're finally getting a closer look at the vehicle in the metal. Ford invited International Business Times to see the car in person ahead of the 2015 New York International Auto Show.
Many questions still loom over the Focus RS, but at least we now know when it will be available for purchase: Ford dealers will start selling the car in the spring of 2016. Still secret is just how many RS models Ford will build and export to the U.S. All new Focus RS models will be built in Ford's Saarlouis, Germany, plant and exported around the world as part of the company's globalization program.
There are rumors, of course: Some Focus enthusiasts suggest that 7,100 RSes would come to America. But Stephen Odell, Ford's executive vice president of global marketing, dismissed that as speculation, adding only that the car will be a limited-production run "as previous RS models have always been."
However, if the new Focus RS follows history, Ford may produce more in this generation than it has in the previous two. The first-generation Focus RS, built in 2002 and 2003, was a run of 4,500 cars for the European market, with roughly half of them sold in Britain. The second generation saw roughly 11,500 examples built and sold globally (excluding the United States and Canada, where the second-generation car was never sold), including a special, even more powerful edition: the RS 500.
So it stands to reason that, by finally bringing the model to the United States, Ford will gain a large, new customer base. Odell, however, reiterated that the RS is meant to be made in small numbers, pointing to the widely popular Focus ST as the volume seller for Ford's performance Focuses.
Still, to compete against anyone in the U.S., the Focus RS has to have a competitive price. Ford and Odell both remained tight-lipped on exact pricing, but did say that the RS is aimed at the same space as the Subaru WRX STi and Volkswagen Golf R -- though they also said it will rival the pricier Audi S3. This selection of competitors has a wide price range ($35K starting for the Subaru to $50K and higher for highly optioned Audi).
But that doesn't necessarily mean the Focus RS will have a long and expensive options list. The manual transmission-only Focus RS is more kindred in spirit to the Subaru WRX STi and soon-to-be buried Mitsubishi Lancer Evolution, so it's hard to imagine a top-end price much higher than $40,000.
The RS on display was the same one we'll see next week at the auto show, where Ford will officially unveil the car in North America.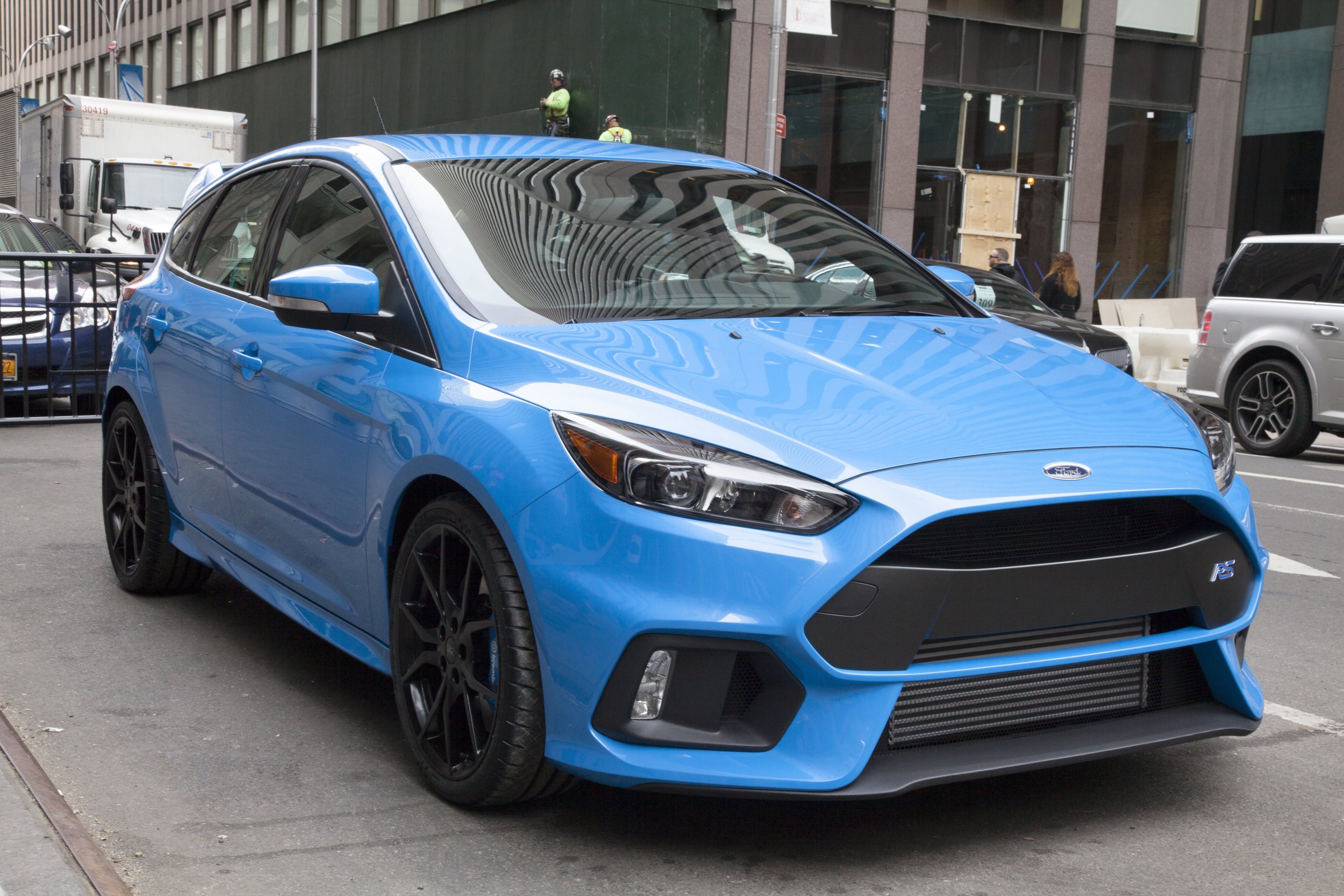 © Copyright IBTimes 2023. All rights reserved.