22 Best Waterproof Winter Boots For Women Under $75
Stay warm and stylish with these winter boots.
This article uses affiliate links, which means if you purchase products through these links, we may earn a commission. Click here to see our
T&C
. For licensing please click
here
.
The winter season is here, and that means finally taking those fur jackets and waistcoats out of the wardrobe as you strut around flaunting your best look while you make your holiday shopping.
Unfortunately, those normal, everyday shoes just won't cut it in this weather, and when you step outside and feel the freezing cold, you'll wish you put something a bit warmer on your feet. So in order to help you out, we've listed down 22 of the best waterproof winter boots you can get from Amazon today, all of which fall under the $75 and below category, because looking good and staying warm doesn't have to break the bank.
Here are our top picks:
1. FANTURE Women's Waterproof Winter Snow Boots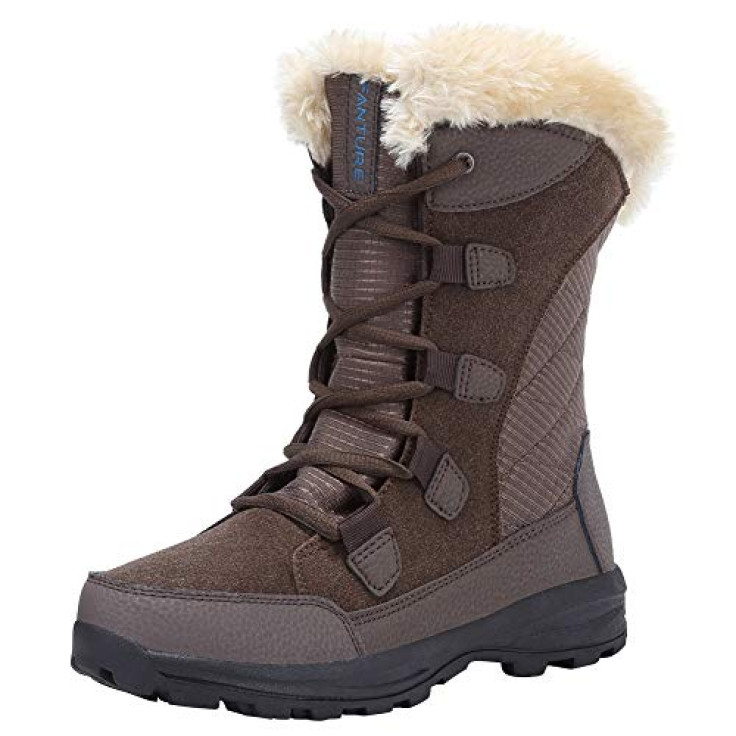 (photo from amazon.com)
First on the list is this stylish winter boot from FANTURE. Versatile and stylish, this boot features a lightweight midsole for better comfort, as well as Omni-Grip advanced traction rubber sole for slip-free movement, ensuring you're safe even while walking on slippery surfaces. That's a guarantee from us and from them.
2. DREAM PAIRS Women's Mid Calf Winter Snow Boots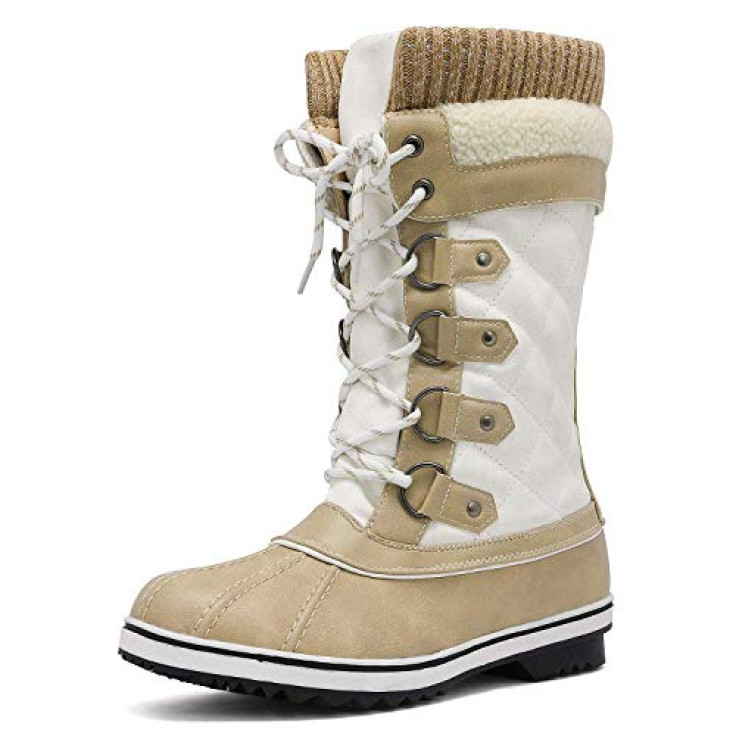 (photo from amazon.com)
For those that prefer something lighter both in weight and in color, this synthetic sole winter boot features a cushioned footbed, wind resistance, and even thermolite insulation to make sure your feet are warm all day, even when walking errands with the best of them.
3. Womens Winter Snow Boots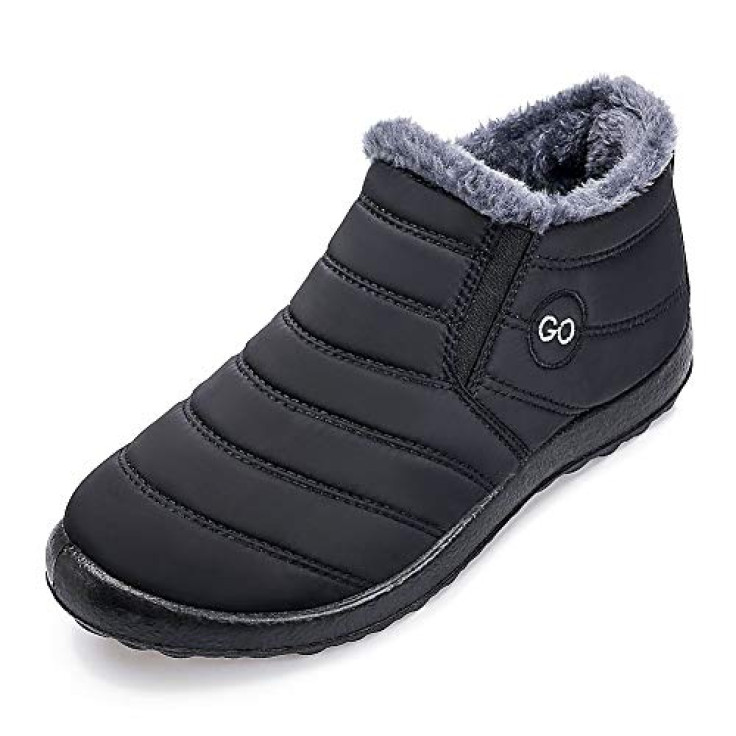 (photo from amazon.com)
These fur-lined ankle boots from Harence features an anti-skid soft sole, breathable warm lining, a waterproof vamp, and a high-quality elastic band to make it easier to take on and off. It's also quite stylish for its price, despite the more reserved design and look.
4. BEARPAW Women's Emma Short Boots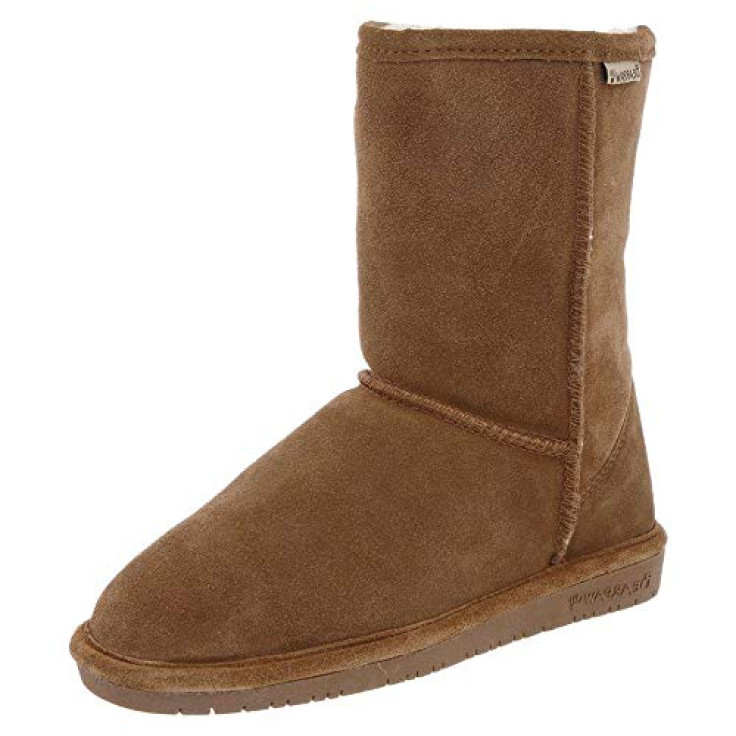 (photo from amazon.com)
Originally at $79, this now discounted traditional-looking winter boot features a 100% suede make and a rubber sole because sometimes, that's all it takes. And when you're out there running from store to store to catch up on your holiday shopping, you'll know the difference.
5. UBFEN Men's And Women's Winter Warm Slippers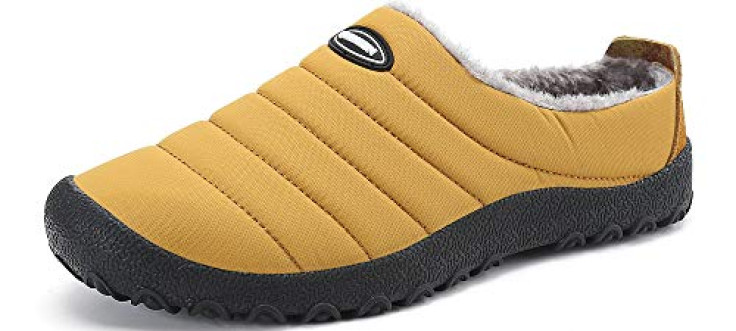 (photo from amazon.com)
Prefer winter slippers instead? Then slip on to these UBFEN men's and women's warm winter slip-ons featuring an anti-slip rubber sole, high-quality oxford cloth, and a stylish and striped design. Use it around the house, or throw it on with a simple outfit when you're out taking the dog for a walk.
6. gracosy Warm Snow Boots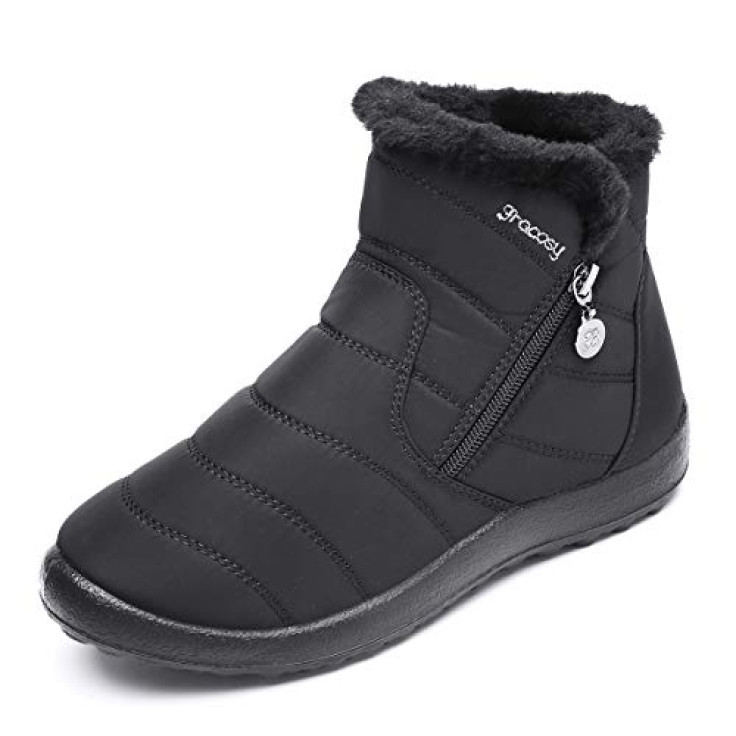 (photo from amazon.com)
Made from waterproof material, this fashionable winter boot is suitable for all-day walking, numerous occasions, and makes for a great holiday gift. It's also quite affordable for its quality, and surely wouldn't put a dent on your Christmas budget.
7. DREAM PAIRS Women's Mid Calf Winter Boots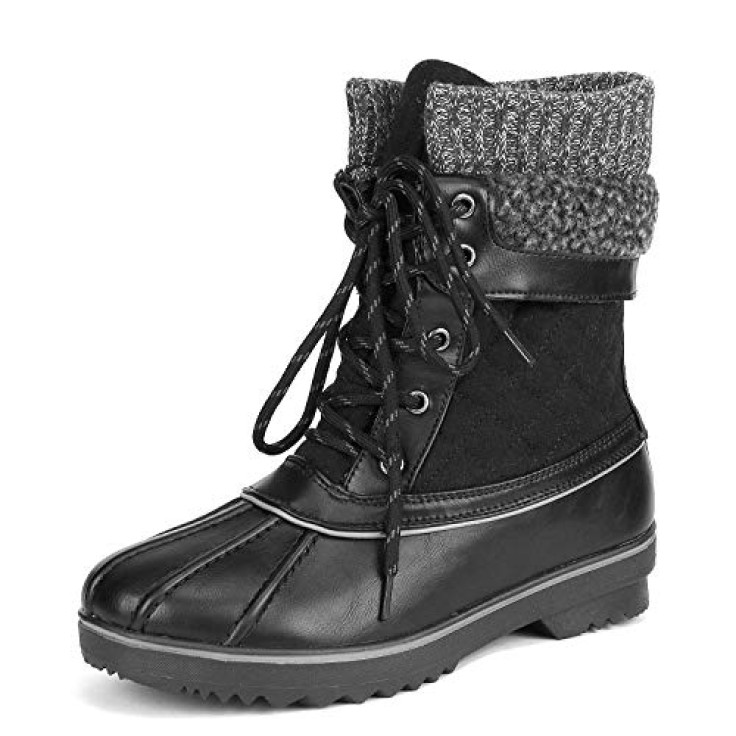 (photo from amazon.com)
These DREAM PAIRS mid-calf winter boots for women feature a rubber sole, ultra-soft faux fur lining for extra comfort, and even dual adjustable buckle straps for that classic boot-look. Oh, and did we mention it's also very affordable? Who wouldn't want that?
8. BomKinta Women's Snow Boots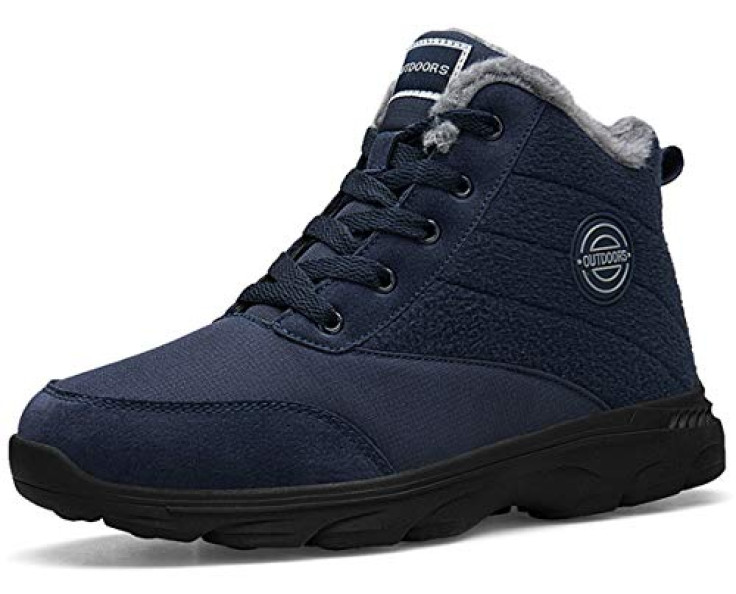 (photo from amazon.com)
For those that want something heavy-duty, these snow boots feature a wear-resistant polyurethane sole, quick-dry upper vamp, quality oxford cloth, and fine artificial short plush to completely wrap around your feet while wearing. This makes it perfect for using everywhere, even when hiking!
9. ALEADER Winter Boots for Women
(photo from amazon.com)
Stay stylish this winter with these waterproof winter boots featuring rubber soles, durable leather with synthetic overlays, lightweight midsole, and adjustable lace closures for that classic look. Wear it around town and watch them turn their gaze towards you.
10. DREAM PAIRS Women's Shorty Snow Boots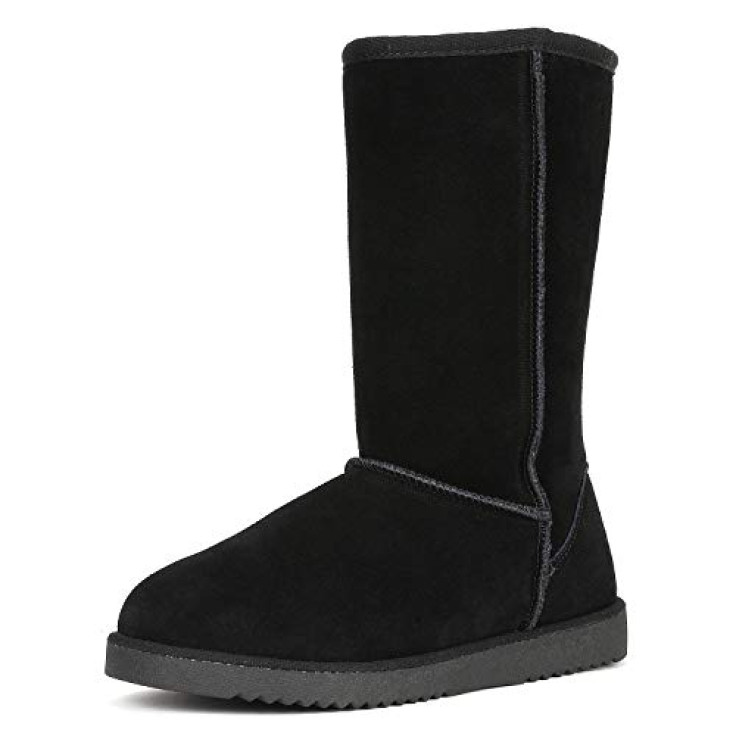 (photo from amazon.com)
Prefer something more low-key? These mid-calf winter snow boots from DREAM PAIRS should do the trick just fine with its suede leather build, cushioned sheepskin footbed, and ultra-soft sheepskin fur lining. That means you're comfy, stylish, and dry. That's a killer combination in our book.
11. ALEADER Waterproof Snow Boots for Women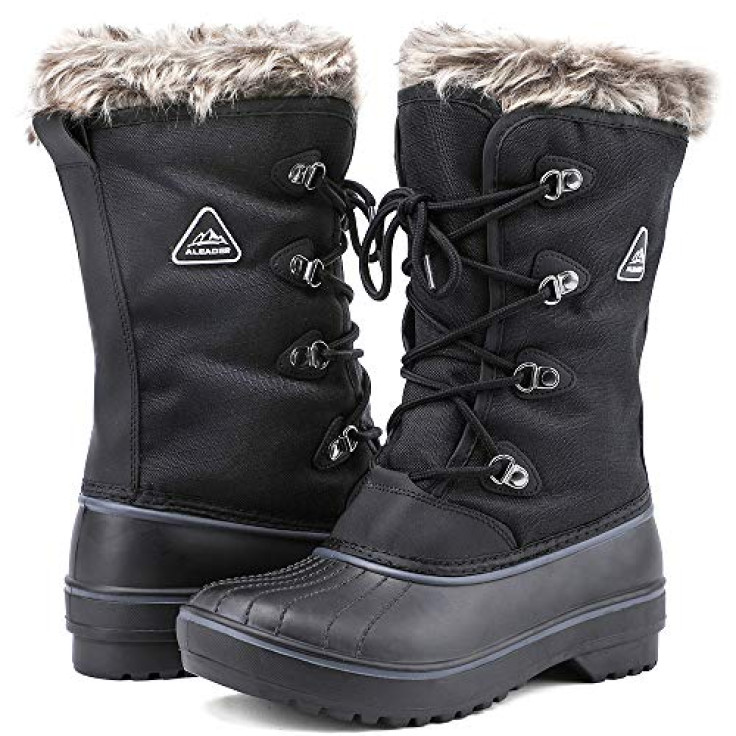 (photo from amazon.com)
Imported with rubber soles, these winter boots are made with seam-sealed waterproof construction and thermolite insulation to help carry you both day in and day out. This makes it perfect for all-day and everyday use, just make you're up for it yourself!
12. STQ Women's Military Combat Boots
(photo from amazon.com)
For the fashion-minded, these women's combat boots should deliver in droves. Each boot features a rubber sole, eco-friendly lining, padded collars, zip-up closure, and a wear-resistant bottom. And you have to admit, these boots are some of the slickest you've ever seen, right? We think so too. Cop a pair now.
13. STQ Womens Insulated Winter Snow Boots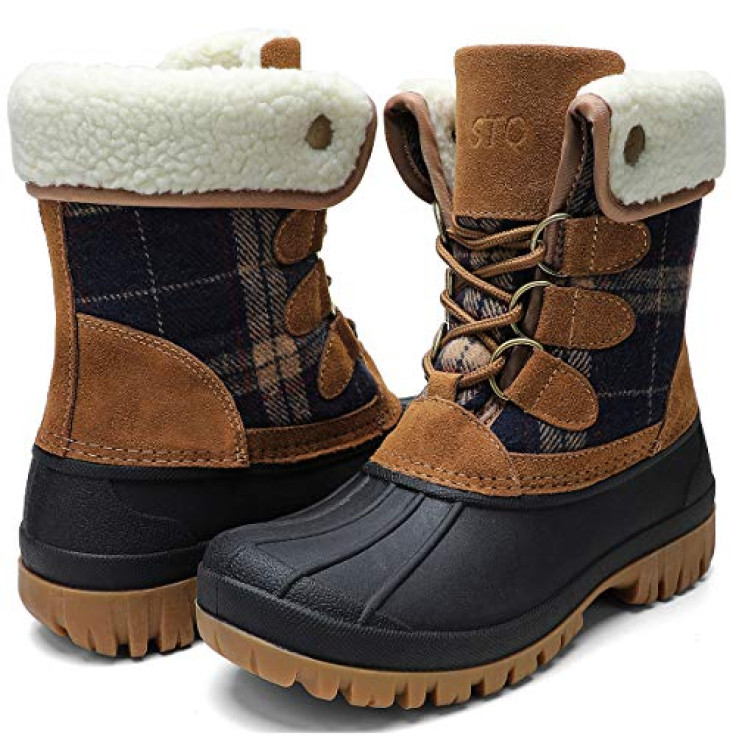 (photo from amazon.com)
Made by STQ, these heavy-duty and stylish boots are made for all occasions, thanks to its thermolite insulation technology, adjustable lace-up closures, and a waterproof rubber shell that will carry you through dirt, rain, and everything in between. Now that's a good boot if we do say so ourselves.
14. ArcticShield Women's Warm Waterproof Snow Boots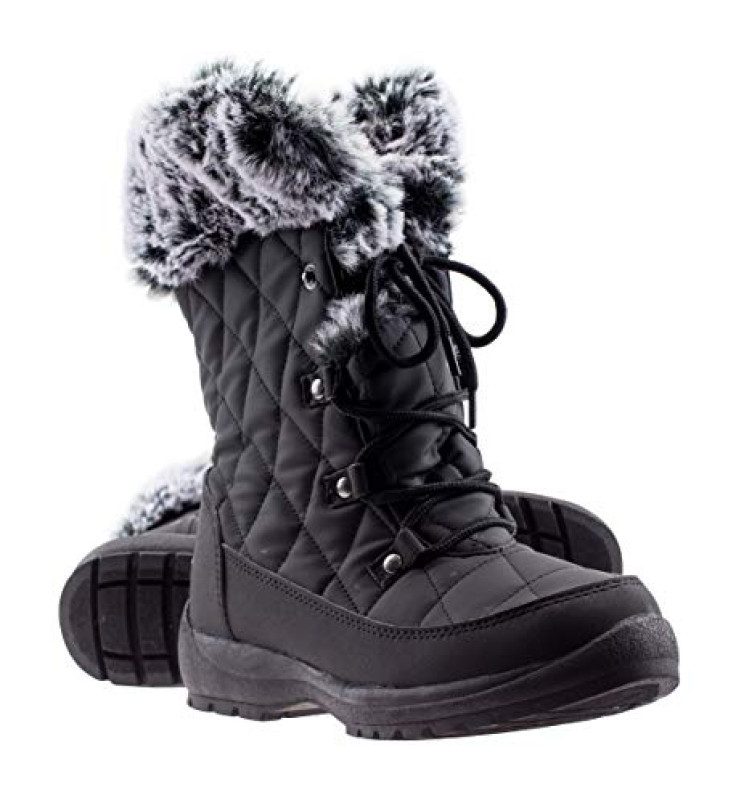 (photo from amazon.com)
Walk on snow as if it's a runway with these ArcticShield Winter Snow Boots. Featuring insulation, a fold-over fur collar, memory foam insoles, and all-terrain outsoles, these boots are as stylish as they are heavy-duty. Grab yourself a pair, and look your best today.
15. GLOBALWIN Women's 1910 Camel/DK.Grey Winter Boots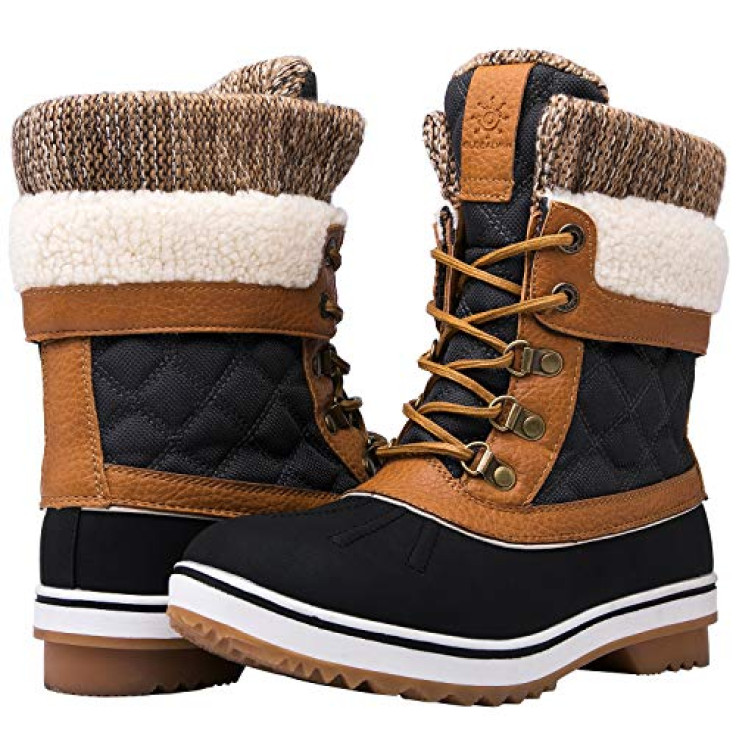 (photo from amazon.com)
Featuring a 3-color pattern, these heavy-duty winter boots feature premium synthetic leather build to help ensure your feet are as warm as they look good while you're out there. Easily one of the most stylish budget boots we've ever seen.
16. Mishansha Women's Winter Snow Boots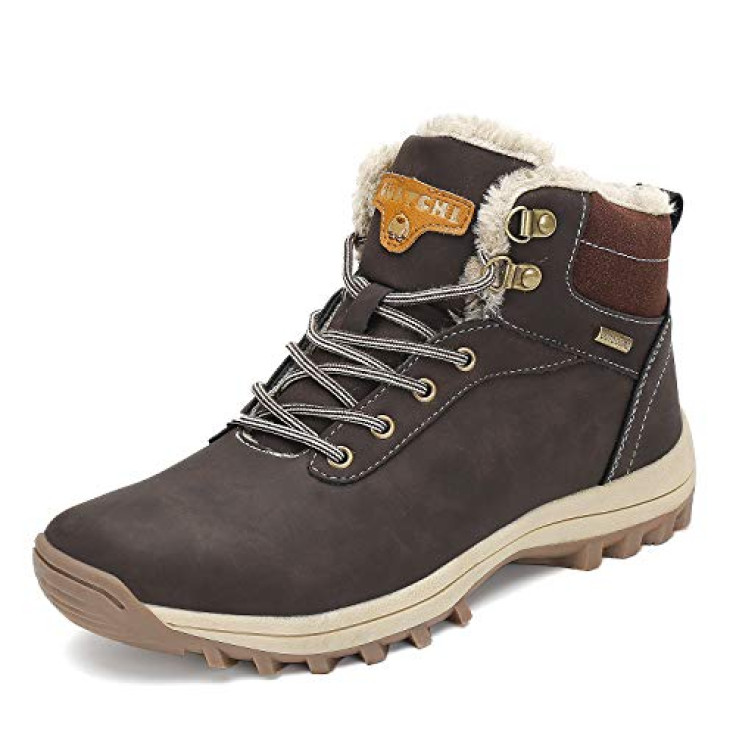 (photo from amazon.com)
If you're planning to spend a lot of time walking outside in the snow, then these ankle boots are perfect for you. Heavy-duty and durable, these waterproof boots are fur-lined and non-slip to make sure you're both safe and stylish. It's also durable enough for hiking, as well as walking on offroad places.
17. POLAR Womens Faux Fur Calf Boots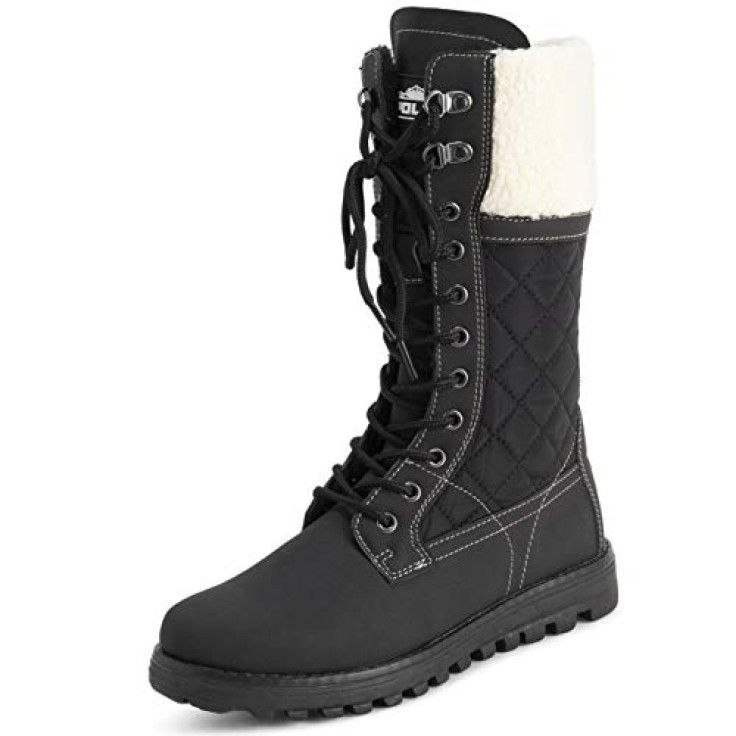 (photo from amazon.com)
Made to be durable and functional, these calf boots by Polar are quite the looker and packs rubber soles, a fur-lined build, and a side zipper to minimize the time you need to put them on and take them off. The black-trimmed design is also quite dazzling, and is the perfect way to make a statement without being too loud.
18. CIOR Women's Snow Boots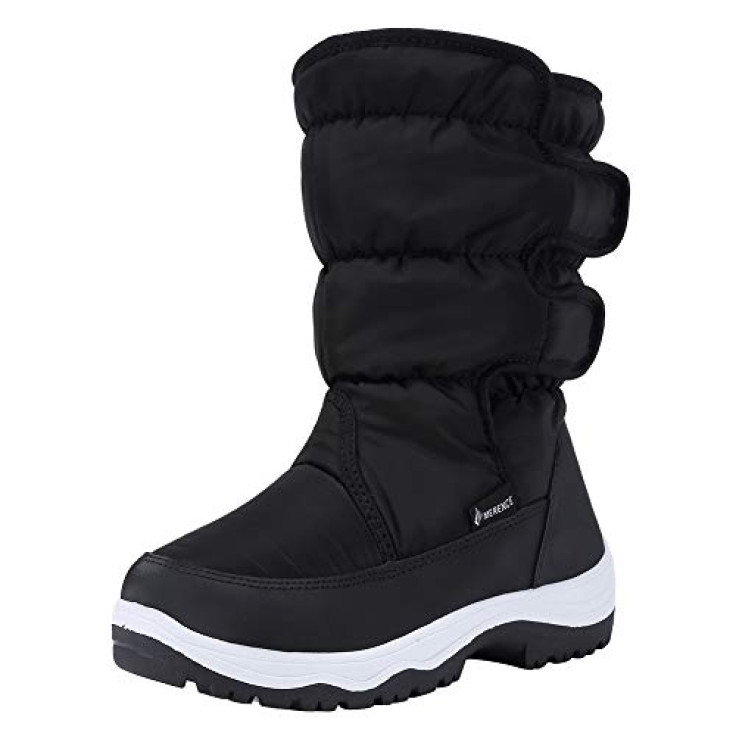 (photo from amazon.com)
Looking for winter boots that you can use casually? If so, then cop this pair of boots made by CIOR, which is made from cotton, features an anti-ski rubber sole, a fur-lined innersole, and a secure closure, all while still being stylish enough for streetwear. Definitely one of the most uniquely-styled boots in this collection.
19. Columbia Women's Ice Maiden Ii Snow Boot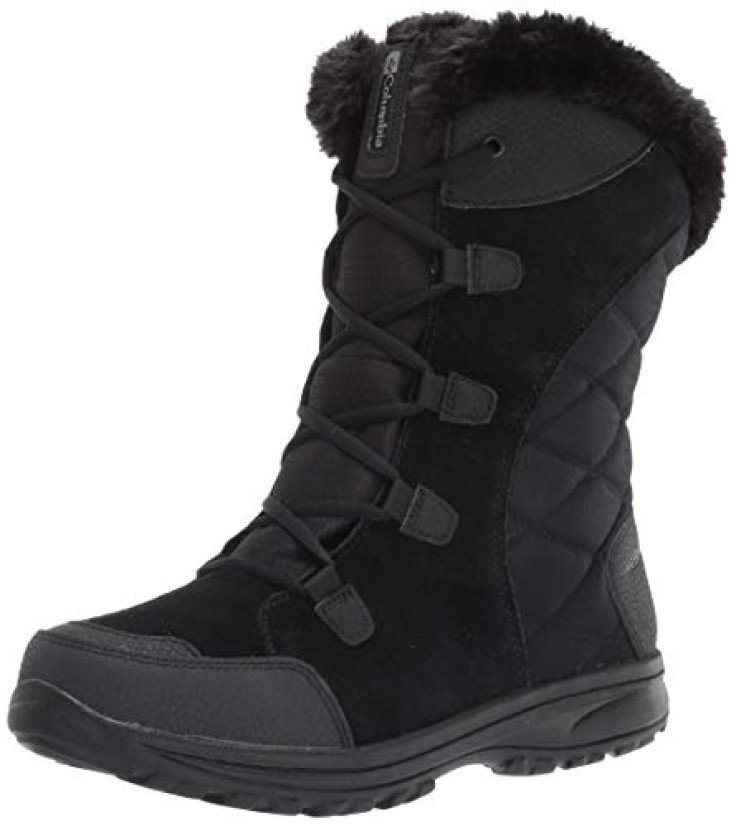 (photo from amazon.com)
Although it's a bit above the $75 mark, we still have to include these boots, as they're incredibly high quality. Made by the well-known brand Columbia, these winter boots feature a lightweight midsole, made from waterproof leather, and 200g insulation to keep you both warm and dry. They're definitely made to last.
20. Skechers Women's Synergy-Real Estate Snow Boot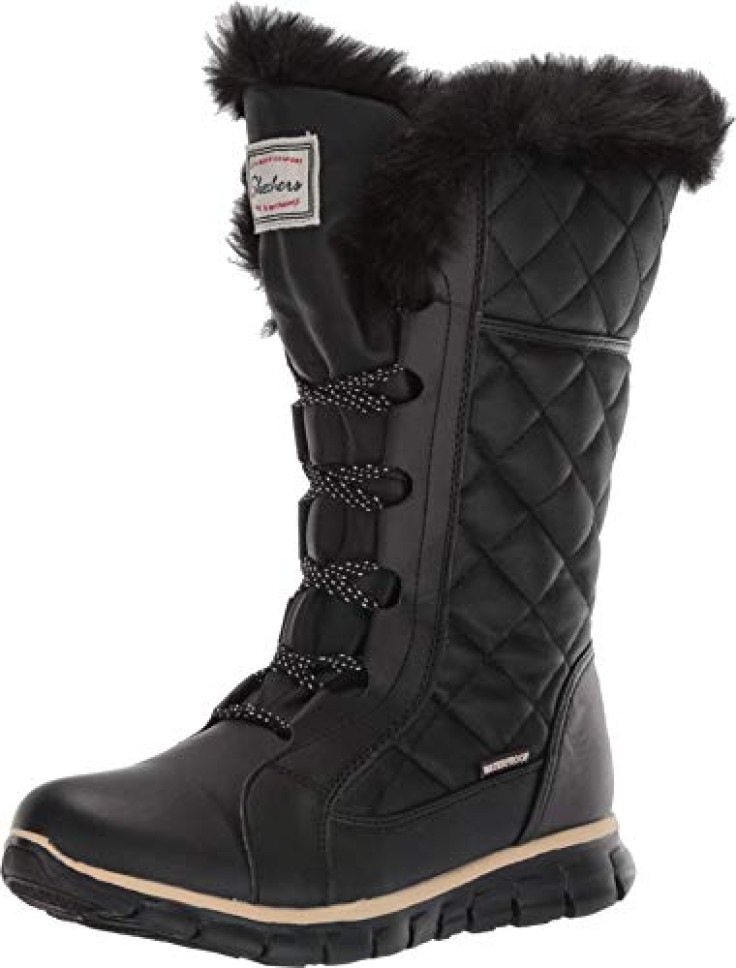 (photo from amazon.com)
Made by famous shoe company Skechers, these waterproof winter boots are both durable and functional, and features a memory foam footbed for extra comfort. And because they're made by Skechers, you can bet that they'll last you several winters.
21. Columbia Women's ICE Maiden II Slip Snow Boot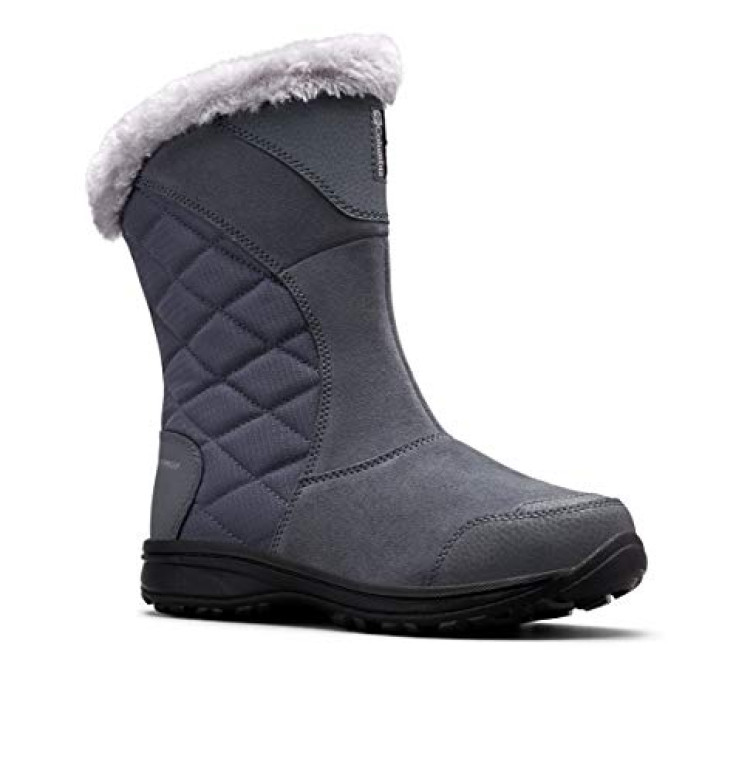 (photo from amazon.com)
Simple but still stylish, these snow-ready winter boots by Columbia features a rubber sole, a 100% leather make, quilted ankle support, and Columbia's signature omni-grip traction. This ensures safety in slippery places, and warmth even while walking in heavy snow. Definitely a must-buy.
22. EQUICK Women's Waterproof Winter Snow Boots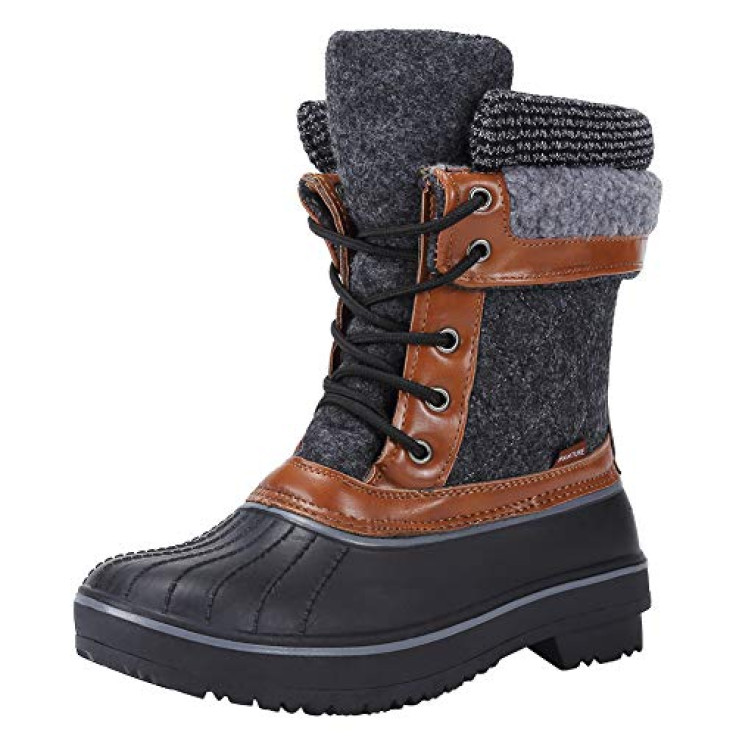 (photo from amazon.com)
Built from man-made material, these snow-ready winter boots by EQUICK are affordable, stylish, and durable enough to be used on a daily. Pair it with simple pants, a cute shirt, a classic waistcoat, and you're basically ready to go out and "slay," as the kids say. Add it to your list right now, and make sure you don't miss this incredible deal.
FOLLOW MORE IBT NEWS ON THE BELOW CHANNELS