The 5 Creepiest Rand Paul Filibuster Moments: Taking 'Stand With Rand' Too Far [VIDEOS]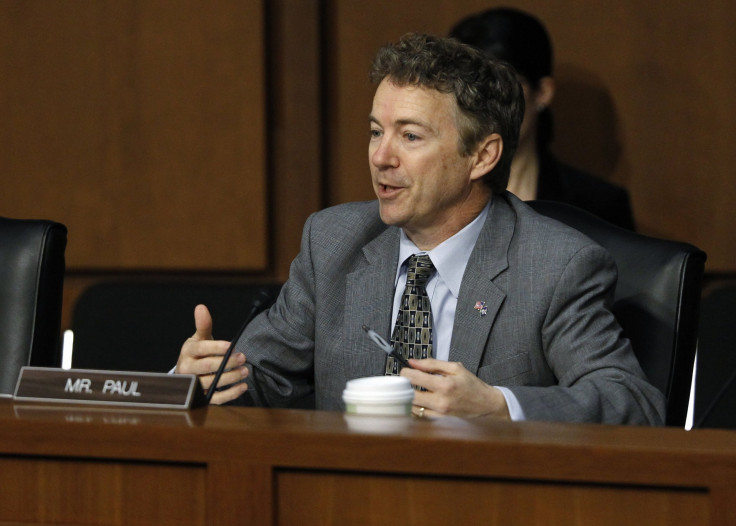 You'll never un-see these creepy and gross Rand Paul filibuster moments, comments and factoids, which range from discussion of Paul's urinary system to a Hitler reference, and a certain Florida senator's attempt to keep it real.
The junior Republican senator from Kentucky followed in the footsteps of his ubiquitous father Ron Paul on Wednesday, when he presided over what The New York Times has deemed to be only the second filibuster to continue for more than five hours since 1992.
The filibuster was aimed at delaying a hearing over John O. Brennan's nomination to be director of the CIA in order to discuss his concerns about President Barack Obama's unmanned drone program.
And the extremely rare delaying tactic -- as opposed to the now-constant mere threat of a filibuster, which has made 60 votes "required" to pass anything -- which captivated and enraptured Washington wonks and casual political observers alike, was nothing if not odd, as it generated some downright creepy moments and comments, both as it was happening and then in its wake.
Here's a breakdown of the five creepiest things to arise out of the Randibuster, Filiblizzard, Stand With Rand, or whatever else you call it:
1.) The "filibladder": People don't want to know how the sausage gets made, goes the old Washington line. But on Wednesday we found out more physical details than we wanted to know about the people who govern us. This was made clear in an odd comment by Senate Majority Leader Harry Reid, D-Nev., who, like a disturbing number of other observers, felt the need to express his awe over Rand Paul's ability to "hold it in" over the course of 12 hours and 52 minutes (that length clocks it in as the ninth-longest speech in the history of the Senate, the Senate historian's office told USA Today).
Reid unnecessarily said Thursday morning that "I've been involved in a few filibusters, as Rand Paul has -- as Rand Paul did yesterday. And what I've learned from my experiences with talking filibusters is this: To succeed you need strong convictions, but also a strong bladder. It's obvious -- Sen. Paul has both." If you have the intestinal fortitude, feel free to check out the video by clicking play below:
2.) Cathetergate: Continuing the TMI discussion, the American public was treated to a extraneous tidbit about the vagaries of Rand Paul's private life as a medical doctor, which apparently has led him to some pretty low places. Glenn Beck, always one to ask the important questions, inquired Thursday about whether Paul had considered using a catheter in the interest of buying as much speaking time as possible before having to take a trip to the bathroom.
"I did think about it," Paul told Beck. "I've put them in before, but I really decided against it." Good to know you considered all the options, Senator. Perhaps you could have invested in a pair of Depends or an empty jug of Gatorade? Click play below to check out the odd exchange, which begins at about the 1:25 mark:
First he big-upped recent hip-hop favorite Wiz Khalifa, quoting his song "Work Hard Play Hard," stating: "You look at the time, I think it's a time when many of our colleagues expected to be home, back in the home state playing hard, but I'm happy we're here still working hard on this issue." We're willing to bet Khalifa isn't in frequent rotation on most senators' iPods, but Rubio apparently gets down.
Then Rubio went on to mention Jay-Z, a moniker that we would hope most people in the chamber at least recognized. Hey, even Obama works out to his tunes. He chose a throwback Sean Carter track in this gem of a floor speech moment, quoting the 1998 classic "A Week Ago":
"That takes me back to another modern-day poet by the name of Jay-Z and one of the songs he wrote: 'It's funny what seven days can change, it was all good just a week ago,'" Rubio said. "Well I don't know if it was all good a week ago, but I can tell you that things have really changed, because if the president was George W. Bush and this was a question being asked of him and his response was the silence we've gotten, we'd have a very different scenario here tonight."
He misquoted Jay-Z though. That's unfortunate, as the real quote actually seems to touch on an issue that was very much in discussion during the aftermath of the Randbuster: urination.
"Funny what, seven days can change. A stand up n****, now you sit down to aim," the actual lyrics read. Rubio probably felt it was better not to go there. For your viewing pleasure:
4.) Hitler name-drop: It's by no means rare at this point, but whenever a national politician invokes Adolf Hitler during highly public remarks, it's definitely still creepy no matter how often it happens. Paul made sure to let everyone know that he was not going down the well-trodden road of comparing Obama to the Führer, but the decision to mention him certainly didn't go unnoticed as media outlets around the country dedicated whole Web posts to the topic.
"It was a chaotic situation. Out of that chaos, Hitler was elected. They elected him out of this chaos," Paul said at one point in the filibuster as he embarked on a discussion of government overreach. "The point isn't that anyone in this country is Hitler. I'm not accusing anybody of being that evil. I think it's an overplayed and a misused analogy. But what I am saying is that in a democracy you could someday elect someone who is very evil. That's why we don't give the power to the government. And it's not an accusation of this president or anybody in this body. It's a point to be made historically that occasionally a democracy gets it wrong. So when a democracy gets it wrong, you want the law to be there in place. You want this rule of law."
Here's the video:
5.) Sometimes you just gotta go: If you thought we wouldn't be returning to potty talk, you were wrong. Paul just made it too easy. At the end of his epic filibuster Wednesday, the senator explained the reason why he wouldn't be able to go on any longer.
"I would go for another 12 hours to try to break Strom Thurmond's record, but I've discovered that there are some limits to filibustering and I'm going to have to go take care of one of those in a few minutes here," he said while smiling, and drawing laughter from the weary senators who remained through the end of his filibuster. "But I do appreciate the Senate's forebearance on this issue."
Here's a video of that revealing aside:
© Copyright IBTimes 2023. All rights reserved.