6,500-Employee Trip To France Just 'Business As Usual' For China's Biggest Direct-Selling Firm Tiens, Says Expert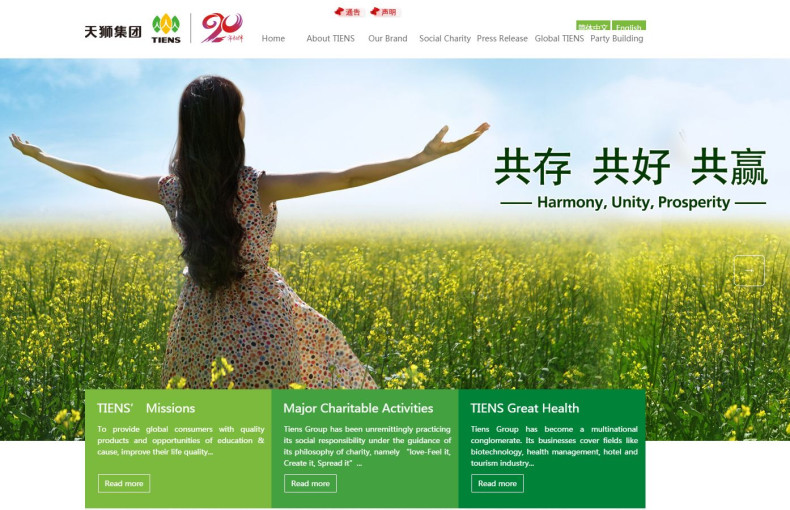 SHANGHAI -- Chinese conglomerate Tiens Group has stunned France, and much of the rest of the world, by taking 6,500 employees on an all-expenses paid luxury tour to Paris and the Cote d'Azur for its 20thanniversary -- but experts say that for China's biggest direct-selling company, it's pretty much business as usual.
"This is not a flash in the pan," said Rupert Hoogewerf, the Shanghai-based CEO of Hurun Report, which tracks China's wealthiest companies and individuals and publishes an annual China Rich List. "Tiens is the most international company on our list. Around 70 per cent of their sales are international, which is more than even [computer giant] Lenovo. And they've been holding international events for their sales staff for a decade now," he told International Business Times, "it's just that the scale and the profile has grown. Last year they invited me to a meeting in Moscow for their global sales team, which was attended by about 6,000 people."
The scale of the events is perhaps not surprising for a company which now claims some 12 million sales staff in more than 100 countries, notably in eastern Europe -- Russia is a major market -- and Latin America, as well as Indonesia. Tien's Amway-style model of manufacturing and selling health-care products, from ozone machines to shampoo and dietary supplements, brought it profits of $438 million in 2009, according to Forbes.
Some of those on the trip to France were from Russia and Kenya, local press reported, along with more than 5,000 people who flew in from China. It's hardly surprising the group attracted so much media attention, in a country keen to boost its status with Chinese tourists: the visitors were accommodated in some 80 hotels, transported in 146 coaches, and granted private visits to the Louvre Museum and to the Galeries Lafayette department store in Nice. Tiens' founder Li Jinyuan was received by French Foreign Minister Laurent Fabius, and also drove in a jeep in a parade in Nice to celebrate the anniversary of the end of World War II.
And just in case that didn't catch the world's eye, the company's 6,500 staff also positioned themselves along the Nice seafront in groups, spelling out the English words "Tiens' dream is Nice in the Cote d'Azur", which some reports said won them a place in the Guinness World Records rankings for the "longest human phrase."
The grand gestures and lavish rewards for employees typify Tiens' approach, according to Hoogewerf. "The first time Tiens came to my attention was about ten years ago, when they held a sales event for members of staff, and gave away something like fifty BMWs and five yachts to those who had sold the most," he says. "They're masters at incentivizing their staff."
Hoogewerf says Tiens' chairman Li is not as flamboyant as Jack Ma, founder of China's biggest listed company, the e-commerce giant Alibaba. However, he says the former petroleum and plastics industry worker, whose first business venture was in the biotech field, is gregarious and committed to his staff. In the firm's early days, Li once "sold his car to pay his workers", Hoogewerf notes. And like Ma, he says, he is able to inspire the devotion of those who work for him: "The first time I visited Tiens' office, I ran into a group of salespeople from Russia and Indonesia who had just finished a meeting with Li," Hoogewerf recalls. "They were mostly middle-aged women, and some men, who had been brought to China as a reward for their sales performance -- and I could see from their expressions that they were completely awestruck after meeting him." Like Jack Ma, he adds, Li is "more than just a CEO -- he's the embodiment of the company, and he's helped these people earn a lot of money."
Tiens has come in for some criticism in countries like Germany, where it has 40,000 sales staff, with some accusing it of excessive missionary zeal. But its business keeps growing, and the company insists that Li's philosophy is "based on service to society by restoring health of humanity". Li has set up a charitable foundation with a donation estimated by Forbes at around $100 million, and has funded a private university, the Tianshi College in Tianjin, which has some 3,400 students.
In June, Li and a number of China's other richest entrepreneurs are due to visit the U.K., on a trip organized by Hurun's Hoogewerf, during which they will meet with industrialists and visit the Royal Ascot horse races. They may not achieve another of their aims, meeting actor Colin Firth, whose performance in the recent British-based movie Kingsman has been widely acclaimed in China -- but Hoogewerf says the visit, like Tiens' tour of France, is a sign of how outward-looking China's biggest private entrepreneurs have now become. That attitude applies to deals, not just to outings for deserving employees.
With the recent boom on China's stock markets, which, despite the relative slowdown in China's GDP growth, has doubled the valuation of many listed companies in the past six months, it's likely that "2015 will be a very significant year for Chinese companies expanding internationally," Hoogewerf suggests. "Chinese entrepreneurs are very dynamic. Their companies have come of age, and now they're thinking big," he says. "They're ready to go overseas, which is in line with Chinese government policy. So I think we're going to see more big international acquisitions this year."
© Copyright IBTimes 2022. All rights reserved.