67-Foot Dead Pregnant Fin Whale Gives Rare Opportunity to Researchers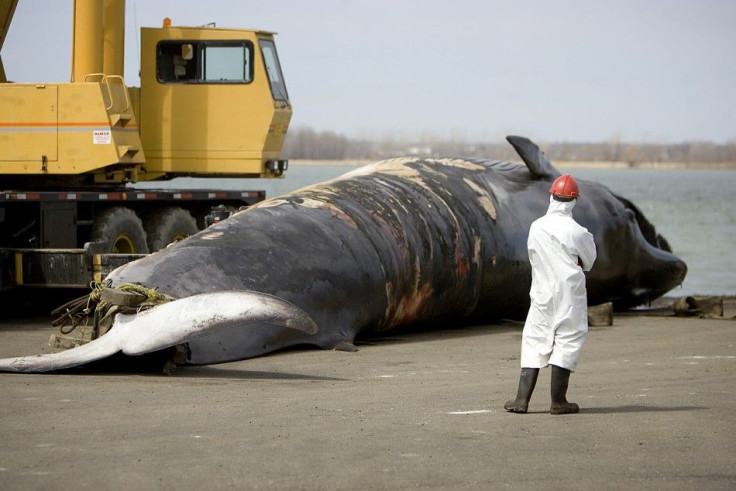 Hundreds of spectators had assembled at the Fiesta Island shoreline on Wednesday to watch the arrival of a fin whale that was killed after a collision with a ship, Saturday.
It took about six hours to tow the 67-foot bloating carcass from Point Loma, San Diego, where it was discovered Saturday, to Mission Bay, reported The San Diego Union-Tribune.
The biologists of the Southwestern Fisheries Science Center (NOAA) have completed the necropsy of the dead whale to determine the cause of death. "The cause of death was a ship strike," said a biologist at NOAA, Siri Hakala. We found evidence of fracturing of the spine."
"There was fracturing on about four meters of the whale's vertebral column," Hakala said.
Such collisions are the most common cause of whale deaths, Hakala explained. They come in close and they like to come right up next to a vessel, so therefore they are much more vulnerable to getting hit by a ship, and that is what we think may have happened to this whale."
Making the most of the situation, several researchers and biologists flocked to gather large chunks of skin, blubber and other tissue samples, which are a rare find and will help in the study of the whale DNA and other researches.
We're collecting a bunch of ancillary samples for scientists around the nation, Hakala said.
"All of those things are very interesting to science because we know very little about the deep sea," the operations manager for Virgin Oceanic in San Diego, Eddie Kisfaludy, said. "Taking advantage of an opportunistic situation is what we are doing."
Hakala told KPBS news that apparently the whale was pregnant as a five-foot-long fetus was seen expelled by the bloating whale some 48 hours after its death, and hence the study of hormone levels will give researchers a baseline for future testing of fin whales, which are now on the endangered species list.
Talking about the plans of disposing the heavy body of the pregnant whale, Kisfaludy said, "The most ecologically responsible thing we want to do is put the whale back in the ocean."
"We'll tie onto it, drag it off La Jolla — about five miles offshore — and add about four tons of steel to it that will hopefully sink it in 2,500 feet of water," The San Diego Union-Tribune quoted Kisfaludy as saying about the carcass that the city officials had earlier planned to cut up and dump in a landfill.
Popularly known as the "greyhound of the sea," fin whales are the second-largest living mammals after blue whales, can grow upto 88 feet and weigh 70 tons.
© Copyright IBTimes 2023. All rights reserved.