7 Of The Best Futuristic Unmanned Military Aircraft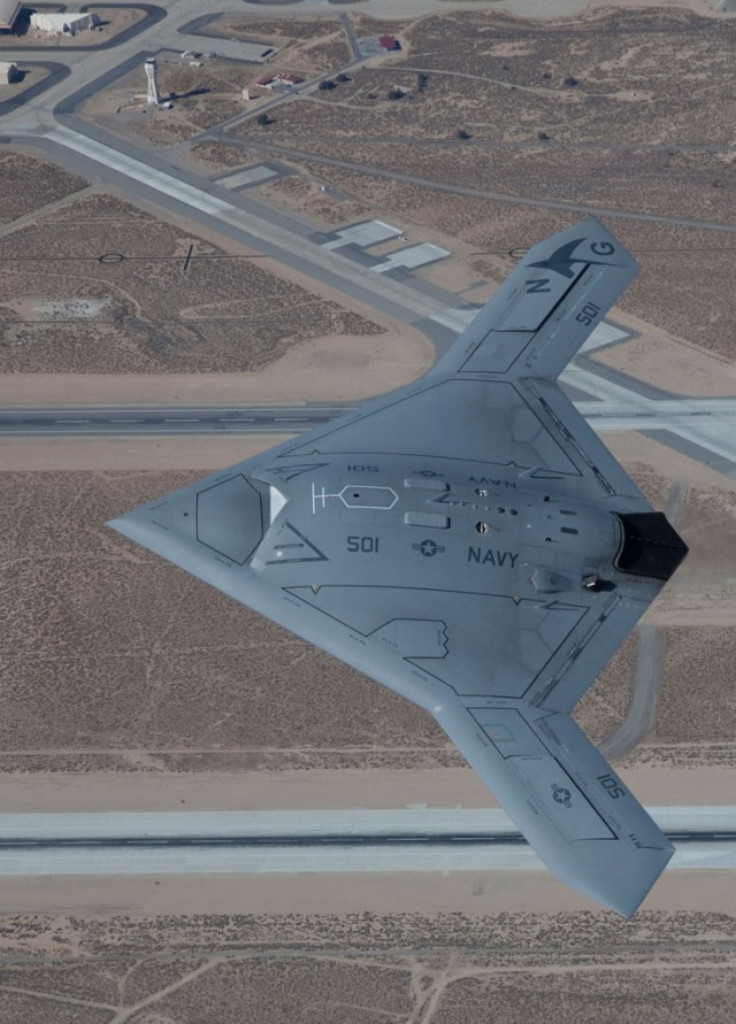 Unmanned military aircraft are hardly a new concept, with some dating back to around the First World War, but technological advances over the last 15 years have made these complex aircraft a more readily available option.
More recently, drones have been used by the U.S. military in Afghanistan, Iraq and elsewhere for surveillance, search and rescue and, more recently, to target and destroy enemy combatants. They are proving highly successful as they avert the risk of pilots being killed or captured and do not require the same extensive training for pilots or navigators. But with soaring research and development costs at a time of military cutbacks, some of the drones are likely to prove expensive luxuries that few militaries can afford.
Below is a list of unmanned aircraft that are expected to enter service within the next 10 years.

7. Northrop Grumman X-47B (Northrop Grumman Corporation (NYSE:NOC))
"This historic event challenges the paradigm of manned carrier landings that were first conducted more than 90 years ago," said Rear Adm. Matt Winter after watching the plane's first carrier launch in May. The aircraft can be remotely controlled by ground operators and has so far cost upwards of $813 million. It is also one of the four competitors for the U.S. Navy's Unmanned Carrier-Launched Surveillance and Strike System (UCLASS). The winning aircraft is due to be launched in 2019.
6. Northrop Grumman MQ-4C Triton
It looks like a beluga whale but is designed for maritime surveillance, to analyze battle damage and relay communications. It made its first test flight in May 2013 and will be able to cover huge distances because of its 28-hour flight endurance and maximum speeds of 357 mph.
5. Boeing Phantom Ray (The Boeing Company (NYSE:BA))
This aircraft was more or less a secret until May 2009, with only a handful of company executives knowing anything about it. With top speeds of mach 0.85 and a range of 1,500 miles, the aircraft is capable of suppressing air defenses, aerial refueling, surveillance and electronic attack.
4. Northrop Grumman MQ-8C Fire-X
It is hoped that this aircraft will be ready for action in 2014. It has the honor of being the first unmanned helicopter to land on a moving ship, which was traveling at 17 mph at the time. It will primarily be used for reconnaissance and support, but does come equipped with Griffin missiles, guided rockets and Hellfire missiles.
3. Lockheed Martin Sea Ghost (Lockheed Martin Corporation (NYSE:LMT))
It's a stealth bomber lookalike, but is capable of strike missions, surveillance and reconnaissance, and able to carry a 1,000-pound weapon. The highly technical aircraft, says Lockheed, can be operated by a single operator and will be able to operate in any environment. It's due for limited service in 2018.
2. Boeing Phantom Eye
Endurance is the name of the game for this odd-looking surveillance aircraft – it can spend up to four days in the air and reach altitudes of 65,000 feet, rendering it invisible to the naked eye. It's fueled only by liquid hydrogen, which also makes it a clean aircraft as its only byproduct is water. While it's billed as a surveillance aircraft, the Navy did ask Boeing to fit an unnamed payload onto the demo model.
1. Boeing Insitu RQ-21 Integrator
It looks like a model aircraft and is launched by pneumatic slingshot, which means it can be deployed without the need for runways or aircraft carriers. It will primarily be used as a scout aircraft that will be linked to other unmanned aircraft. Currently in small initial production, the aircraft is expected to move into full production shortly.
© Copyright IBTimes 2023. All rights reserved.