70,000 Refugees Flee ISIS Over Newly Opened Syria-Turkey Border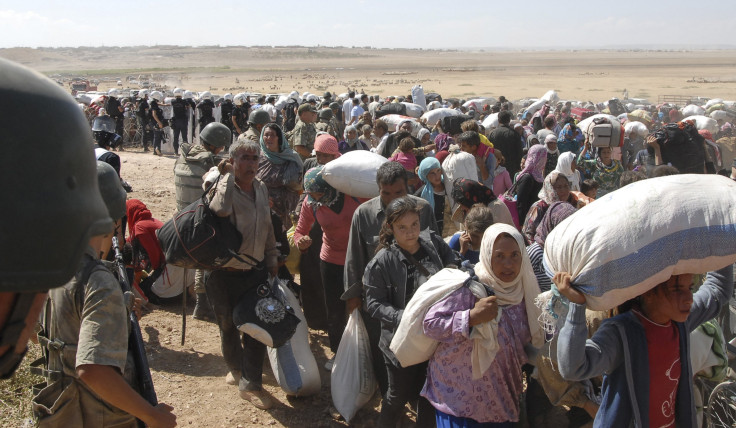 UPDATE 4 p.m.: The United Nations upped the number of refugees pouring into Turkey from Kurdish towns in Syria to 100,000 with the number expected to go even higher. Kurdish politicians in Turkey Sunday renewed calls to young people to help their Syrian kin push back Islamic rebels, Reuters reported.
Residents fleeying Ayn al-Arab, known in Kurdish as Kobani, said militants are executing people. "They cut off the heads of two people, I saw it with my own eyes," Welat Avar, a doctor, told Reuters by telephone from Kobani.
Ibrahim Binici, a deputy from Turkey's pro-Kurdish HDP party, told Reuters the Islamic State is not conducting war. "This is a genocide operation," he said.
Original post
An estimated 70,000 refugees fleeing the Islamic State group crossed the border between Syria and Turkey in the first 24 hours after Ankara opened it Friday, according to the United Nations High Commissioner for Refugees. Both Turkey and the U.N. agency are getting ready for the potential influx of hundreds of thousands more refugees in coming days, as the battle for the northern Syrian city of Kobani grows in intensity.
Ankara's policy shift led to thousands of people -- some very young, others very old and many of them women -- crossing into Turkey's southeastern border village of Dikmetas under tight security Friday. Overall, Ankara has accepted more than 847,000 refugees since the Syrian Civil War over the ouster of President Bashar Assad began in 2011. The crisis has deepened with the emergence of the militant group formerly known as ISIS.
"I commend Turkey's welcoming response to offer refuge and aid to this population so suddenly and violently driven from their homes in fear for their lives," said Antonio Guterres, the head of the U.N. agency. "This massive influx shows how important it is to offer and preserve asylum space for Syrians as well as the need to mobilize international support to the neighboring countries so generously hosting them."
Residents of Kobani had been living in comparative safety during the Syrian Civil War, when as many as 200,000 internally displaced people from other parts of the country found refuge there, the U.N. agency reported. However, recent Islamic State advances and a siege of the city have forced a large proportion of the population, mainly in Syria's Kurdish minority, to abandon their homes.
"At the start of the influx," the agency said, "UNHCR responded with immediate supplies of relief items … including 20 trucks with 20,000 blankets, 10,000 mats, 5,000 jerry cans, 2,000 plastic sheets. UNHCR has also donated mobile registration and coordination centers, and staff are positioned at the six border crossing points monitoring arrivals and identifying vulnerable persons."
However, cross-border movements around at least one village hit a snag Sunday when Turkey's security forces fired paint pellets, tear gas and water at dozens of Kurds, the Associated Press reported. Kurdish demonstrators hurled stones at the Turkish security forces in response, AP said. The Turks said they were seeking to prevent Kurdish fighters from entering Syria, and the Kurds said they wanted to take aid into the war-torn nation.
The U.K-based Syrian Observatory for Human Rights estimated at least 300 Kurdish fighters had recently joined the Syrian Kurdish ranks in the Kobani area in an effort to halt the Islamic State group's advance, BBC News reported. "Islamic State sees Kobani like a lump in the body: They think it is in their way," the observatory's Rami Abdulrahman said.
© Copyright IBTimes 2023. All rights reserved.