76ers vs. Raptors: Kyle Lowry Mocked, Simmons Labeled 'Disgusting' For Low Blow
The Philadelphia 76ers took a 2-1 lead in the Eastern Conference semifinals after a 116-95 win over Toronto Raptors in Game 2 on the back of a brilliant performance from Joel Embiid, who had 33 points and 10 rebounds, while Jimmy Butler was also effective with 22 points, 9 assists and 9 rebounds. But Ben Simmons came in for criticism for his off-the-ball low blow to Kyle Lowry, who in turn was mocked for his lack of performances in the playoffs for the Raptors.
Kawhi Leonard was again the top scorer for the Raptors with 33 points but the forward was not backed up by his teammates, with Pascal Siakam the next best with 20 points. Lowry, who was an All-Star this season, managed just seven points in what has been a poor playoff run for the veteran guard.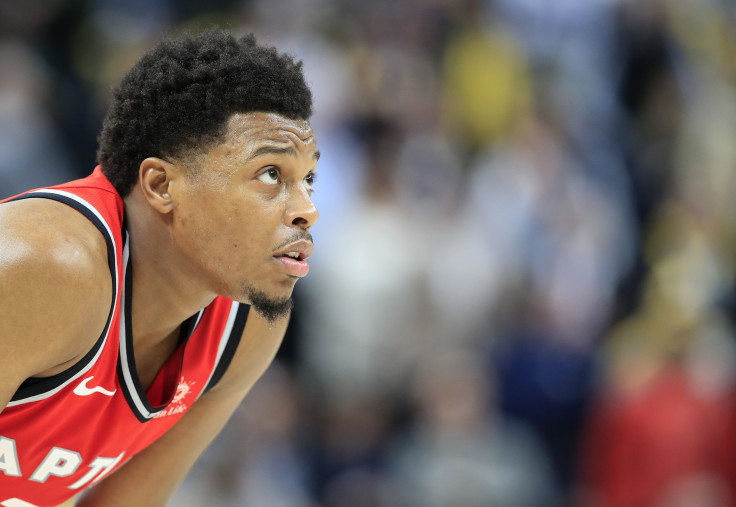 The Raptors point guard has scored 20 points or more in just two of his eight playoff games this season, and most games have seen him in single digits, including a 0-point night against Orlando Magic in Game 1 in the first round. He came in for some heavy criticism from fans after Thursday night's game, with many claiming he disappears when the playoffs come around.
Simmons, on the other hand, contributed 10 points with seven assists and seven rebounds. He was called out nevertheless, not for his performance but for his literal below the belt attack on Lowry while contending for an offensive rebound. The Australian went down after colliding with the Raptors guard, and then looked to have purposely thrown an elbow at Lowry's groin area, leaving the latter writhing on the floor.
The match officials failed to spot the infringement with commentators being certain it would have been a flagrant foul if spotted. It remains to be seen if any action would be taken by the league. But fans were quick to spot his actions and criticized Simmons, calling him "dirty" and "disgusting." One fan even asked for a ban.
© Copyright IBTimes 2023. All rights reserved.