9/11 Illnesses: NYC Mayor, Elected Officials To Push For Zadroga Act Extension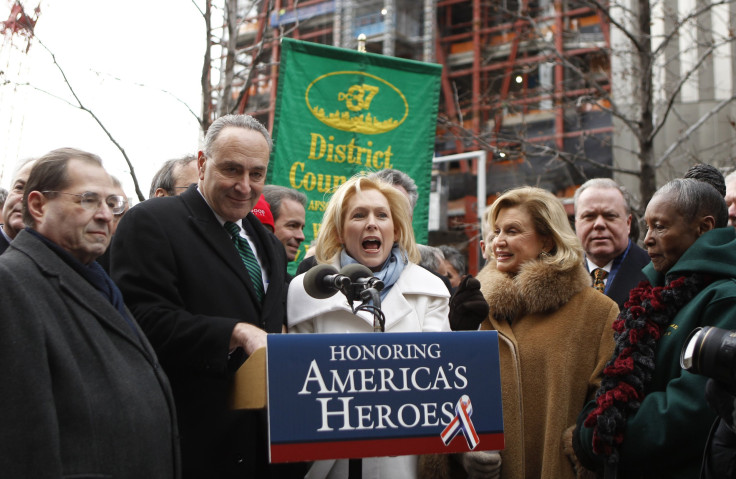 New York City Mayor Bill de Blasio is scheduled Monday to join congressional leaders and first responders and survivors from the Sept. 11, 2001 terrorist attacks to push for the extension of a law giving health care benefits to those impacted by the 9/11 attacks. The two programs created through the James Zadroga 9/11 Health and Compensation Act expire in 2015 and 2016, and leaders want the World Trade Center Health Program and the September 11th Victim Compensation Fund to be active for another 25 years.
The Zadroga bill was passed in December 2010. De Blasio, U.S. Sen. Kirsten Gillibrand, D-N.Y., U.S. Reps. Peter King, R-N.Y., and Carolyn Maloney, D-N.Y. are to be joined by 9/11 first responders and survivors Monday at the Silverstein Family Park at 7 World Trade Center in New York City. The elected officials and advocates "will urge Congress to reauthorize the critically important James Zadroga 9/11 Health and Compensation programs," a statement from the mayor's office said.
The media event is scheduled ahead of the 13th anniversary of the Sept. 11 attacks, when four hijacked planes crashed into the World Trade Center, Pentagon and a field in Shanksville, Pennsylvania, killing 2,996 people. Another 30,000 first responders and survivors have an illness or injury related to the attack or its aftermath, including more than two-thirds who have more than one 9/11-related illness. More than 70 firefighters and 60 NYPD officers have died from 9/11-related illnesses.
The Zadroga programs have wide reach, with people living in all 50 states and 431 of the country's 435 congressional districts receiving some type of 9/11 benefit, de Blasio's office said.
© Copyright IBTimes 2023. All rights reserved.
FOLLOW MORE IBT NEWS ON THE BELOW CHANNELS