95-Year-Old Dubbed 'Real Life Tomb Raider' After Possibly Stealing Ancient Artifacts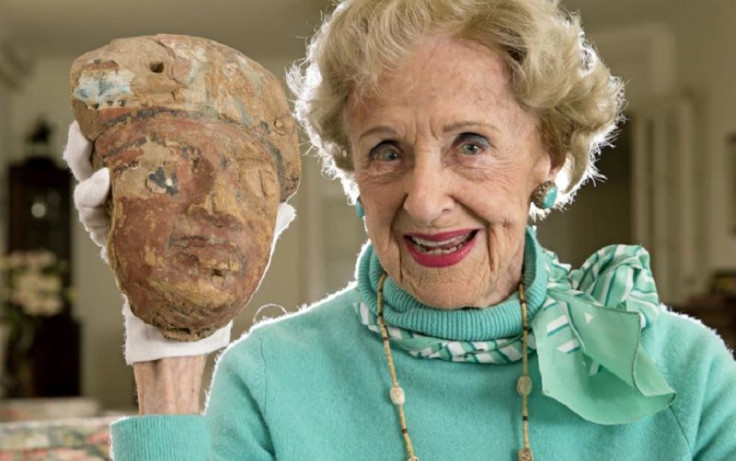 A 95-year-old woman dubbed Western Australia's "real life tomb raider" and "Indiana Joan" in a profile earlier this month is now under investigation for how she acquired a trove of ancient artifacts.
The woman, Joan Howard, was married to a senior diplomat with the United Nations in the Middle East. In the 1960s and 70s, she volunteered with American and British archaeologists, according to the West Australian. Given her diplomatic status, she traveled to several countries including Syria, Egypt, Lebanon, Jordan, Palestine and Israel looking for ancient artifacts, which she brought home to Perth, Australia.
"It was all good fun. Dirty work, of course. But as it turned out, very, very rewarding," Howard told the West Australian.
After the profile, some eyebrows were raised as to whether Howard had taken any of her collection illegally. The collection is valued at over $750,000 and contains items that date back over 40,000 years.
Monica Hanna, an archeologist and the founder of Egypt's Heritage Taskforce started an online petition asking that the Australian government look into Howard's collection.
"I passionately dislike how Indiana Jones is viewed as a hero, rather than a tomb raider. I think in the 21st century, this stereotype of pillaging cultures should disappear and be reprehended rather than praised," said Hanna to ABC News via email.
Australia's Department of Foreign Affairs is now investigating the matter, according to the Associated Press Friday.
The United Nations Educational, Scientific and Cultural Organization (UNESCO) adopted rules in 1970 prohibiting illicit trade and export of cultural artifacts. Several nations have their own statutes about cultural artifacts. It remained unclear whether any of the items in Howard's collection were taken illegally.
Shaaban Abdel Gawad, the director-general of the Retrieved Antiquities Department at Egypt's Supreme Council of Antiquities contacted the Australian government about Howard's collection, according to Egypt Independent Monday.
"The theft of antiquities and its subsequent sale is not a new phenomenon and we are interested in retrieving those that belong to our country wherever they may be," said Gawad to the Sydney Morning Herald Friday.
In 2011 Australia returned 122 artifacts that were found in the warehouse of a Melbourne auction hall. Earlier this year U.S. company Hobby Lobby was also forced to return thousands of illegally purchased artifacts back to the Middle East.
"Australia implements its obligations under the UNESCO Convention on the Means of Prohibiting and Preventing the Illicit Import, Export and Transfer of Ownership of Cultural Property 1970 through the Protection of Movable Cultural Heritage Act 1986. This includes the return of foreign cultural property which has been illegally exported from its country of origin and imported into Australia," said Australia's Department of Communications and the Arts to ABC News in a statement.​
© Copyright IBTimes 2023. All rights reserved.
FOLLOW MORE IBT NEWS ON THE BELOW CHANNELS