Aaron Judge Stats: Home Run Pace Puts Yankees' Star On Track To Smash AL Record
Aaron Judge's dream season continued Tuesday night when he hit his 56th and 57th home runs of the year in the New York Yankees' victory over the Boston Red Sox at Fenway Park.
Just four home runs away from tying Roger Maris' single-season American League record of 61, Judge is putting up historic stats in a likely MVP campaign.
Judge is on pace to finish with 65 home runs in the 2022 season. The Yankees have 20 games remaining, and the outfielder is averaging a homer in better than 40% of the team's contests.
Barry Bonds's single-season MLB record of 73 home runs might be out of reach for Judge, but he isn't far off the pace for the third-most homers in a year.
Mark McGwire's 70 home runs and Sammy Sosa's 66 dingers during the historic 1998 Home Run Chase rank second and third, respectively, on the all-time list. McGwire hit 65 home runs in 1999. Sosa's 64 home runs in 2001 are the fifth-most in MLB history.
Compared to his peers, Judge's home run total is more impressive than what any player accomplished during the steroid era. Kyle Schwarber is second in MLB with 37 home runs, making Judge the first player since Babe Ruth in 1928 to have at least 20 more home runs than anyone else in the majors.
Judge has 10 games with at least two home runs, putting him one away from the single-season record. Sosa and Hank Greenberg both had 11 multi-home run games in a season.
With 123 RBI, Judge has a 13-RBI edge for the MLB-lead. Judge's .310 batting average is good for fourth in the AL. Judge trails Minnesota's Luis Arraez and his .319 average in a bid for the batting title and the Triple Crown.
It's been 45 years since an MLB player has hit at least 50 home runs and finished in the top five in the race for the batting title.
Judge leads the majors in on-base percentage (.414) and slugging percentage (.692). He's first with 116 runs and 352 total bases. Judge also has stolen 16 bases.
Judge is the overwhelming favorite to win the 2022 AL MVP award with -2000 odds at BetMGM. Judge is favored ahead of reigning MLB Shohei Ohtani, who has hit 34 home runs and pitched to a 2.55 ERA in 141.0 innings.
Judge has carried the Yankees to a six-game lead atop the AL East.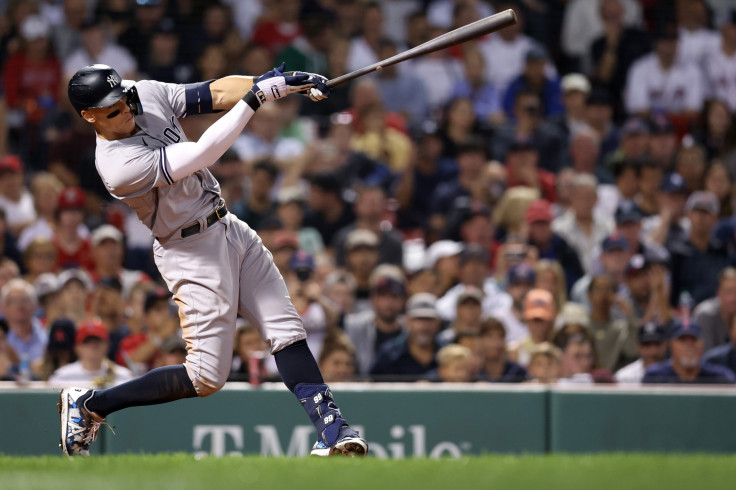 © Copyright IBTimes 2023. All rights reserved.