Aaron Judge's 62nd Home Run Ball: Where Is It And How Much Is It Worth?
The ball used in Aaron Judge's 62nd home run of the season was caught by a fan in the left field stands of Texas' Globe Life Field Tuesday night. There is some debate about how much the record-setting baseball is worth, though it is expected to be sold for seven figures.
Cory Youmans was the lucky fan who snagged Judge's home run in the first inning of Tuesday's game between the New York Yankees and Texas Rangers. After making a clean catch with his glove in the first row of Section 31, Youmans was taken by Rangers security to a location in the stadium where the ball was officially authenticated.
When asked by reporters what he would do with the baseball, Youmans said that he didn't know.
Youmans is a reportedly vice president at Fisher Investments. He's married to Bri Amaranthus, who is a former "Bachelor" contestant and covers Dallas sports for Sports Illustrated.
While Judge was nearing the end of his chase for Roger Maris' American League home run record, Memory Lane President JP Cohen stated that he would pay $2 million to whoever caught the 62nd home run ball. The sports memorabilia dealer said that wanted to loan it for display at Yankee Stadium.
If for some reason Cohen decides not to purchase the baseball, other estimates suggest that it could be worth $1.25 million, according to Sportico.
It seems highly unlikely that Youmans would simply hand the ball over to Judge in exchange for some autographed memorabilia. After the game, Judge didn't appear too concerned with the ball's whereabouts.
"I don't know where it's at," Judge told a reporter when asked about the 62nd home run ball. "We'll see what happens with that. It would be great to get it back, but that's a souvenir for a fan. They made a great catch out there, and they got every right to it."
The Yankees play their final game of the season Wednesday at Globe Life Field. If Judge hits another homer to extend his record, that baseball could also be worth close to $1 million.
Barry Bonds still holds the MLB record with 73 home runs in a season.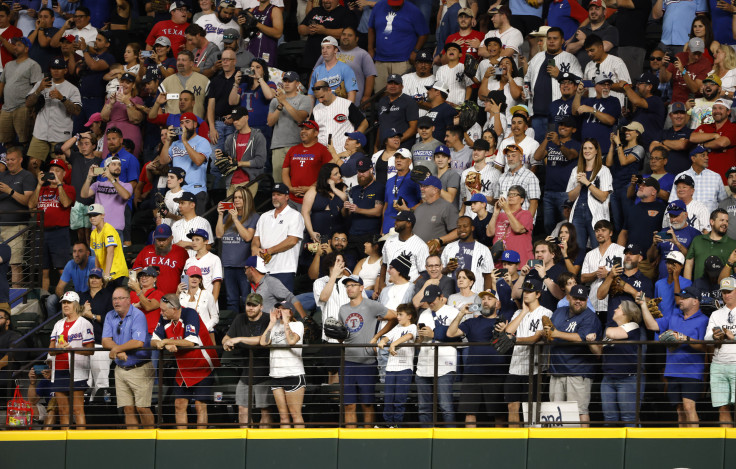 © Copyright IBTimes 2023. All rights reserved.