Aaron Rodgers Gay Rumors: Packers QB May Have Had 'Falling Out' With Personal Assistant Kevin Lanflisi Over Alleged Relationship, Report Says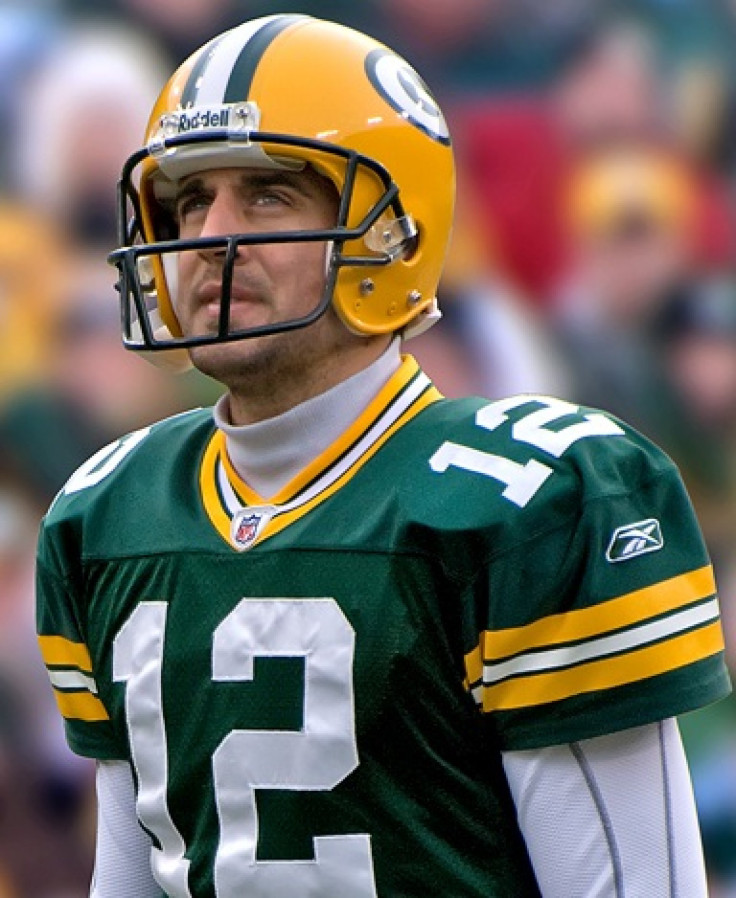 A viral Internet rumor suggests that Green Bay Packers quarterback Aaron Rodgers may have been involved in a gay relationship with his former roommate and personal assistant, Kevin Lanflisi.
In an email to The Fame Driven, a gossip website, a so-called spy claimed that Rodgers might have maintained a relationship with Lanflisi, his close friend and personal assistant. According to the source, a series of tweets from Lanflisi's Twitter account provide evidence that the duo were more than just friends. It's unclear if the tweets ever actually existed, but The Fame Driven purports to have screenshots of the posts, as well as several photos of the two men together, which can be viewed here.
"Aaron has attended numerous sports award shows with Kevin, always color-coordinated and without any double female dates, including the ESPYs. Kevin was also the first person Aaron embraced when the Packers won the Super Bowl in 2011," the source allegedly told The Fame Driven. "There has been speculation for years here in Wisconsin that Aaron is gay, which I always brushed off, but after looking at Kevin's twitter I'm inclined to believe Aaron and Kevin were more than just roommates/friends, I believe they were lovers."
The Fame Driven goes on to claim that Rodgers' friendship with Lanflisi deteriorated after he refused to publicly acknowledge their alleged relationship. He has since moved out of Rodgers' home and now lives in California, the site reports.
Lanflisi's Twitter account does contain several references to Rodgers and the Green Bay Packers, but the majority of them fail to provide much detail regarding their friendship. In a tweet from Sept. 19, 2011, Lanflisi referred to Rodgers as a mentor. "Blessed to be where I'm at. I love being able to learn, laugh, and be mentored by such an amazing man @AaronRodgers12," he wrote.
The Fame Driven also cites several cryptic tweets posted to Lanflisi's account in December as evidence of their "falling out," noting that they were posted just one day after Rodgers' 30th birthday. "All that time spent on 'us' is now spent on "me." Which means I have more time to exercise, read, write, dream and save ..," Lanflisi wrote. "So I probably look better, smell better, speak better and have extra money in my pocket. Damn, I'd probably fall back in love with me too." However, those tweets could refer to just about anything.
Rodgers has made public reference to his apparent roommate on a few occasions. In a 2008 interview with The Sporting News, the Packers quarterback discussed his friendship with his roommate; according to The Fame Driven, Lanflisi is that roommate. "I've got a roommate, a guy I met in town. He works for the Packers now as an athletic trainer, but he was interning when I met him and we just hit it off. He's been great for me as far as great conversations outside of football. Our friendship goes a lot deeper than what we do," Rodgers said.
In a 2012 interview with Milwaukee Magazine, Rodgers claimed that he judges people based on how they treat people who aren't famous, mentioning Lanflisi by name. "I kind of judge how those people are based on how they are to people like Kevin," Rodgers said. "Kevin, he's not a famous person. I want to see if they give Kevin the time of day, or if they big-time him."
Still, there isn't any hard evidence whatsoever that Rodgers is gay, or that Lanflisi is anything more than his personal assistant. The rumors, while provocative, are total hearsay, and it's highly unlikely that Rodgers will publicly respond to them. Furthermore, Rodgers has been linked to high school sweetheart Destiny Newton for years, and the pair was even rumored to have gotten engaged last year.
In September, The Fame Driven posted a similar story in which it claimed that former NHL star Sean Avery was in a gay relationship with "Bravo" executive Andy Cohen. Both men dismissed the story as baseless, and in November, Avery became engaged to his on-and-off girlfriend Hilary Rhoda, a Victoria's Secret model.
© Copyright IBTimes 2023. All rights reserved.