Aaron Rodgers Slams Podcast Hosts For COVID-19 Death Jokes
KEY POINTS
Aaron Rodgers made an appearance on Monday's episode of Barstool Sports' "Pardon My Take" podcast
The podcast's hosts joked about the NFL star causing coronavirus-related deaths due to his controversial stance on vaccines
The quarterback received huge backlash last year over his decision not to get vaccinated against COVID-19
Aaron Rodgers is making it clear that he does not approve of jokes about COVID-19 deaths.
During an appearance on Monday's episode of Barstool Sports' "Pardon My Take" podcast, the NFL star politely clapped back at hosts Dan "Big Cat" Katz and Eric "PFT Commenter" Sollenberger after they joked about him causing virus-related deaths due to his controversial stance on vaccines.
While the 38-year-old quarterback was sharing his thoughts on the huge backlash he received last year over his decision not to get vaccinated against COVID-19, PFT Commenter, 38, suddenly joked, "How many people do you think you killed? What's your count?"
Big Cat, 37, chimed in, saying, "How many grandmothers? Let's just do grandmothers."
The Green Bay Packers player was quick to shut down their attempts at humor.
"I know you guys are f–king around, but I don't find that part funny," Rodgers told the hosts. "I really don't."
The "Pardon My Take" hosts, however, did not seem to mind the athlete's honest response as they continued to joke around for the rest of the interview, which lasted almost two hours, and posed for a photo with Rodgers where all three beamed at the camera.
Last year, Rodgers made headlines after he seemingly lied about his own vaccine status. He told reporters in August 2021 that he had been "immunized," but questions began to arise three months later when he tested positive for the coronavirus.
The Super Bowl champion later confirmed that he had not received any COVID-19 vaccine.
During an episode of "The Pat McAfee Show" in November last year, Rodgers insisted that he did not lie when he was first asked about his vaccination status.
"At the time, my plan was to say that I've been immunized. It wasn't some sort of ruse or lie, it was the truth," Rodgers claimed. "Had there been a follow-up to my statement that I'd been immunized, I would have responded with this: I would have said, 'Look, I'm not some sort of anti-vax flat-Earther. I'm somebody who's a critical thinker. I march to the beat of my own drum. I believe strongly in bodily autonomy, [in the] ability to make choices for your body, not to have to acquiesce to some woke culture or crazed group of individuals who say you have to do something."
"Health is not a one-size-fits-all for everybody," the athlete concluded.
Rodgers revealed that, during the offseason, he had met with medical professionals to learn more about the vaccine. He claimed that he decided against getting the jab because he discovered that he is allergic to an ingredient in mRNA vaccines and chose not to get the Johnson & Johnson vaccine because it had been pulled due to "clotting issues."
The football star instead decided to pursue an alternative "immunization protocol." He said that the NFL was not unaware of his medical condition as he petitioned for them to "accept" his immunization status.
However, Rodgers was later fined $14,650 for breaking COVID-19 protocols introduced by the NFL and the player's union, while the Packers were fined $300,000.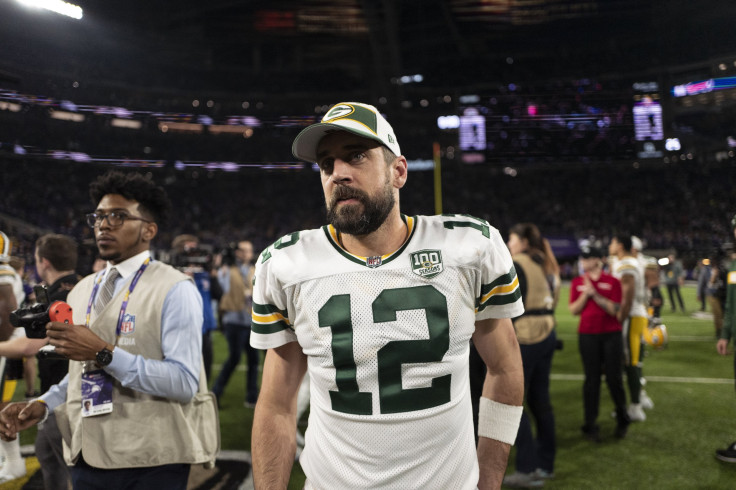 © Copyright IBTimes 2023. All rights reserved.