Is Abu Bakr Al-Baghdadi Alive Or Dead? ISIS Leader Targeted By Deadly Airstrikes In Iraq, Reportedly Injured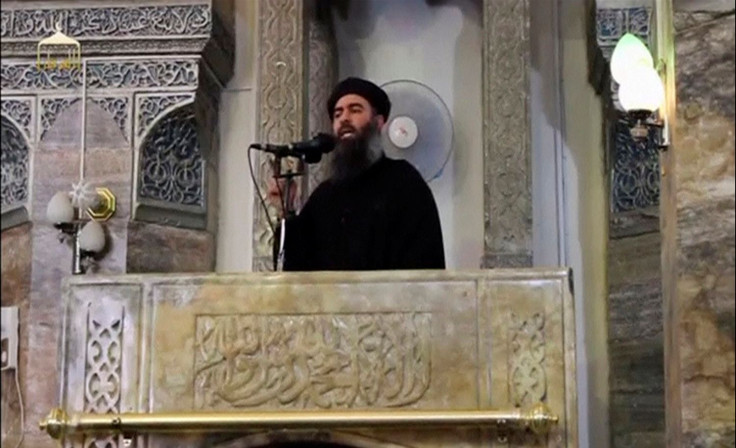 Iraqi warplanes struck a house Saturday where the leader of the Islamic State group, also known as ISIS, was believed to have been meeting with some of the militant organization's top commanders. However, Iraqi military intelligence have yet to release definitive news on Abu Bakr al-Baghdadi's fate.
In a statement released Monday, Iraq's Falcons Intelligence Cell confirmed the Iraqi military had used F-16 jets to strike a location in al-Qaim, Iraq where the jihadist cleric and other ISIS figures were believed to be meeting. Military intelligence officials released the names of 13 other ISIS commanders they said were killed in the airstrike. The list did not include Baghdadi, who the statement said had relocated to western Iraq from the group's de facto headquarters in Raqqa, Syria to discuss "the collapse happening in Mosul and to choose a successor for him."
"Iraqi intelligence was carefully monitoring the movements of Baghdadi, but his injury has not yet been confirmed," an Iraqi defense spokesperson was quoted as saying Monday to Palestinian news outlet Dunya al-Watan.
Local Iraqi television station Al Sumaria said it received word Sunday from a source within the security forces that Baghdadi was injured, while Iraqi security analyst Fadel Abu Raghif tweeted Sunday that he also had reliable information suggesting Baghdadi was injured by the airstrike and transported to a local hospital. In a second tweet Monday, Raghif mentioned the names of other ISIS officials killed in the strikes and, again, said that Baghdadi had been wounded.
Rumors of Baghdadi's capture, injury and death have swirled on several prior occasions, ultimately proving to be untrue. Most recently, Baghdadi was reported last month to be dead or critically injured by an airstrike conducted by the joint coalition consisting of Iraqi and U.S. forces as well as Kurdish and Iran-backed Shiite militias all working to eliminate ISIS' presence in Iraq.
© Copyright IBTimes 2022. All rights reserved.
FOLLOW MORE IBT NEWS ON THE BELOW CHANNELS