ACC Championship: North Carolina Vs. Miami, Where To Watch Live Online Stream, Preview, Prediction, Betting Odds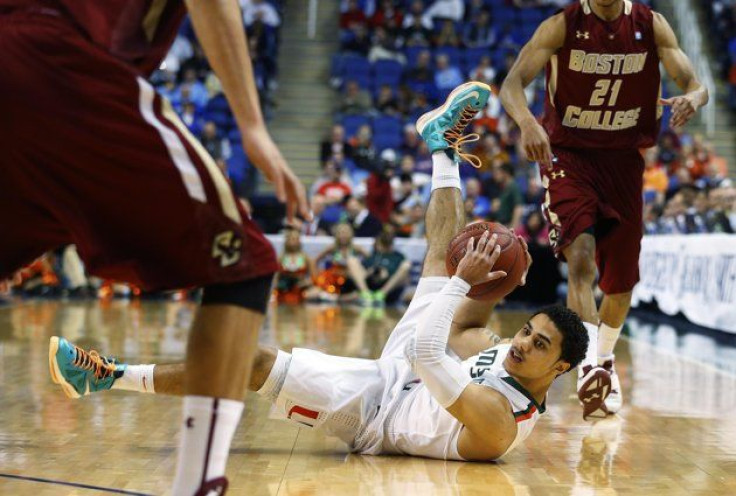 A year ago, the Miami Hurricanes were sixth in the ACC and lost in the second round of the National Invitation Tournament.
Today, the No. 9 Hurricanes have already improved on last season's record by six wins, toppled Duke for the ACC regular season title, and have the chance to thwart North Carolina's third straight conference title attempt Sunday afternoon in the ACC Championship at the Greensboro Coliseum.
The 24-9 Tar Heels have rebounded from earlier losses this season and have gone 8-1 in their last nine games.
It will be a record 32nd trip for North Carolina in the title game after staving off Maryland 79-76 in the closing seconds Saturday.
Upperclassmen Reggie Bullock and Dexter Strickland each notched 15 points, and guard P.J. Hairston chipped in 13 points despite a heavy bandage on his non-shooting hand.
North Carolina built a 13-point lead midway through the second half, but the Terrapins came back with a 31-21 run, and nearly forced overtime, but Logan Aronhalt's heave with nine seconds left hit nothing but air.
Tar Heel leading scorer, James Michael McAdoo, who has battled a bulging disc in his back, netted 13 points with eight rebounds.
Miami's Durand Scott and Shane Larkin combined for 55 points in their 81-71 win over N.C. State in the semifinal Saturday, and earned the Hurricanes their first appearance in the final.
Scott connected on five of his eight 3-point attempts, and the sophomore Larkin is averaging 21.5 points on 50 percent shooting with four assists for the tournament.
Both were equally successful in Miami's two victories over North Carolina in the regular season. The teams last met on Feb. 9, with the Hurricanes completing an 87-61 blowout behind Larkin's 18 points and nine assists, Scott's 17 points, and as a team Miami combined for 15 3-pointers.
Senior 6'11" forward Kenny Kadji was the driving force in Miami's other win over the Tar Heels, pumping in 18 points with nine rebounds and four blocks.
North Carolina has shot an average of under 40 percent for both losses, and has failed to get to the free throw line, with 14 attempts combined.
The game begins at 1 p.m. Eastern time and will be broadcast by ESPN, can be viewed on a live online stream at Watch ESPN here.
Betting Odds: Miami is favored by 2 points
Prediction: McAdoo, if healthy, can match up well with Kadji and has to make the senior work on both sides of the floor. North Carolina should try to penetrate and get both Scott and Larkin in early foul trouble. Bullock and Hairston will lift the Tar Heels in a very close upset.
Predicted Score: North Carolina 65, Miami 64
© Copyright IBTimes 2023. All rights reserved.