ACC Tournament 2020 Odds: Florida State, Duke Favored, North Carolina Among Top Long-Shot Bets
Twelve teams enter Wednesday with a chance to win the 2020 ACC Tournament. The conference will be well represented during March Madness, and this week gives a few teams that have underperformed a chance to earn an automatic bid to the NCAA Tournament.
North Carolina is at the top of that list, following the school's worst regular season of college basketball in 18 years. The Tar Heels went 6-14 against ACC opponents, tied for the worst record in the conference. But the team isn't among the biggest long shots to run the table at Greensboro Coliseum.
DraftKings Sportsbook gives North Carolina +2500 odds to win the ACC Tournament. NC State also has +2500 odds, tying them for fifth in the conference.
North Carolina defeated Virginia Tech 78-56 Tuesday night in the opening round of the ACC Tournament. The Tar Heels will face Syracuse Wednesday night in the second round.
Syracuse has +3300 odds to win four straight games and clinch a berth to the Big Dance. They'll need to win out if they hope to play in the NCAA Tournament, considering they have a 17-14 overall record.
Notre Dame, who finished tied with Syracuse with a 10-10 conference record, has +4000 odds. Clemson is a game behind both teams and has +3000 odds.
Clemson will take on Miami (+10000) Wednesday for a shot to advance to the quarterfinals. Notre Dame is set to play Boston College (+20000).
Pittsburgh (+10000) defeated Wake Forest Tuesday to keep its ACC hopes alive. They will meet NC State Wednesday.
The top four teams in the conference all have byes until the quarterfinals Thursday. They are given, by far, the best chance to win Saturday's final.
No.1 seed Florida State (+200) is the favorite to become the ACC Tournament champions. The Seminoles won the regular-season conference title with a 16-4 record against ACC opponents. FSU is ranked fourth overall in the country and set to take on the winner of the contest between Clemson and Miami.
Duke (+225) is the ACC's No.4 seed, but they are given the second-best odds to win the tournament. The Blue Devils rank 10th in the nation. They will face either Pittsburgh or NC State Thursday.
Zion Williamson led Duke to the 2019 ACC Tournament title.
Louisville (+325) and Virginia (+600) are also given a very realistic chance to win the ACC. The Cardinals were just defeated by the Cavaliers in the final game of the regular season.
Virginia is the ACC's No.2 seed and the defending national champions. They enter the conference tournament on an eight-game winning streak.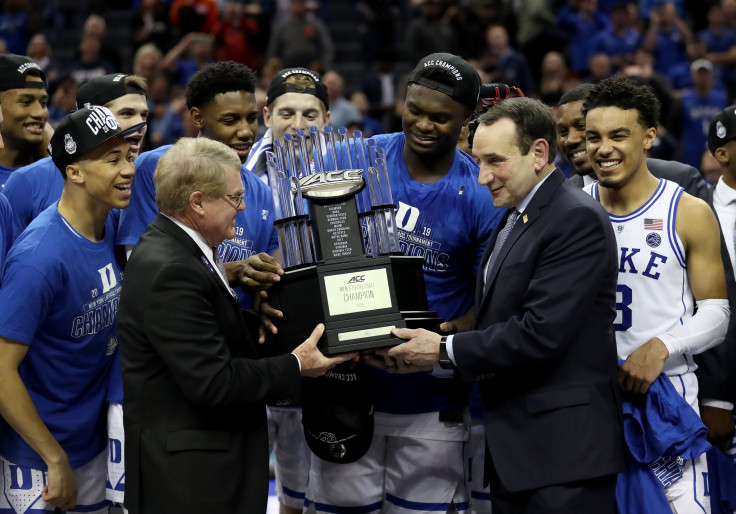 © Copyright IBTimes 2023. All rights reserved.