Activists Want An Obama Executive Order To "Ban The Box" That Asks About Criminal Backgrounds On Federal Job Applications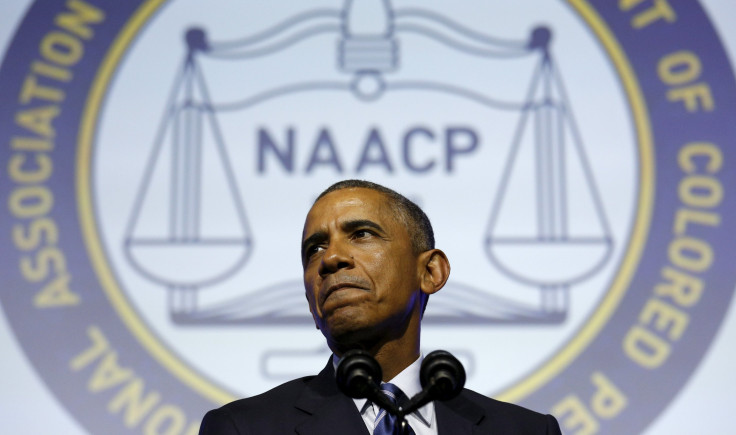 Activists say President Obama should match his bold rhetoric on criminal justice reform with concrete actions, and there's an easy step he could take. The American Civil Liberties Union (ACLU) wants the administration to ban federal employers and contractors from asking prospective hires to provide information about their criminal backgrounds in their job applications -- or, as it's more commonly known, "ban the box."
A reference to the box on job applications where employers make criminal background inquiries, the demand is gaining traction at a time when more Americans, especially black and Latino people, are incarcerated than ever before. About a quarter of all Americans have some kind of criminal record.
Speaking before the NAACP's annual convention last week in Philadelphia, Obama called on Congress to pass a bill that would ban the box on job applications and delay criminal background checks until later in the hiring process. The petition from the ACLU says the president should "start with his own backyard" and issue an executive order to that effect. Over 20,000 have signed.
Others have made the same demand before. The National Employment Law Project and other progressive groups have publicly called for such an order since January. Two months ago, 27 senators, including Democratic presidential candidate Bernie Sanders (I-Vt.), called on the White House to do the same.
"We ask you to require federal contractors and agencies to refrain from asking job applicants about prior convictions until later in the hiring process," the letter read. "This policy would eliminate unnecessary barriers to employment for all job seekers and would give individuals reentering the workforce the opportunity to apply for work based on their current merits rather than past wrongdoings."
Eighteen states have passed some form of "ban the box," including Georgia, Ohio, Oregon, Vermont and Virginia this year. New York City Mayor Bill DeBlasio recently signed similar legislation.
© Copyright IBTimes 2023. All rights reserved.
FOLLOW MORE IBT NEWS ON THE BELOW CHANNELS