Adrian Peterson New Child Abuse Case: Vikings Star Already Cleared Of 2nd Allegation, Report Says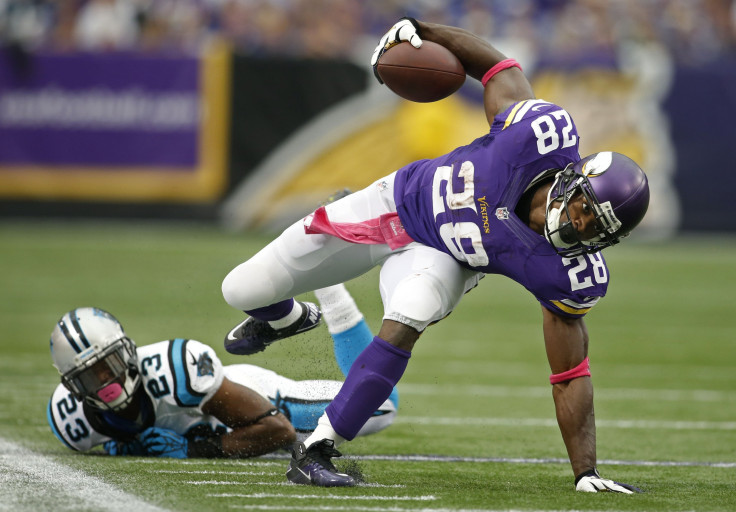 Embattled Minnesota Vikings running back Adrian Peterson faced a second investigation Tuesday amid allegations that he physically abused one of his other children. However, the 29-year-old, who denied any wrongdoing in the case, was already cleared by police, sources familiar with the investigation told police.
Days after Peterson was accused of beating his 4-year-old son with a switch, a different woman who has another 4-year-old son with the Vikings star said he caused permanent injury to the child while administering similar discipline, KHOU reports. Filed in June 2013, the complaint alleged that Peterson gave the 4-year-old a head wound that turned into a permanent scar above his left eye.
Police obtained a series of text messages in which Peterson attempted to explain the incident, which occurred when the boy, who lives out of state, visited him in Texas. He did tell the 4-year-old's mother that he had disciplined the child for cursing at a sibling, but he said the injury occurred when the boy hit his head on a car seat.
"Be still n take ya whopping [sic], he would have saved the [scar]," Peterson wrote. When asked by the mother what he used to hit the boy, Peterson did not directly respond.
Police investigated the matter, but sources familiar with the case told TMZ Sports that they did not pursue charges against Peterson because he did not directly cause the child's injury. Peterson's actions were "not impermissible," and Texas law allows parents to reasonably punish their children, the report said.
"The allegation of another investigation into Adrian Peterson is simply not true," Peterson's lawyer Rusty Hardin said in a statement. "This is not a new allegation, it's one that is unsubstantiated and was shopped around to authorities in two states over a year ago and nothing came of it. An adult witness adamantly insists Adrian did nothing inappropriate with his son. There is no ongoing or new investigation."
The Vikings deactivated Peterson for Sunday's game against the New England Patriots after he was indicted in Houston in connection with the initial child abuse allegation. If convicted of reckless or negligent injury to a child, Peterson could face up to two years in prison.
However, Vikings owners Zygi and Mark Wilf announced Monday that Peterson would practice with the team this week and play in its Week 3 game against the New Orleans Saints next Sunday. Later that day, Peterson released a statement in which he addressed the child abuse allegations.
"I have to live with the fact that when I disciplined my son the way I was disciplined as a child, I caused an injury that I never intended or thought would happen. I know that many people disagree with the way I disciplined my child. I also understand after meeting with a psychologist that there are other alternative ways of disciplining a child that may be more appropriate. … I am not a perfect son, I am not a perfect husband. I am not a perfect parent, but I am, without a doubt, not a child abuser," the statement said.
© Copyright IBTimes 2023. All rights reserved.