Aécio Neves, Brazil's Market-Minded Presidential Challenger, In Virtual Tie With Incumbent Ahead Of Oct. 26 Vote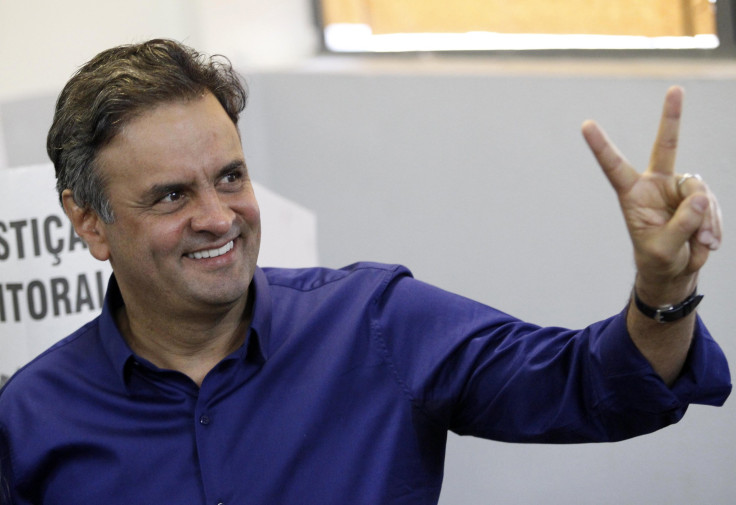 Brazilian presidential candidate Aécio Neves almost seemed like a nonentity in the weeks leading up to the first round of voting, as incumbent Dilma Rousseff battled head-to-head with fiery challenger Marina Silva. But a surprising last-minute surge propelled Neves to the forefront, and if he manages to keep up the momentum, he could emerge the victor after the Oct. 26 vote.
A win for Neves, a business-friendly candidate of the center-right Brazilian Social Democracy Party, would not only shift the trajectory of the world's seventh-largest economy, it would also alter Brazil's ties with leftist Latin American governments and with Washington, D.C.
The 53-year-old former governor of Minas Gerais and current federal senator is also the grandson of beloved politician Tancredo Neves, who was elected president after the end of Brazil's military dictatorship in 1985 but died before he could assume office. The younger Neves has been trying to overcome a past reputation as a party-loving playboy with an affinity for luxury, an image that does him few favors in a battle for the votes of Brazil's emerging middle class.
While some elements of his platform echo those of Rousseff's, such as maintaining and expanding the popular Bolsa Família cash-assistance program for low-income families and tackling inflation, Neves' main pledges in an economy-focused election include tax reform, a scaled-back government role in the economy, a floating exchange rate and a boost for investment.
"Brazil has a very sad history of poverty and inequality," Paulo Sotero, director of the Brazil Institute of the Woodrow Wilson International Center for Scholars, said in an interview on the organization's website. "We made enormous progress in the past many years, but this process seems to have come to a point of exhaustion where instead of relying on consumption to expand the economy, we have to now rely on investment by Brazilians and foreign investments to participate and improve the quality of the economy in Brazil. Aécio Neves brings more of this dimension."
Neves had been polling at second place in the early weeks of the presidential campaign season, until the sudden death of Brazilian Socialist Party candidate Eduardo Campos thrust Silva into the race. While Silva became Rousseff's main challenger in the weeks leading up to the Oct. 5 vote, a barrage of last-minute attack ads portraying her as unreliable helped tip the scale back in Neves' favor. He ultimately secured 33.5 percent of the vote to Rousseff's 41.5 percent in the first round of voting. Silva has formally endorsed Neves, although it's unclear whether that will be enough to shift in his favor the 21 percent of votes she obtained. The latest figures by polling firms Datafolha and Ibope place Neves and Rousseff in a dead heat for the presidency.
But while Brazil's business community and international investors are already rallying behind Neves, his work is cut out for him to convince the country's disenchanted middle class that he would lead Brazil in a better direction than Rousseff. Many analysts note that only two incumbents have lost re-election bids in Latin America over the past 30 years. But Brazil's race has been anything but predictable so far.
Meanwhile, although foreign policy has not been a top issue in the campaign, a Neves win would also shake up Brazil's longstanding ties with regional leftist governments such as Argentina and Venezuela. Rubens Barbosa, Neves' top foreign policy adviser, told journalist Andrés Oppenheimer that Neves would put a stop to Brazil's current foreign policy, which Barbosa said was based on "ideological affinities rather than national interests." Neves would also likely reset relations between Brazil and the United States, which have remained fraught since 2013 reports revealed that the U.S. National Security Agency had conducted surveillance on Brazil's president and her aides.
© Copyright IBTimes 2023. All rights reserved.