Afghanistan Opium Crop Hits New High, More Than $850 Million Worth Sold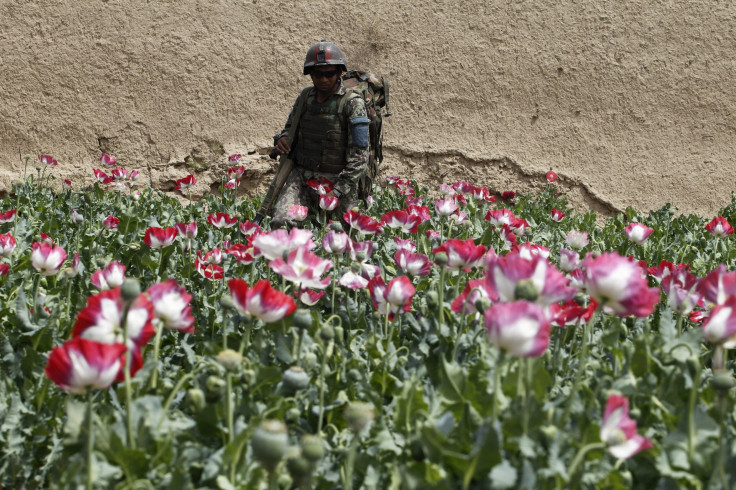 Afghanistan's opium crop will hit a new high this year, according to a report by the Afghan Ministry of Counter Narcotics and the United Nations Office on Drugs and Crime. The record crop comes during a year of renewed violence, a disputed presidential election and a massive withdrawal of NATO troops.
Total opium cultivation is up 7 percent from just over 516,500 acres in 2013 to around 553,500 acres in 2014. Those half a million acres of opium poppy means Afghanistan is capable of producing up to 6,400 tons of opium this year. The report found that 89 percent of Afghanistan's opium comes from nine provinces in south and west Afghanistan, including the most dangerous provinces in the country.
While production was up, the price of opium sold directly by farmers dipped around 20 percent, which offset some of the gains for opium farmers. Farmers sold a total of around $850 million worth of raw and dried opium, or 4 percent of Afghanistan's GDP, which is 10 percent less than last year's total farm-gate value. That's probably because of the higher production and supply, the UNODC said.
Countering opium production is crucial in bringing security to Afghanistan, UNODC Executive Director Yury Fedotov said. "We cannot afford to see the long-term stability of Afghanistan -- and the wider region -- derailed by the threat of opiates," he said. "What is needed is greater resolve towards addressing narcotics in a serious and tangible manner within the economic, development and security agendas."
There's hope that could be possible under the new government of the recently inaugurated president, Ashraf Ghani, according to Fedotov's colleague Jean-Luc Lemahieu. Ghani's plan is to create incentives for farmers to plant legal crops, go after smugglers and provide jobs to the unemployed, according to Reuters.
Afghanistan produces 90 percent of the world's illicit opiates, according to the UNODC.
The Counter Narcotics Police of Afghanistan publicly burned 20 tons of contraband in late October, including heroin, opium and chemicals necessary to produce heroin, but eradication of opium crops are down a staggering 63 percent from around 18,000 acres in 2013 to around 6,600 acres this year. The U.S. has spent $7.6 billion alone fighting the narcotics trade in Afghanistan since 2001.
Read the full report here.
© Copyright IBTimes 2023. All rights reserved.
FOLLOW MORE IBT NEWS ON THE BELOW CHANNELS