Afghanistan School Year Starts But No Classes Held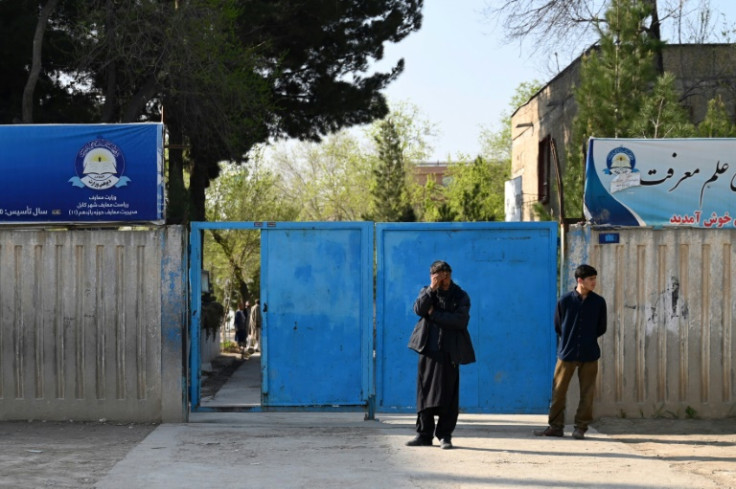 Afghanistan's schools reopened Tuesday for the new academic year, but no classes were held as students were unaware of the start and hundreds of thousands of teenage girls remain barred from attending class.
Afghanistan is the only country in the world where girls are prohibited from going to secondary school.
Taliban authorities have imposed an austere interpretation of Islam since storming to power in August 2021 after the withdrawal of the US-led foreign forces that backed the previous governments.
The education ministry made no public announcement of the reopening of schools, several teachers and officials told AFP.
"A letter issued by the minister of education was given to us by our principal to reopen the school today, but since no public announcement was made, no students came," said Mohammad Osman Atayi, a teacher at the Saidal Naseri Boys High School in Kabul.
AFP journalists toured seven schools in Kabul and saw only a few teachers and primary students arriving -- but no classes were held.
Schools also reopened in provinces including Herat, Kunduz, Ghazni and Badakhshan but no lessons were held there either, AFP correspondents reported.
Tuesday's start of the new academic year coincided with Nowruz, the Persian New Year, celebrated widely in Afghanistan before the Taliban returned to power but now unacknowledged by the country's new rulers.
Hundreds of thousands of teenage girls meanwhile remain barred from secondary school.
"The Taliban have snatched everything away from us," said 15-year-old Sadaf Haidari, a resident of Kabul who should have started grade 11 this year.
"I am depressed and broken."
The ban on girls' secondary education came into effect in March last year, just hours after the education ministry reopened schools for both girls and boys.
Taliban leaders -- who have also banned women from university education -- have repeatedly claimed they will reopen secondary schools for girls once "conditions" have been met, from obtaining funding to remodelling the syllabus along Islamic lines.
The international community has made the right to education for women a key condition in negotiations over aid and recognition of the Taliban government.
No country has officially recognised the Taliban as Afghanistan's legitimate rulers.
Afghanistan under the Taliban government is the "most repressive country in the world" for women's rights, the United Nations has said.
Women have been effectively squeezed out of public life -- removed from most government jobs or are paid a fraction of their former salary to stay at home.
They are also barred from going to parks, fairs, gyms and public baths, and must cover up in public.
© Copyright AFP 2023. All rights reserved.