After Chinese Trawler Sinks Philippine Boat, Duterte Calls On US To Send Seventh Fleet
Philippine President Rodrigo Duterte has called upon the United States to back up a Mutual Defense Treaty (MDS) signed in 1951 between the two countries and send the vaunted Seventh Fleet to take on China.
The sinking of a Philippine fishing boat by a Chinese trawler on June 9 appears to be the spark that has escalated tensions over the disputed South China Sea territories, and spurred Duterte's sudden recall of the defense treaty. Beijing claimed the event to be an accident.
During an interview with Philippine television evangelist Pastor Apollo Quiboloy, Duterte said "I'm calling now (sic) America. I'm invoking the RP-US pact. I would like America to gather all their Seventh Fleet in front of China. I'm asking them now. And I will join them." He went on to say that he would urge his critics, namely Supreme Court Senior Associate Justice Antonio Carpio, former Ombudsman Conchita Carpio-Morales and former Foreign Affairs chief Albert del Rosario, to go to war with him.
The conditions of the 1951 MDS treaty are that each country will support each other in the event of an attack from an external enemy. The treaty contains eight articles, with Article IV stating that "Each Party recognizes that an armed attack in the Pacific area on either of the Parties would be dangerous to its own peace and safety and declares that it would act to meet the common dangers in accordance with its constitutional processes." The treaty does not specifically mention the South China Sea, but the disputed waters are considered part of the Pacific Ocean.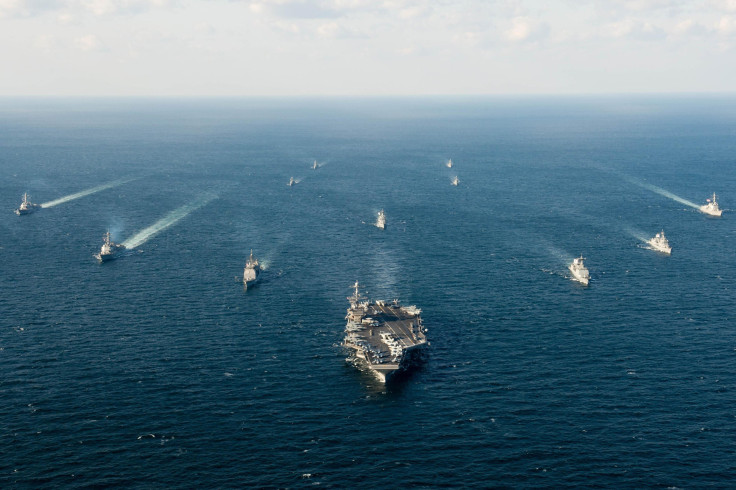 Duterte's statements have been describes as "reckless" considering that the U.S. Navy's 7th Fleet, established during WW II is the largest of the forward-deployed fleets with over 40 ships, 200 aircraft and approximately 20,000 Navy and Marine Corps personnel. It has bases in Japan and Guam and its operational area covers large parts of the western Pacific Ocean.
Interestingly, Clark Air Force Base, located in Subic Bay in the Philippines, was a part of the 7th fleet until the early 1990s when the Philippines refused to renew the lease on the base. The eruption of Mt. Pinatubo in June of 1991 hastened the USA's exit from the area.
The Philippines was liberated from the Japanese during World War II by the U.S. forces. But Duterte has of late been courting China and has made public statements about the U.S. that don't exactly help in deepening relations between the old allies.
The strife between China and the Philippines is convoluted because they are not the only countries with claims on the South China Sea waters. Brunei, Malaysia and Vietnam all have overlapping claims. China, however, presents the biggest threat because of its desire to expand and militarize territories that it claims in the area.
© Copyright IBTimes 2023. All rights reserved.