After Donald Trump Flip-Flop On Torture, Veterans Still Support Republican Front-Runner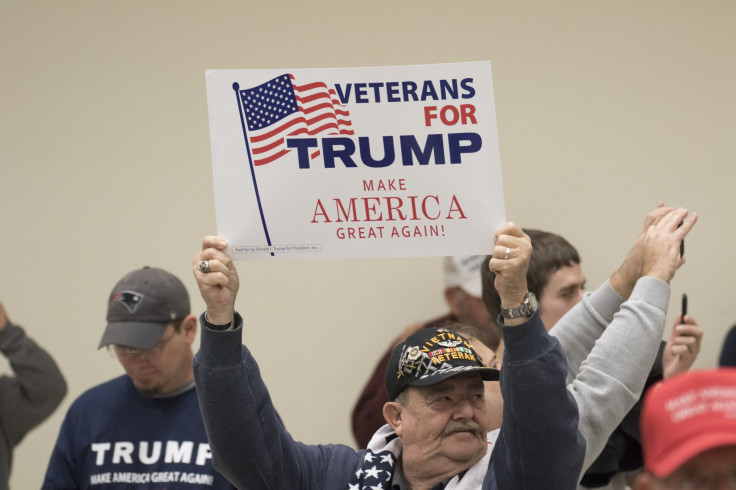 With Republican front-runner Donald Trump suggesting during Thursday's debate he might order U.S. servicemen to commit illegal acts of torture and bomb the families of terrorists, veterans say they are supporting his campaign in large numbers.
Despite more than 100 foreign policy experts condemning Trump's advocacy of torture "stronger" and "worse" than waterboarding as inexcusable and illegal, U.S. veterans across the country don't seem to mind, according to polls. Even though veterans of wars in Vietnam and Iraq don't necessarily agree with the leading GOP contender's policies, many said they would still vote for him over Democrat Hillary Clinton in the event of a general election between the two.
"Donald Trump is a straight talker and clearly knows how to get things done," said William Compton, 63, a retired Army master sergeant from South Carolina who served in the Vietnam and Persian Gulf wars. "He sees the state of the world and is willing to do what is necessary to keep America safe, which is something that myself and other veterans share in common with him, even though he didn't serve."
U.S. Veterans by State | HealthGrove
Trump first talked about bringing back the now-banned waterboarding technique, which most authorities consider torture, during a rally in Columbus, Ohio, in November. "Would I approve waterboarding? You bet your ass I would — in a heartbeat," he said at the time. Trump continued by saying that such techniques were necessary in order to confront terrorists who "chop off our young people's heads."
During the debate Thursday night, Fox News moderator Bret Baier asked Trump what he would do if soldiers and commanders refused to follow his orders, explaining that Gen. Michael Hayden, a former chief of both the CIA and NSA, has noted that troops are trained not to follow illegal orders. "They won't refuse. They're not going to refuse me. Believe me," a defiant Trump said.
The enigmatic New York businessman then flip-flopped Friday on his torture comments, adding to the three times he changed his mind on other policies during Thursday night's debate.
In a statement to the Wall Street Journal Friday, Trump said he would "use every legal power that I have to stop these terrorist enemies. I do, however, understand that the United States is bound by laws and treaties and I will not order our military or other officials to violate those laws and will seek their advice on such matters. I will not order a military officer to disobey the law."
During Thursday's debate, Fox News displayed a series of three videos showing contradictory statements made by Trump throughout his campaign, including flipping on the U.S. war in Afghanistan, admitting Syrian refugees and whether President George W. Bush "lied" about weapons of mass destruction in Iraq.
Despite appearing unsure on foreign policy, and offending veterans with a comment about how he preferred people who didn't get captured, referring to the five years Sen. John McCain, R-Ariz., spent as a POW in North Vietnam, polls show Trump doing well with veterans. In July last year, after Trump's comments about McCain, a YouGov poll indicated a favorability rating of 53 percent for Trump among veterans and just 41 percent for McCain, a career Navy man, Vietnam veteran and ex-POW.
Poll: Who do you think is most to blame for underreported wait times at VA facilities that potentially led to veteran deaths | InsideGov
A South Carolina poll from February indicates 37 percent of veterans backed Trump over his nearest rivals, Texas Sen. Ted Cruz, who got 20 percent support, and Florida Sen. Marco Rubio, who saw 15 percent support. (None of the three has served in the military.) Those numbers exceeded Trump's showing in the whole electorate.
"The fact that's he's a Republican obviously helps his polling numbers, but his aggressive stance on immigration and rebuilding our military are things that veterans are obviously going to support," said Dick O'Donnell, 78, of Florida, who served in the Air Force during Vietnam. "But he also said that he would fix the VA, which is more than other candidates have said so far. I like him."
While there may be many reasons Trump is outpacing the Republican field, Matt Howard, an Iraq veteran and co-director of the Iraq Veterans Against the War advocacy group, calls it a generational issue.
"I've seen some of these polls, and I would be interested in seeing how he's doing with veterans generationally, because my suspicion is that the crowds and people he is attracting are significantly older," he said. "For some veterans the strongman role is popular, but I would say for post-9/11 veterans it's very different."
Trump was accused of using veterans as political props when he sat out a Fox News GOP debate moderated by Megyn Kelly just before the Feb. 1 Iowa caucuses and instead held a fundraiser for veterans nearby. Not all vets said they believed he avoided the debate truly to benefit them.
"You're a third-rate politician," said Jon Soltz, 47, a veteran of the Iraq War and the chairman of VoteVets.org, which describes itself as the largest progressive organization of veterans in America, of Trump. "[You] clearly don't understand issues, and is so scared of Megyn Kelly exposing it, that you're looking to use veterans to protect you from facing her questions."
In response to Trump's unpredictable foreign policies, which include freezing Muslim immigration to the U.S. and building a wall on the Mexican border, more than 100 Republican national security foreign policy experts penned a letter this week in opposition to his candidacy.
"His vision of American influence and power in the world is wildly inconsistent and unmoored in principle. He swings from isolationism to military adventurism within the space of one sentence," said the letter. "His advocacy for aggressively waging trade wars is a recipe for economic disaster in a globally connected world. His embrace of the expansive use of torture is inexcusable."
With 329 delegates so far, accounting for caucuses and primaries in 15 states, Trump appears at this point to be on course to face off in November against former Secretary of State Clinton, who also has a commanding lead over her rival Sen. Bernie Sanders of Vermont. If that moment does come, it might leave some veterans with an easy choice.
"I remember walking to the polling station on Tuesday and I thought for the first time that this will probably come down to Trump versus Clinton," said Melinda Turner, a Virginian who served in the Air Force from 1979 to 1996. "I don't really care much for Trump's opinions on torture, but in a contest against Clinton I would not hesitate to pick him. She would make a terrible president."
© Copyright IBTimes 2023. All rights reserved.