After Drifting Away From The West, Turkey Turns To China-Led SCO That Includes Russia
KEY POINTS
Turkey is a member of NATO and a dialogue partner of the SCO since 2013
Turkish President Erdogan attended the SCO summit at Samarkand in Uzbekistan
Turkey says it has "historical and cultural" ties to the Asian continent
In a decision that is expected to provide Ankara leverage over the West, Turkey has announced that it will seek full membership of the Shanghai Cooperation Organization (SCO), making it the first NATO member nation to join a China-led bloc that includes Russia.
Turkey has been a dialogue partner of the SCO since 2013, whose members also include India, Pakistan, Iran, Kyrgyzstan, Tajikistan, Kazakhstan and Uzbekistan.
Speaking to reporters after attending the SCO summit at Samarkand in Uzbekistan, Turkish President Recep Tayyip Erdogan said that by joining SCO, his country's relations with its member countries will move to a different level.
"Our relations with these countries will be moved to a much different position with this step," President Erdogan said.
Asked by reporters if he meant membership of the SCO, he said: "Of course, that's the target".
Turkey has "historical and cultural" ties to the Asian continent and would like to play a role in the SCO which represents "30 percent of the global gross domestic product (GDP)," the Turkish president said.
Amid his bilateral discussions at the SCO summit, Erdogan also met with China's President Xi Jinping and Russian President Vladimir Putin.
The announcement of Turkey's membership in SCO comes soon after President Erdogan expressed his disappointment with the U.S., NATO and EU over security concerns, particularly in dealing with Kurdish insurgents and Greece.
Turkey and Greece, both NATO neighbors, have long-standing sea and air boundary disputes. President Erdogan had earlier this month hinted at military action while warning Greece that it would pay a "heavy price" if it continues to harass Turkish fighter jets over the Aegean.
Erdogan had also recently expressed disappointment over delays in the delivery of F-16 fighter jets from the U.S., warning that Turkey would turn to Moscow if Washington fails to deliver on its promise.
According to an SCMP report, President Erdogan has sought a one-on-one meeting with U.S. President Joe Biden during the General Assembly of the United Nations in New York.
Meanwhile, speaking at a dinner event in New York, on Sunday, Erdogan said that he expects U.S. cooperation in the fight against terrorist groups such as the PKK/YPG and the Fetullah Terrorist Organization (FETO).
About his country's partnership with the U.S. and NATO, Erdogan said Turkey's position should be well understood and decisions are taken accordingly.
"Be it funding, be it land forces, Turkey is one of the top five most important partners that provide this support" in NATO, he said.
"Therefore, Turkey's position should be well understood, well-known, and decisions and steps should be taken accordingly," he added.
The Turkish president is currently in New York to attend the 77th session of the UN General Assembly.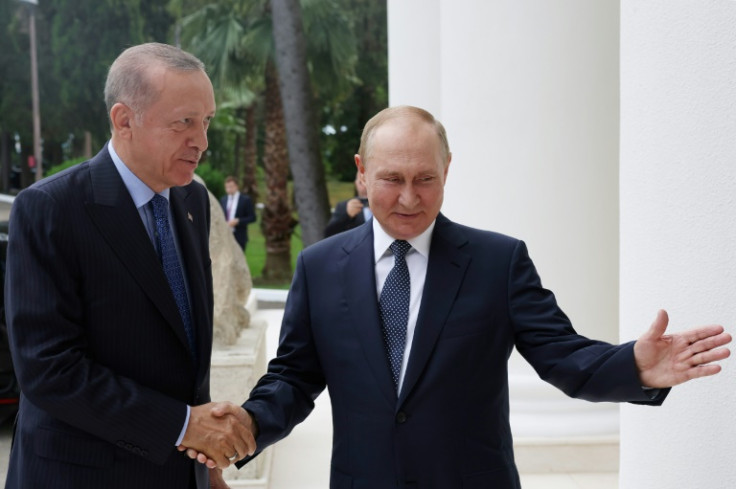 © Copyright IBTimes 2023. All rights reserved.