After East Ukraine, Activists Say New President Poroshenko Must Tackle Corruption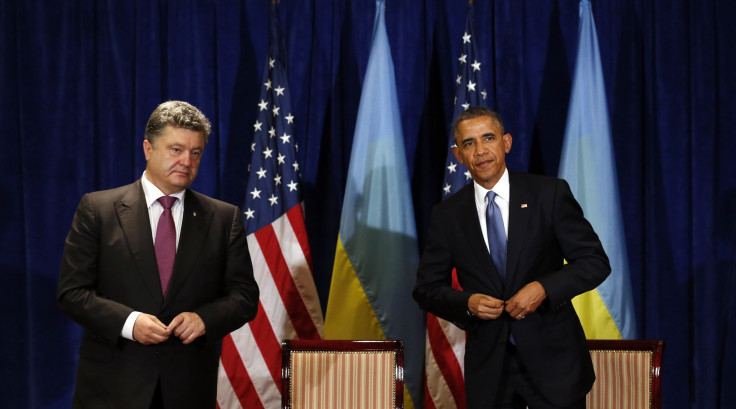 KIEV, Ukraine -- Ukrainian President Petro Poroshenko is being sworn in Saturday, and has one pressing item above all on his agenda: Finding a solution to the conflict in the east of the country, where pro-Russian separatists have proclaimed the Donetsk People's Republic and are seeking autonomy, if not outright independence. But after that, he will have to tackle widespread corruption, one of the main issues fueling the Euromaidan movement that ousted his predecessor Viktor Yanukovych.
"With Poroshenko we are really hopeful that something will change or else we aren't afraid of another Maidan, but this time it won't be as peaceful, " said Dmytro Karpov, 33, an activist with Civic Sector who was demonstrating in front of Parliament on Friday.
Civil society groups are pressing Ukraine's newly elected officials for the changes they demanded while protesting on Maidan Nezalezhnosti, or Independence Square.
Activists who stood watch outside of Parliament promised that they would keep the new government under tight scrutiny. "It's really important to grow public pressure because those in power are counting on people to become disillusioned that nothing can be changed," said Hanna Hopko, 32, an activist who has taken a leading role in Reanimation Package of Reforms, a group calling for wide-ranging reforms, from government procurement to law enforcement.
"Corruption is largely a function of bloated state apparatuses that are underpaid and tasked with too much authority over various aspects of life," said Alexander Motyl, a professor of political science at Rutgers University in New Jersey, who specializes in Ukraine. "If Poroshenko continues reducing the central state, introduces deep decentralization of authority, and simplifies procedures for establishing businesses, corruption will decline."
But Poroshenko, a confectionery billionaire with ties to the Ukrainian establishment, would face a "hopeless task" if he tried systemwide reform as soon as he enters office, according to Motyl. "He should focus on fixing government in Kiev and at the level of the oblasts [administrative regions]," he said.
Corruption ranging from money laundering to bribes for patient health care has plagued Ukraine for years and stunted its development. Daria Kaleniuk, 27, the executive director and co-founder the Anti-Corruption Action Centre (AntAC), said that reforming that system will take years.
"We have to understand that while the senior management of the ministries and government changed, the mid- and low-level didn't change," she said. "Very often those are people who were promoted to those positions by various business groups who are still interested in embedding some corruption schemes … We are still facing that corrupt system that is fighting back," she said.
A draft law establishing a national bureau for anti-corruption investigation is currently before Parliament. Kaleniuk sees such an agency as one of Poroshenko's first challenges in office. But activists say they are waiting to see if and when Poroshenko will call parliamentary elections, which would most likely remove many members of Parliament tied to the former government and bring in reformist lawmakers.
While standing in front of the Parliament, Hopko pointed out the expensive cars that dropped off deputies. She said that for several months those cars disappeared, while politicians feared the power of protesters.
"They are children of the system," Hopko said. "It's easy for them to find each other because they have one common interest: money and money and money, and power."
Some changes in Ukraine, however, are already evident. On the outskirts of Kiev, journalists and activists gathered at Mezhyhirya, the palatial residence of former president Viktor Yanukovych, to discuss the future relationship between journalists, activists, and government officials.
Natalie Sedletska, 26, an investigative journalist at Radio Liberty, was actively involved in digging through the more than 25,000 documents left behind by Yanukovych when he fled to Russia. Journalists, activists, and volunteers worked together to digitize the documents and make them public on YanukovychLeaks.org. The journalists involved in the project are hoping to obtain documents connected to other well-known politicians and oligarchs.
"We want to keep this website to remind newcomers to government that no matter how well you hide your wrongdoings, all secrets can become known," Sedletska said while looking out onto the large lake at the estate.
Sedletska, like many journalists, worries about Poroshenko's ownership of 5 Kanal, a widely watched TV channel. They are concerned he might use it to influence the population. And it also remains to be seen if and how Poroshenko will sell off his business assets, as he promised during his campaign (his TV station was excluded.)
Hopko, who has been an activist for 14 years, is ready for the long haul. When thinking back over the last few months, she said she feels like she has lived through a decade.
"We were fighting for our lives, for the territorial integrity of our country, for the future of our kids," Hopko said. "Right now the big fight for Ukraine is just starting. The Maidan was the first step -- we took down the regime. Now we are fighting the system, and that will be a long road … That will take much strength."
© Copyright IBTimes 2023. All rights reserved.
FOLLOW MORE IBT NEWS ON THE BELOW CHANNELS