After French Open, Rafael Nadal Drops To Worst Ranking In 10 Years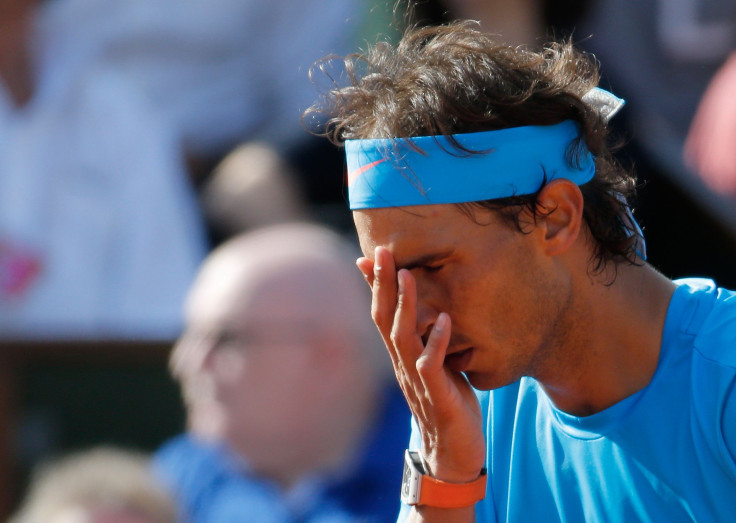 Rafael Nadal's free fall in men's tennis continues. The Spaniard failed to defend his title at the 2015 French Open and now has fallen to his worst ATP ranking in 10 years, dropping to the No. 10 spot in the world.
The Spaniard entered the tournament at Roland Garros as the world No. 7, but lost to Serbian rival Novak Djokovic in the quarterfinal round to further bump him down in the world rankings. Nadal was ranked No. 11 on April 18, 2005. The 29-year-old then bagged the 2014 French Open title, his ninth Grand Slam championship on his favorite surface, by defeating Djokovic, 3–6, 7–5, 6–2, 6–4, in last year's final.
Djokovic avenged the loss this year, winning in easy straight sets, 7-5, 6-3, 6-1, to oust Nadal early and end his domination in the clay court championship. Nadal won French Open singles titles from 2005 to 2008, and from 2010-2014. In the current ATP rankings, Nadal is not even the No. 1 player from Spain, with compatriot David Ferrer owning the No. 7 spot.
In other ATP rankings movement, Stan Wawrinka of Switzerland climbed five spots to No. 4 after his 2015 French Open win. Djokovic stays at No. 1, while Roger Federer, Andy Murray and Kei Nishikori complete the Top 5. Others with a better standing than Nadal are Tomas Berdych, Milos Raonic and Marin Cilic.
Nadal is just 29-10 in the current ATP season, with one title so far.
© Copyright IBTimes 2023. All rights reserved.