Tennis News: How Nadal, Federer, Djokovic And Murray Fared In 2014; Report Cards For Men's Big 4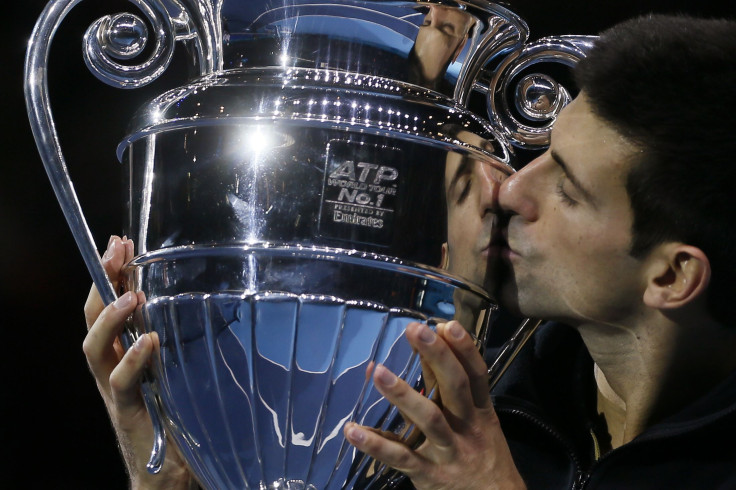 The past year has seen plenty of surprises on the ATP Tour. The Grand Slam calendar began with Stan Wawrinka stunningly winning his first major at the Australian Open and ended with an even more unlikely winner, Marin Cilic, lifting the U.S. Open trophy aloft. It was the year in which The Big Four, which have dominated men's tennis in a golden era for the sport, became beatable and a new generation stepped up. It all bodes well for a year to savor in 2015. Yet, 2014 ended with three of the famed four sitting atop the rankings and the other not far behind. Here's how they fared this year.
Novak Djokovic
The year started poorly for the Serbian as the three-time defending champion went down in the quarterfinals of the Australian Open. And there were other disappointments, too, including again falling short to Rafael Nadal in his attempts to win the one Grand Slam still to elude him -- the French Open -- as well as losing to Kei Nishikori in the semifinals at Flushing Meadows. Still, he finished a year in which he got married and welcomed his first child into the world as the undisputed best player in the world thanks in large part to a second Wimbledon title and a third-straight ATP World Tour Finals crown. His consistency and phenomenal athleticism mean he is still the man to beat heading into 2015.
Grade: A-
Roger Federer:
Anything less than an A for Federer is perhaps being extremely harsh. After struggling in 2013 with a back injury, he came into this year facing serious questions about whether he could still be a factor at the sharp end of Grand Slams. Given those expectations, this was a tremendous 12 months for the Swiss star. Reaching the semifinals in Australia and at the U.S. Open, Federer was a fifth set away from winning Wimbledon, while he did taste victory at Masters Series 1000 events in Cincinnati and Shanghai. Having been forced to withdraw before the final of the ATP World Tour Finals, he ended 2014 on a real high, too, by winning the Davis Cup for the first time. For a 33-year-old that's some list of accomplishments. Yet Federer may also reflect on what might have been. His primary goal must surely be to add to his record 18 Grand Slams, and he came agonizingly close to doing so at Wimbledon. Perhaps even more painful will be his lose to Marin Cilic in the semifinals of the U.S. Open, when he knew that Kei Nishikori awaited in the final.
Grade: B+
Rafael Nadal:
Following on from an extraordinary return to the court in 2013, when he ended the year No.1, was always going to be a tough challenge. The Spaniard hardly had a bad year. In all probability only a back injury in the final prevented him from winning the Australian Open final and in June he continued his incredible run at Roland Garros by claiming a ninth title at the French Open. When he was healthy he was hard to stop. The problem was, and may well continue to be going forward, how much time he was able to take the court. After losing in the fourth round at Wimbledon in June, Nadal played just three tournaments due to wrist and back problems, before finally appendicitis brought his 2014 to a premature close. For the sake of the 14-time Grand Slam winner and the sport, it must be hoped that a full offseason gets him in peak physical condition for 2015.
Grade: B
Andy Murray:
Murray was the man to fall away from the top four this season as he struggled to rebound from back surgery that curtailed his 2013. Accompanied by physical struggles, for much of the year Murray appeared to be trying to realign his goals after the ecstasy of fulfilling his dream by becoming the first British man to win Wimbledon in 77 years. Losing the coach who guided him to that success, Ivan Lendl, early in 2014 only added to the sense that he was drifting along. Losing a quarterfinal of Wimbledon in straight sets to Grigor Dimitrov was a particular disappointment and it took him until the U.S. Open to get his first top-10 win of 2014. Still, the Scot seemed to finally find his purpose again when winning three tournaments in five weeks in order to qualify for the ATP World Tour Finals in London and end the year ranked No. 6. Going in to 2015 he now needs to show that he can beat the very best once more.
Grade: C
© Copyright IBTimes 2023. All rights reserved.