After Tianjin Blast, Greenpeace Warns Of Chemical Hazards In Other Chinese Port Cities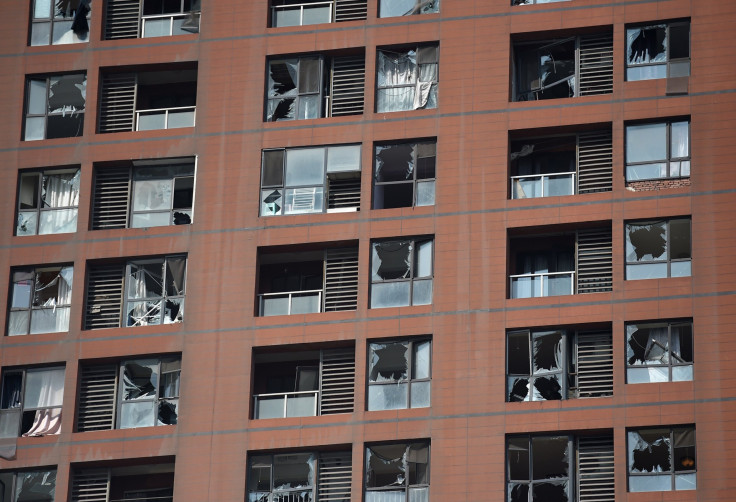 SHANGHAI -- As Chinese authorities continue efforts to clean up the site of last week's massive chemical explosion in Tianjin, the environmental group Greenpeace East Asia has warned of similar risks in other Chinese cities.
The blast at the Ruihai International Logistics chemical warehouse on Aug. 12 killed at least 116 people and injured 677, with another 65 still missing after nine days, according to latest official figures released on Friday – and there has been much public anger that the facility, which stored large quantities of toxic chemicals, including 700 tons of sodium cyanide, was located so close to residential areas, in violation of rules that stipulate a safe distance of one kilometer. The cause of the blast hasn't been determined.
However, a survey by Greenpeace found that there were also residential areas within just a few hundred meters of hazardous chemical storage facilities in each of China's four biggest port cities -- Shanghai, Ningbo, Guangzhou and Qingdao. Greenpeace also found schools and other public buildings – including care homes for the elderly and offices – as well as major roads and railways, located within a kilometer of such sites. One such facility in the eastern city of Ningbo was situated within just 300 meters of a major reservoir for drinking water, Greenpeace said.
"The results of this research show that the tragedy unfolding in Tianjin could happen anywhere," said Wu Yixiu, Greenpeace East Asia Toxics Campaigner, in a statement sent to International Business Times on Friday. Warning of widespread "negligence and an alarming lack of enforcement of the regulations," Wu said "Tianjin must be a wake-up call for the authorities" to ensure that safety rules are implemented, and residents informed of potential risks close to their homes.
Greenpeace's findings come a day after safety officials in Beijing announced that inspections of 124 chemical storage sites in the Chinese capital had revealed "hazards" at almost-one third of them – or 85 sites. Inspectors found that security personnel at the Beijing branch of state-run oil giant Sinopec were "unfamiliar with what to do when asked how to handle an oil tank fire," while the company's firefighters were "slow to respond," the official Xinhua news agency reported. Staff at a gas station, meanwhile, were found to be smoking at a nearby dormitory.
The inspections came as part of a nationwide tightening of safety controls following last week's blast, which has shocked the nation. Late on Thursday, officials denied online speculation that cyanide released by the blast was responsible for the deaths of thousands of small fish found washed up on the shore a few kilometers from the port. But the authorities acknowledged earlier this week that cyanide levels in rivers close to Tianjin's port area had reached more than 20 times the acceptable level at several locations, and 356 times the safe level in one place, while Greenpeace reported finding cyanide at three out of seven sites it tested on nearby rivers.
China's media on Friday highlighted a statement made after a meeting of the country's top leaders calling for a "scientific cleanup" of the Tianjin blast site, with strict measures to prevent secondary accidents, and 24-hour environmental monitoring with "timely release" of information to the public. However, the statement acknowledged that repeated accidents across China in recent years had revealed "grave problems" in enforcement of industrial safety standards.
In an apparent attempt to defuse public anger at lax safety standards, and online criticism of the government's handling of the crisis, the official People's Daily newspaper published a list of what it called "Ten tough comments" made by China President Xi Jinping on safety-related issues over the past two years, and called on officials across the country to study and implement them.
Earlier this week, the head of China's State Administration of Work Safety, himself a former vice mayor of Tianjin, was placed under investigation, apparently on corruption charges. And state media have acknowledged that personal links between the company that owned the warehouse in Tianjin where the blast took place, and local officials, helped the company to pass safety inspections, and also to operate without a required license for part of the past year.
The Chinese authorities have announced, meanwhile, that all companies in Beijing that manufacturer or deal with "highly toxic" chemicals and explosives must cease operation until Sept. 6, as the city prepares for this weekend's IAAF World Championships athletics competition, and a planned military parade early next month commemorating the 70th anniversary of Japan's defeat in World War II.
© Copyright IBTimes 2023. All rights reserved.