Ahmed Mohamed White House Visit: After 'Clock' Arrest In Texas, Teen To Participate In Astronomy Night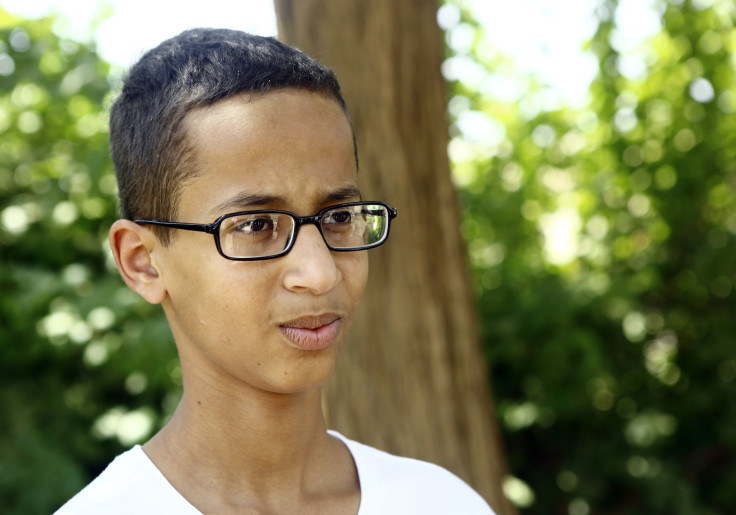 Ahmed Mohamed, the Texas teenager who became a household name following his arrest last month over a supposed homemade clock he brought to his school, was expected to take up President Barack Obama's invitation to visit the White House Monday night. Mohamed, who is not expected to meet with the commander-in-chief personally, will be among the participants in the White House's second Astronomy Night, which brings together students, scientists and educators to talk about space.
The 14-year-old Mohamed, who was arrested while wearing a NASA T-shirt, wasn't expected to have his clock in tow for the evening event on the White House lawn. He might have dashed any hopes of meeting the president after he met last week with Sudanese dictator and accused war criminal Omar al-Bashir in Khartoum.
"We think Ahmed will fit right in [at the event]," D.J. Patil, chief data scientist for the White House, said in September, according to an AOL.com report. More than 100 teens from around the country have been invited to attend the stargazing event, which has in previous years been hosted on the nearby National Mall.
The trip to the nation's capital won't be all educational for the aspiring engineer, as Mohamed was also scheduled to meet Tuesday with U.S. Rep. Mike Honda, a Democrat who represents part of California's Silicon Valley high-tech hub. Honda wrote to U.S. Attorney General Loretta Lynch following Mohamed's Sept. 14 arrest, asking that she investigate its circumstances.
Mohamed, a freshman, brought a briefcase containing a digital clock that had been disassembled and rearranged to MacArthur High School in the Dallas suburb of Irving, Texas, according to authorities. The device caught the attention of the teen's English teacher, who confiscated the briefcase and phoned police.
Mohamed endured hours of questioning at a nearby juvenile detention facility, during which he was asked if he attempted to make a bomb and intentionally cause alarm at his school. The teen was released to his parents and was not charged with any crime. But Muslim rights activists said the incident was another case of Islamophobia, in which Mohamed's Muslim faith and his name influenced school officials' assumptions about the teen's actions.
Honda and Mohamed were expected to hold a press conference Tuesday morning to discuss their concerns about the teen's arrest, representatives for the congressman said in a statement. Since his story emerged, Mohamed has received invitations to visit or intern with some of the country's top tech companies in California, including Twitter and Facebook.
Religious Hate Crimes in the United States | FindTheBest
© Copyright IBTimes 2023. All rights reserved.