Ai Weiwei Holds First Solo Show In China Since 2011 Detention, State Media Say Government Offering Him 'New Start'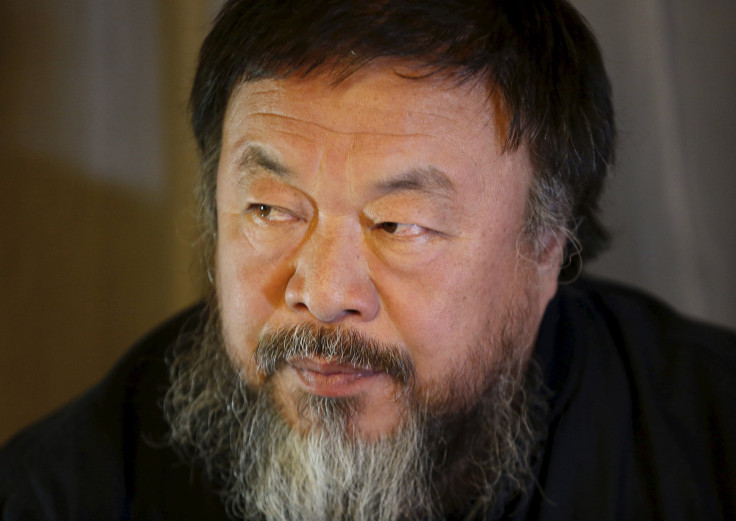 SHANGHAI -- An official Chinese newspaper has said controversial artist Ai Weiwei's first solo show in Beijing since he was detained four years ago offers him a chance for a "fresh start" -- though it suggested that, in future, his works should avoid politics if he wanted to connect with the Chinese people.
The opening of the exhibition, entitled simply "Ai Weiwei," attracted a large crowd of artists and intellectuals to Beijing's fashionable 798 art district last weekend. Some of the younger visitors were likely to be seeing Ai's work in person for the first time.
The bearded 57-year-old artist became a famous figure internationally with his major installation projects, including the Sunflower Seeds exhibit in the Turbine Hall at London's Tate Modern in 2010-2011, and the Circle of Animals/Zodiac Heads bronze sculptures, which have been touring the world for the past four years -- as well as his 2009 exhibition in Munich, dedicated to the children who died in the 2008 Sichuan earthquake.
Yet although he was initially invited to be an artistic consultant on the design of China's Bird's Nest Olympic Stadium, in the run up to the 2008 Beijing Games, Ai, the son of a famous poet, later offended the authorities by boycotting the games; and his work to document the names of all the children who died in the 2008 quake -- which he said the government was covering up -- led him into further conflict with the government. He was badly beaten by unidentified attackers when he tried to attend the trial of another earthquake activist, and was then detained for almost three months in 2011 on tax evasion charges. On his release he said he had been held in solitary confinement and repeatedly interrogated.
After his release he was fined $1.9 million -- which he paid partly by raising money from supporters inside China. Over the past four years, Ai has continued to meet artists, and to arrange for his works to be shipped abroad to be exhibited. He also made a heavy metal album and a video inspired by PSY's Gangnam Style. But he has remained under tight surveillance, with his passport held by the authorities to prevent him leaving China, and he has not held a solo show since his release -- indeed his last significant solo exhibition in China was in 2006.
Ai's new show is not overtly political -- the main work is the reconstructed wooden frame of a 400-year-old Chinese clan temple, which Ai divided in half and installed in two adjoining Beijing galleries. In a conversation with the show's curator published online, the artist said that he felt the building, from southern China, epitomized the nation's traditional civilization, for good and bad -- its structure involving no nails or foundations, had survived hundreds of years, yet had lost its purpose as society changed.
But the Galleria Continua, one of the two galleries hosting the show, pointed out in its introduction to the show that by requiring the audiences to walk through the exhibit, and to use their imagination to picture the building as it had been, the work was a continuation of Ai's focus on "the importance of human actions within a particular event, not only of artistic, but also of social and public character."
And the often hawkish Global Times, whose editor has been highly critical of Ai and his Western fans in the past -- it angrily denounced Elton John after he dedicated a concert in Beijing to Ai in 2012 -- on Thursday ran a commentary in both its popular Chinese tabloid edition, and its English-language edition, saying that the authorities had made an "important gesture" by giving permission for the show.
The Global Times said Ai should consider himself "lucky" among Chinese dissidents due to the great international support he had received. Unusually, it acknowledged that he had won human rights awards abroad -- but suggested that some believed he had "used his political label to make up for his 'artistic weakness.'"
The article said Ai now had an opportunity to "turn over the page" on past political controversy and win public acclaim, by producing works that would "broaden the Chinese public's horizons" and give citizens a chance to learn about "performance art." It said that it would be "meaningful" if the artist could break away from his previous "political" work -- saying such art would always be ephemeral -- and instead of "cosying up to the west, serve the broad masses of the Chinese people."
The comments, and the permission for the exhibition to go ahead, may reflect an official hope that Ai has been cowed by his detention, which he said at the time was a frightening experience, and will no longer dare to make overtly political works. One of the lawyers who defended him in 2012, Pu Zhiqiang, is currently in detention facing charges of "inciting trouble" for comments he made online.
Ai has not shied away from controversy, though: in 2013 he released a music video depicting his incarceration and treatment by police. However, in his discussion with the curator of his exhibition, Ai said that his prime concern at the moment was "with living, and having an awareness of life. A few days from now, I could die," he said -- though he added, "I'm not exactly sure what happens after I die, so I don't worry about it."
Nevertheless, the Global Times article, and its suggestion that China's development "needs art to advance," and that there is a great demand for creative artists, may also be a reminder of the Chinese authorities' sometimes contradictory attitude to contemporary art. Despite worries about artists like Ai, they know that contemporary Chinese art has become a big business, and has been good for China's image abroad. This year's official Chinese pavilion -- designed by Rem Koolhaas -- at the Venice Biennale art show is a case in point: it has won generally positive reviews for its installation pieces, which include works by musician Tan Dun, a grassroots video project curated by Wu Wenguang, the "godfather" of independent Chinese documentary film, and video art by avant-garde Shanghai artist Lu Yang.
Yet China's President Xi Jinping has also called for art to serve ordinary citizens, saying in a speech last October that good art should be rooted in the people, should "warm and enlighten the soul," and should "highlight the beauty of lofty belief."
And in a reminder of the limits of official tolerance, a Shanghai photographer, Dai Jianyong, remains in detention after being arrested last month, apparently for posting a "funny" image of Xi online. The Chinese government has itself promoted cartoon images of the president, in an attempt to burnish his image among China's young generation, yet the authorities' sense of humor clearly only goes so far.
The case may be a reminder that, ultimately, it is the content of the work the authorities are concerned about, as the Global Times' comments on Ai suggest.
And ambivalence about Ai was highlighted in another Global Times article, which said that Ai's recent posting on Instagram of a photo of himself with visiting U.S. actor Lee Pace could cause the American star to "face some troubles on Chinese social networks," since Chinese Internet users might identify him as "anti-China" because of his links to Ai.
Not all Chinese Internet users seemed so negative however -- commenting on the Global Times commentary, on Shanghai news website The Paper, several described him as China's "conscience." One asked how the paper could accuse Ai of being "used by foreigners" without evidence; another said it was a shame he hadn't been able to finish his list of earthquake victims, and a third expressed doubt whether Ai was a great artist, but said a country that could not accept different opinions would never be a "mature nation." Another simply asked whether "the words Ai Weiwei" were allowed to be mentioned now -- since they have frequently been deleted from the Chinese Internet.
With such reactions, it remains to be seen how long the authorities' "fresh chance" for Ai Weiwei will last.
© Copyright IBTimes 2023. All rights reserved.