Air New Zealand Flies First Boeing 787-9 Dreamliner Plane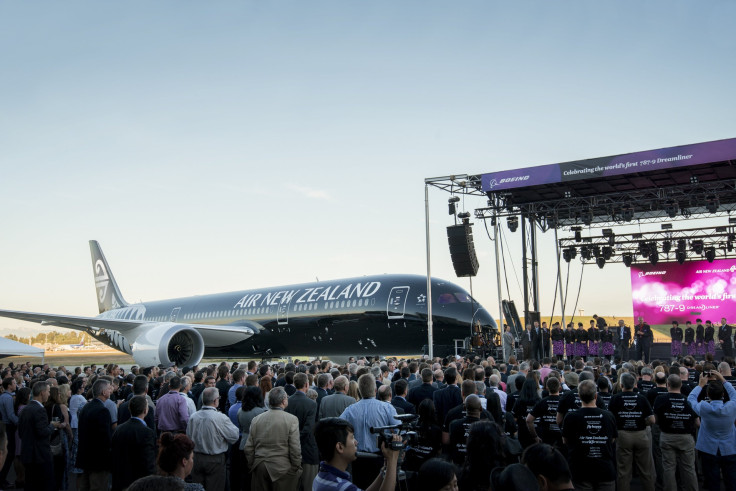 Boeing's [NYSE:BA] latest "stretch" version of its Dreamliner, the company's super-efficient airplane that entered into commercial service in 2011, took to the skies Thursday. Air New Zealand is flying the first of its 10 new Dreamliners from Boeing's manufacturing facility in Everett, Washington, to the airline's main base in Auckland.
Air New Zealand is the world's first airline to fly the 787-9, the biggest incarnation of Boeing's Dreamliner. The airline plans to operate the new plane on the Auckland to Perth route in October, and later to Tokyo and Shanghai.
"We are proud to be the launch customer for the 787-9," Air New Zealand CFO Rob McDonald said in a statement, adding that the plane is a "game-changer."
Boeing handed over the aircraft to Air New Zealand at a glitzy ceremony in front of more than 1,000 Boeing employees and guests on Tuesday. The plane looked sleek in its black paint job with silver and white trim, reflecting the country's colors.
The 787-9 boasts a fuselage that is about 20 feet longer than its previous model, the 787-8. It can carry up to 40 more passengers and can fly an additional 450 nautical miles.
The Dreamliner is a revolutionary type of passenger aircraft: It is the first airliner constructed from carbon fiber instead of aluminum, and offers 20 percent more fuel efficiency and 20 percent fewer carbon dioxide emissions than other passenger planes.
Enhanced passenger features include large windows, a spacious cabin, modern lighting and cabin air that is drawn directly from outside the plane rather than its engines, to provide a fresher experience.
But the plane is not without its critics. Its initial launch was delayed for several years, and last year all active Dreamliners were grounded for three months after a battery fire in one of the planes. Boeing's reliability rate for the aircraft was at 98 percent in January -- two out of every 100 flights were delayed due to mechanical problems.
© Copyright IBTimes 2023. All rights reserved.