Air Titan Track Drying: Watch How Nascar Hopes Its Latest Innovation Will Dry A Race Track In As Little As 30 Minutes [VIDEO]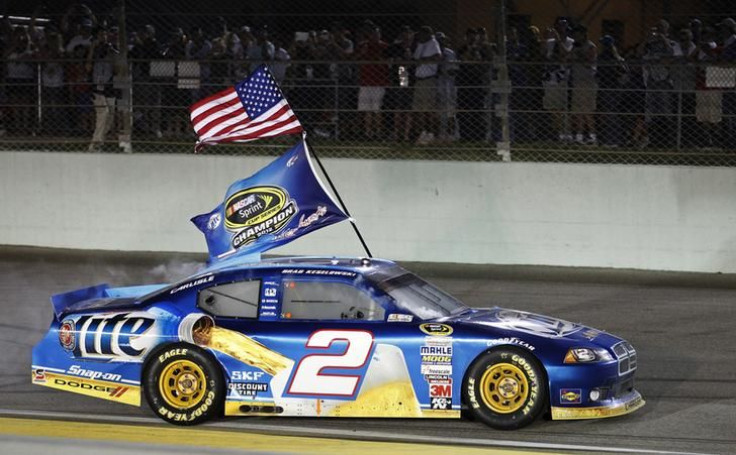 Nascar is reportedly introducing a number of new additions to America's most popular sport, one of which will help officials reduce track-drying time by 80 percent.
Dubbed the Air Titan, the track drying machine will potentially make lengthy rain delays a thing of the past as it utilizes compressed air to push water off of the racing surface and onto the apron where vacuum trucks will remove any remaining moisture. Standard issue jet dryers will follow the Air Titan, drying any excess water that remains on the surface.
The Air Titan drying device, developed by Nascar's Research and Development Department, will make its debut at the upcoming Daytona 500 on Feb. 24.
"We want to see how it goes," Nascar Senior Vice President for Race Operations Steve O'Donnell told ESPN. "Keep in mind that this has never been tested during a race or during full rain conditions at a track, so we've still got some work to do once we see it, if we do see it in play, and we'll learn from there and make sure we've got the best model going forward possible for other tracks."
The Air Titan track-drying project began more than eight months ago when Nascar CEO Brian France tasked his R&D department to develop a means to shorten rain delays.
The Titan is powered by a diesel fuel-powered air compressor, but O'Donnell hopes the machine could evolve to become more eco-friendly. He compared Phase 1 of the Air Titan to the earliest computers, massive in size, believing the number of air compressors -- currently 17 -- could be decreased as the device becomes more efficient, much like the iPad evolved from the computer.
O'Donnell said the Air Titan technology has been in development for some time but added that last year's postponement of the Daytona 500 from Sunday to Monday sped up the process.
"Having the first Daytona 500 rained out certainly put more of an emphasis on the importance for the fans attending and obviously those watching and for us to get off to a really strong start to the season," O'Donnell said. "The good news with this new innovation is it will really improve safety. There won't be any cars on the track during the track-drying process, so we can avoid what happened in the past."
Nascar's current way of drying tracks is by using machines called jet dryers -- an airplane engine mounted on a pickup truck or trailer. The exhaust from the engine is used to blow debris or evaporate moisture from the racing surface.
According to ESPN, jet dryers also will be used along with the Air Titan as part of the drying process at Daytona.
The sports news outlet reports that there will be two sets of identical equipment on opposite sides of the track that will move in the same direction and do one complete pass of the track.
Compressors will feed air at a high rate of speed through a hose to the Air Titan modules, and the Air Titan will be able to blow air in narrow, highly pressurized sheets over the race surface down onto the apron. On the apron will be a regenerative air vacuum truck absorbing the water.
Five jet dryers will be behind each cycle that will move at a rate of approximately 3 to 5 miles per hour.
Eventually, Nascar hopes a 2.5-mile track such as Daytona can be dried in 30 minutes instead of 2.5 hours. O'Donnell said it is too early to determine if the system will operate at that rate of efficiency.
© Copyright IBTimes 2023. All rights reserved.