AirAsia Flight 8501: Flight Data Recorders' Analysis Won't Be Mentioned In Crash Report, Says Official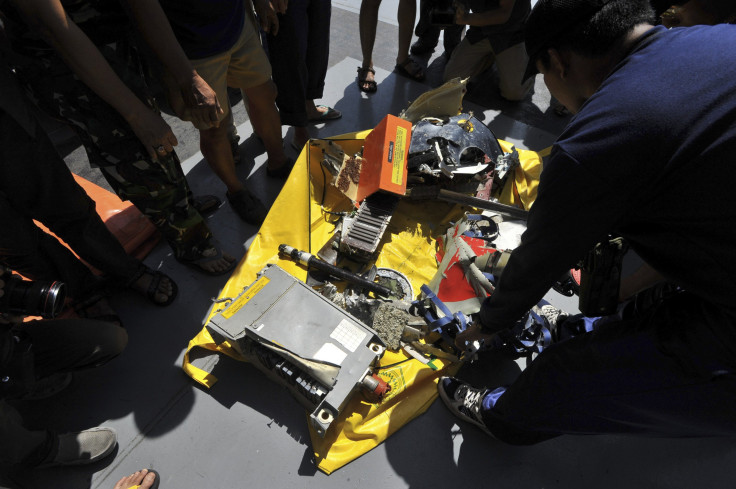 A preliminary report into the crash of AirAsia Flight 8501 will not include an analysis of the flight data recorders, an Indonesian official told Reuters on Tuesday. The initial findings are expected to be submitted this week by the National Transportation Safety Committee (NTSC), which is leading the investigation.
The preliminary report will not include the analysis of the cockpit voice recorder and the black box, both of which were recovered by divers two weeks ago, and could contain vital information about the cause of the accident. NTSC will submit the report of a month-long probe to the International Civil Aviation Organization (ICAO), which requires accident reports be submitted within 30 days of an event.
Instead, the preliminary report will include "information on the plane, the number of passengers and other information like that," NTSC investigator Suryanto told Reuters.
The Airbus A320-200 crashed into the Java Sea on Dec. 28 during a flight from Surabaya, Indonesia, to Singapore with 162 people on board. There were no survivors. The final report into the Flight 8501 crash investigation must reportedly be filed within a year.
Investigators are analyzing the flight data recorders to gather details on the final moments of Flight 8501, and authorities are focusing on human error and aircraft damage as possible reasons for the crash after ruling out any terrorist involvement in the incident. Transport Minister Ignasius Jonan had said last week, based on radar data, that the plane made an abnormally steep climb before stalling and crashing into the Java Sea.
Indonesia's search and recovery agency has so far recovered 70 bodies, and hopes to find more bodies after the fuselage is retrieved.
Several attempts to salvage the fuselage from the sea floor have failed in the last few days after ropes being used in the operation snapped, plunging the wreckage back to the sea floor. Divers had managed to reach the plane's main section, where most of the bodies of passengers are expected to be trapped, after rough seas and strong currents hindered the search and recovery operations for several days.
Officials are now expected to renew attempts to float the fuselage to the surface following which they would continue inspecting the wreckage.
© Copyright IBTimes 2023. All rights reserved.