AirAsia Flight 8501: Bodies Strapped In Seats Found Buried In Mud, 'Divers Might Reach The Wreckage'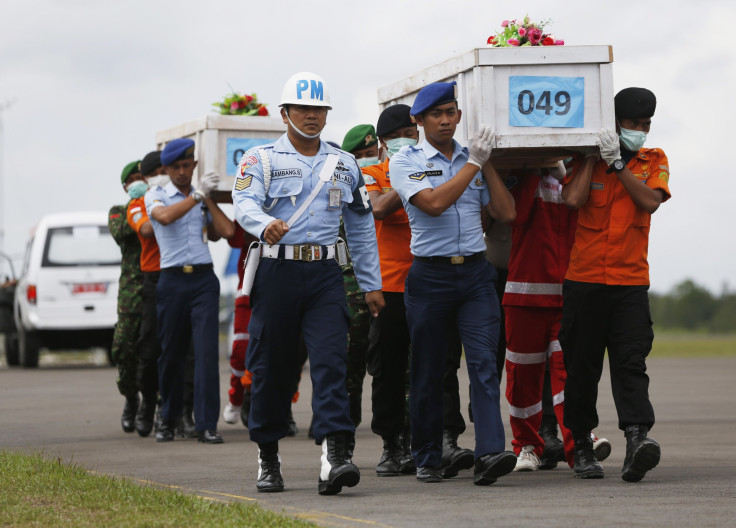 Update as of 3:35 a.m. EST: Indonesian divers have now retrieved a total of six bodies from near the fuselage of AirAsia Flight 8501 on the sea floor Thursday, bringing the total number of bodies recovered so far to 59. There were 162 people aboard the plane, which was on its way from Surabaya, Indonesia, to Singapore when it crashed into the Java Sea on Dec. 28.
Divers found five bodies of passengers of AirAsia Flight 8501 belted to their seats near the plane's fuselage in the Java Sea on Thursday, an Indonesian official said, according to Agence France-Presse (AFP). Rough seas and strong currents have hampered the search efforts for several days.
Three bodies have been retrieved from the sea, while two are yet to be recovered, bringing the total number of bodies found to 58 as of Thursday morning. Officials said they are optimistic that divers would now reach the fuselage where several bodies of passengers are expected to be trapped. The Airbus A320-200 went missing on its way to Singapore from Surabaya, Indonesia, on Dec. 28 with 162 people on board, and crashed after the pilot requested for a change of course to avoid unfavorable weather.
"Our divers found five bodies buried in mud, close to the plane fuselage. They were still belted to their seats," Suryadi B. Supriyadi, director of Indonesia's search and rescue agency, told AFP. "We believe they spilled out of the fuselage, which is 50 to 100 meters away."
Over the past several days, weather had reduced visibility underwater to only 2 meters, making it difficult for divers to reach the fuselage for inspection. However, an improvement in weather on Thursday is expected to help move the search forward.
"But it is a bright, clear day so we remain optimistic that the divers might reach the wreckage today (Thursday)," Supriyadi reportedly said.
The fuselage, which rests at a depth of about 92 feet on the sea floor, was found last week after a search of the shallow waters. The jet's flight data recorders were also recovered last week and are being analyzed by investigators in Jakarta to help determine the cause of the crash.
Meanwhile, Indonesia's Transport Minister Ignasius Jonan said Tuesday that the plane had made an abnormally steep climb before stalling and crashing into the Java Sea.
© Copyright IBTimes 2023. All rights reserved.