Al-Qaeda Threatens Suicide Bombings In India Over Derogatory Remarks About Islam
KEY POINTS
Al-Qaeda warned its members would carry out suicide bomb attacks across India
The threat came after Indian lawyer Nupur Sharma commented on Muhammad ibn Abdullah
Sharma has been provided with strengthened security by Indian authorities
A wing of the terrorist network al-Qaeda has threatened to bomb several locations in India over a local politician's remarks on the marriage of Islam founder Muhammad ibn Abdullah.
Al-Qaeda in the Indian Subcontinent (AQIS) has warned that its members will carry out suicide bomb attacks in the states of Uttar Pradesh and Gujarat and the cities of Delhi and Mumbai in response to the statements of lawyer Nupur Sharma, the Hindustan Times reported.
During a televised debate on May 26, Sharma commented on the age of Abdullah's third and youngest wife, Aisha, who was believed to have been betrothed to the religious leader at the age of 6 or 7.
The lawyer has since "unconditionally" withdrawn her statements and apologized for the incident, claiming the remarks were in response to the "continuous insult and disrespect" toward the Hindu god Shiva.
"It was never my intention to hurt anyone's feelings," Sharma's online apology read.
Despite Sharma's apology, AQIS will continue to "fight for the dignity of our Prophet" as her remarks "insulted and slandered" both Abdullah and Aisha in "the most vile and evil manner," the terrorist group said as per The Hindu.
"We shall kill those who affront our Prophet... [They] shall find no amnesty or clemency, no peace and security will save them, and this matter will not close with any words of condemnation or sorrow," AQIS said in a letter dated June 6.
Muslims often refer to Abdullah as the "Prophet Muhammad," "The Prophet" or "The Messenger."
It was unclear if Indian authorities have made moves in response to the threats of AQIS, believed to have members in India, Pakistan, Bangladesh and Myanmar.
Delhi Police previously provided security to Sharma in the wake of her remarks on Abdullah. It has since been strengthened due to a threat to her life from an unnamed militant group, according to the BBC.
Sharma was allegedly "bombarded with rape, death and beheading threats" against her sister, mother and father over her comments. Several police complaints have also been registered against her across India.
Meanwhile, Iran, Kuwait and Qatar reportedly summoned their respective Indian ambassadors to protest against Sharma's remarks.
India's ruling political party, the Bharatiya Janata Party (BJP), suspended Sharma from the group following the Muslim-majority countries' complaints. Sharma has been the national spokesperson for the BJP since 2020.
The BJP expelled another spokesperson, Naveen Jindal, over comments he made about Islam on social media, according to the party.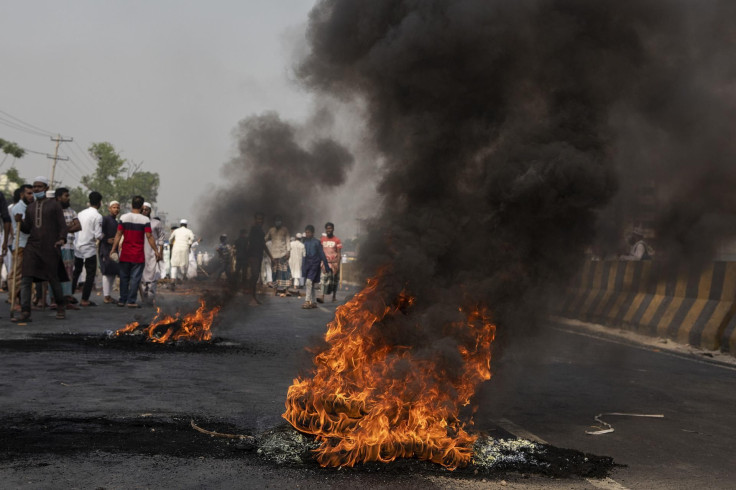 © Copyright IBTimes 2023. All rights reserved.