Al Sharpton Calls For National Law Requiring Police Body Cameras After Walter Scott Shooting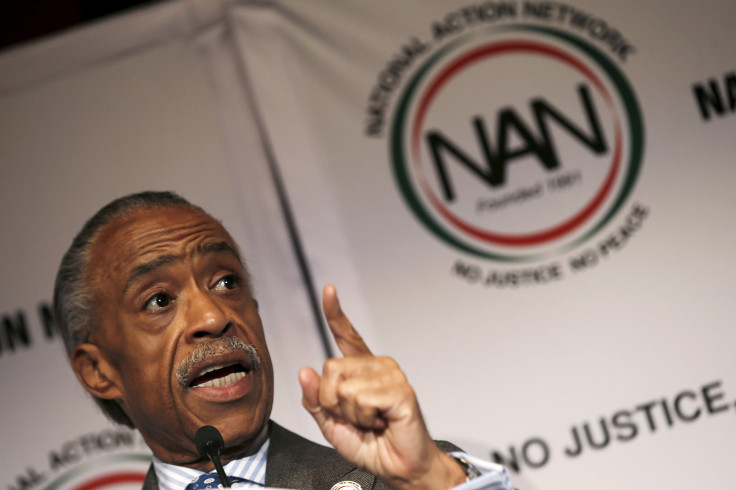 NEW YORK __ The Rev. Al Sharpton called Wednesday for national law enforcement standards to address alleged police brutality seen in several high-profile police killings last year and over the weekend in the death of Walter Scott, an unarmed black man whose killing by a South Carolina police officer was videotaped by a witness on Saturday. Joined by New York Mayor Bill de Blasio and mayors from a handful of other U.S. cities during the opening of his National Action Network convention in New York, Sharpton said he and other leaders would continue to push for national use of body cameras in police departments, among other reforms.
"There must be national policy and national law on policing," Sharpton said. "We intend to come out of this convention [and go] from state to state dealing with the need of having a nationalized, Justice Department-assigned law to deal with how policing is appropriate."
North Charleston police Officer Michael Thomas Slager, who initiated a traffic stop over a broken taillight, claimed Scott attacked him and attempted to take his Taser. That story was contradicted by video footage captured by a bystander appearing to show Slager planting the Taser next to Scott's body. Sharpton said the killing might have been prevented if Slager had been required to wear a body camera.
"It not only protects the citizens, but it also protects the police," he said. "Whether [cameras] helps the police or the citizen, no one should fight transparency." Sharpton said he was notified Saturday of Scott's death by the Charleston leader of a local branch of NAN and pledged his involvement if the family requests it.
De Blasio, who called the video of Scott's death "painful," encouraged other national leaders to consider New York City's pilot program on police body cameras. Mayors Michael Nutter of Philadelphia and Ras Baraka of Newark also joined Sharpton and de Blasio on the convention's opening panel Wednesday.
Sharpton, invoking the legacy of civil rights icon Rev. Martin Luther King Jr., likened the push for national standards to activists' struggle over half a century ago for antidiscrimination civil rights and voting rights legislation.
"We are going to deal with the fact that you cannot have civil rights for anybody, without civil rights for everybody," Sharpton said.
© Copyright IBTimes 2022. All rights reserved.
FOLLOW MORE IBT NEWS ON THE BELOW CHANNELS