Al Sharpton Eric Garner Criticism: Civil Rights Activist Responds To 'Exploitation' Accusations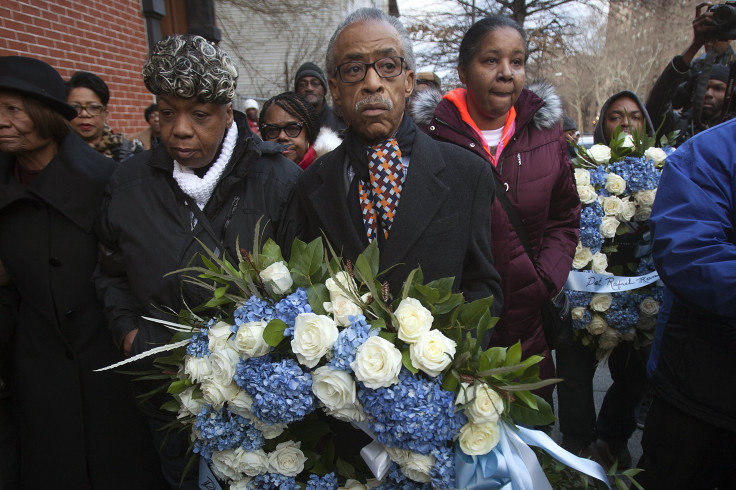 In nearly 45 years of publicizing and fighting racial injustice in the U.S., the Rev. Al Sharpton says he's learned what families need in times of grief. The high-profile, national civil rights leader, who most recently supported the family of Eric Garner, a New York City man who died last year in a police encounter, has locked arms with countless families as they faced a torrent of public attention and media coverage.
But Sharpton's recent dealings with the Garner and Michael Brown families rarely lacked controversy, as attention turned from the victims and instead to his frequent role as a firebrand activist and to his organization's financial stake in his advocacy. In a phone interview Tuesday, Sharpton said he is sought out by grieving families because they aren't trained in organizing against injustice, especially in cases that grab the national spotlight.
"They don't know what to do," Sharpton told International Business Times. "They don't have media training, they don't know how to protect themselves, and they don't have insurance. And unlike public figures, they didn't ask to be in the spotlight. They are knocked off their feet."
Sharpton's organization, the not-for-profit National Action Network Inc., has a policy of not receiving money or reimbursement from families victimized by racism, he said. "We've had victims that have gotten millions of dollars [through lawsuits] and we do not ask them for reimbursement," Sharpton said. "We wish them well and say, 'God bless you.' We don't expect anything back."
Reports earlier this week that victims' families had grown upset with Sharpton's involvement and were raising questions about his financial interests came after the release of a video exposé about the civil rights leader featuring Erica Snipes, the 24-year-old daughter of Garner, who died after an NYPD officer held him in a chokehold during an arrest for selling loose cigarettes on Staten Island last July.
In the video produced by Project Veritas, a conservative activist group, Snipes appears to suggest that Sharpton is all about money in his dealing with her family. Snipes, who was reportedly recorded without her knowledge, has denied that she accused Sharpton of benefiting financially from her father's case. But she stuck to criticisms about an associate of Sharpton's, who she said discouraged her from handing out fliers without the NAN logo.
The Garner family's attorney, Jonathan Moore, called Project Veritas' video "disgusting and shameful" for including Snipes in its attack on Sharpton, who paid for Garner's funeral. "No good deed goes unpunished," Moore said in an interview Tuesday. "For her to be twisted into saying something that is untrue is shameful. Nobody is making any money on this."
Through Sharpton's group, the family released a statement Tuesday calling reports in the New York Post about Snipes' comments "deeply misleading" and confirming that they had requested the civil rights leader's help following Garner's death. "We believe that their involvement is solely based on their commitment for justice for Eric and our family," Garner's mother, Gwen Carr, and his widow, Esaw Garner, said in the statement. "We appreciate the work that National Action and Rev. Sharpton has done and continues to do for our family."
Thursday will mark the third anniversary of the death of Trayvon Martin, the Florida teenager shot dead by amateur neighborhood watchman, George Zimmerman, who was acquitted of manslaughter charges. Since Martin's death, his family established a foundation in his memory and did so "successfully," said Sharpton, who supported the Martin family at the height of attention on the case.
The Project Veritas video also includes a Martin foundation fundraiser attendee accusing Sharpton of shaking down the family for money. "They never had a lawsuit, they didn't even sue" the Zimmerman family or Florida law enforcement officials, Sharpton said. "What money?"
Sharpton said his relationships with the families he's helped were intact, evidenced by their participation at a march he organized in Washington, D.C., on Dec. 13. "We continue to stand together," he said. "We all continue to work together."
© Copyright IBTimes 2023. All rights reserved.
FOLLOW MORE IBT NEWS ON THE BELOW CHANNELS