Families Of Mike Brown, Tamir Rice, Eric Garner Join More Than 5,000 In Washington For Justice For All March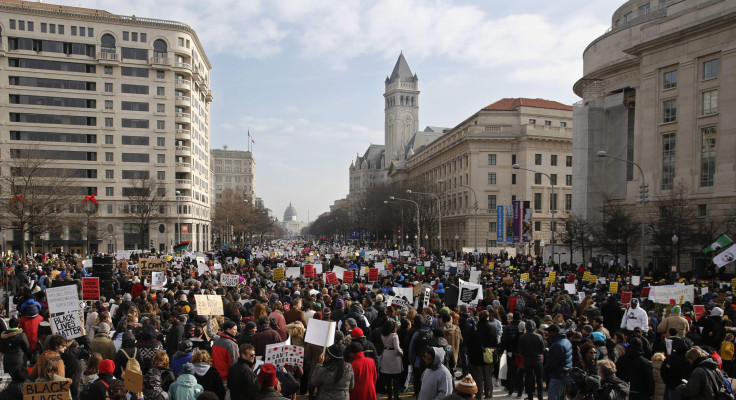 WASHINGTON -- The message was clear for the thousands who rallied here Saturday: The justice system is failing blacks in America. Young and old, black and white, the crowd chanted and waved signs as they moved toward the U.S. Capitol.
More than 5,000 people marched down Pennsylvania Avenue to protest police brutality and the deaths of black men at the hands of law-enforcement officers. Led by the Rev. Al Sharpton, marchers held their hands above their heads and chanted, "No justice, no peace," as they assembled next to the federal courthouse in the District of Columbia. Many waved signs reading, "I can't breathe." And many wore T-shirts reading, "Hands up, don't shoot."
Participants stretched across more than three city blocks at the conclusion of the march. It was a show of the anger and frustration that has coursed throughout the nation in the past month after a grand jury in Ferguson, Missouri, decided not to indict a white police officer in the death of black teenager Michael Brown.
"We are being suffocated by a system of Jim Crow justice," said Ras Baraka, the mayor of Newark, New Jersey. He later referenced a quotation by Martin Luther King Jr., "Until there is justice for all, there will be justice for none."
Some speakers called on U.S. President Barack Obama to take immediate steps to fix the justice system. Others called for hearings in Congress to pass legislation that will help resolve the systemic problems.
"We are here because we refuse to accept injustice," said U.S. Rep. Al Green, D-Texas. Green participated in the march by walking down Pennsylvania Avenue with his hands up. "We have heard your cry. You are demanding legislation. You are demanding that we take up the duty you have given to us," he said. "We will take up legislation to bring about change in the way policing takes place in this country."
Film director Spike Lee carried an American flag and led the march. Behind him, the families of victims joined hands and chanted.
Brown's family was on hand for the event, along with the relatives of several other young men who were killed by police officers. They included members of the family of Eric Garner, a man who was killed by a chokehold administered by a police officer in Staten Island. Prompted even more outrage across the country, the lack of an indictment in Garner's case came weeks after a Ferguson grand jury also chose not to indict Officer Darren Wilson over Brown's death.
Relatives of Tamir Rice, a young boy who was shot by police in Cleveland after he was seen playing with a toy gun, and Trayvon Martin, who was killed by neighborhood watch volunteer George Zimmerman, were also present.
Sharpton told the crowd that they would continue to press Congress to make fixing the justice system work. He said a special prosecutor is needed in cases of police shootings.
"We come as the shot and the choked coming to Washington," Sharpton said. "The only way you make roaches run is you gotta cut the lights on."
Sharpton emphasized the diversity of the crowd. Many of those who protested were white.
"I am inspired when I see white kids holding up signs that say 'black lives matter'" Sharpton said. "This is not a black march. This is not a white march. This is an American march for the rights of the American people."
Many of the relatives of victims spoke.
"It is overwhelming to see all of you who have come to stand with us," said the mother of Eric Garner.
Linda Walker, 68, drove with her family, including her biracial granddaughter, from Mapleton, Georgia. Walker, who is white, carried a sign reading "White silence is violence."
"You can't just wake up, you need to stand up and be part of the solution, otherwise you're part of the problem," Walker said. "There are a lot of white people here too and people of all color, and I hope that continues."
Sherri Stevens, 34, of Washington, D.C. brought her 5-year-old son Joey to the march, holding him by the hand as he walked down the street. She didn't try to explain the gravity of what was happening, but told him about the historic importance.
"This is a relevant topic for us. I said this is a historic moment," she said. "The more that we can keep the word out there, the better."
Kimberly Brown, 49, traveled 15 hours from Ferugson, Missouri to participate in the march. She was standing outside the courthouse when the decision not to indict Wilson was made public.
"We can't stop here, this can't be the end," Brown said. "Keep protesting. Keep marching. We are farther than where we came from."
A group of about 130 school children from St. Andrew's School, a boarding school in Middeltown, Del., organized a bus trip to travel to the march. Two of their teachers who traveled with them -- Sam Permutt, a math teacher, and Matt McAuliffe, a Latin teacher -- said they didn't have to explain the purpose of the march to the students, they explained it to their fellow classmates.
"They were the ones who led this, the students made these announcement, the faculty is just supporting this," McAuliffe said. "They were the ones who explained it to the school what was happening."
FOR FREE to continue reading
✔️ Unlock the full content of International Business Times UK for free
offer available for a limited time only
✔️ Easily manage your Newsletters subscriptions and save your favourite articles
✔️ No payment method required
Already have an account?
Log in
© Copyright IBTimes 2023. All rights reserved.