Al Sharpton Slams 'Stand Your Ground' Double Standard At Eulogy For Slain Black Man Corey Jones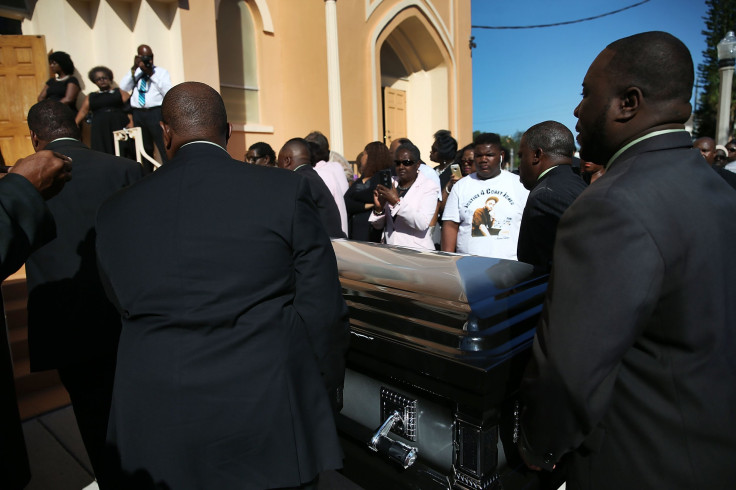 The Rev. Al Sharpton called out a double standard in Florida's "Stand Your Ground" laws during a eulogy Saturday for Corey Jones, a black man who was shot dead by a police officer this month. "Florida has a 'Stand Your Ground' law. But where were Corey's rights on that night?" Sharpton said to those gathered at Payne Chapel AME Church of West Palm Beach.
"It doesn't matter if it's a white or black area, rich or poor area -- this has got to stop, because it's happening everywhere," Sharpton said, the Palm Beach Post reported.
Jones, 31, was a public housing inspector whose car broke down off an exit ramp on Interstate 95 while he was making his way back from an evening gig with his band. Around 3:15 a.m. plainclothes officer Nouman Raja approached Jones, who was waiting by his vehicle for a tow truck, and opened fire, according to a statement by Palm Beach Gardens Police Department.
The statement identified Jones, who had a license to carry a concealed weapon, as an "armed suspect."
An investigation is underway by Palm Beach County State Attorney Dave Aronberg, who said this month that his office has "loyalty to the community, and our commitment is to the truth," CNN reported.
Jones' sister Melissa Jones said: "We don't really know what happened, but I do know that my brother is a victim, and we're looking for justice for him no matter what it takes. I'm going to make sure that day happens."
Sharpton previously railed against "Stand Your Ground" laws during a 2014 march on the state Capitol. Among the protestors were the families of slain black teenager Trayvon Martin and Marissa Alexander, who received a 20-year prison sentence for firing a gun near her estranged husband, the Associated Press reported.
"To have laws that tell people that they can shoot first and then ask questions later is a violation of our civil rights. I believe that law is inherently wrong," Sharpton said at the time. "The law in effect says based on your imagination -- if you imagine I'm a threat -- you have the right to kill me."
The reverend went on to say Florida was "ground zero" for those looking to repeal or alter the law.
© Copyright IBTimes 2023. All rights reserved.