Hillary Clinton Al Sharpton Interview: Black Vote Courted As Presidential Candidate To Appear On Civil Rights Leader's New MSNBC Program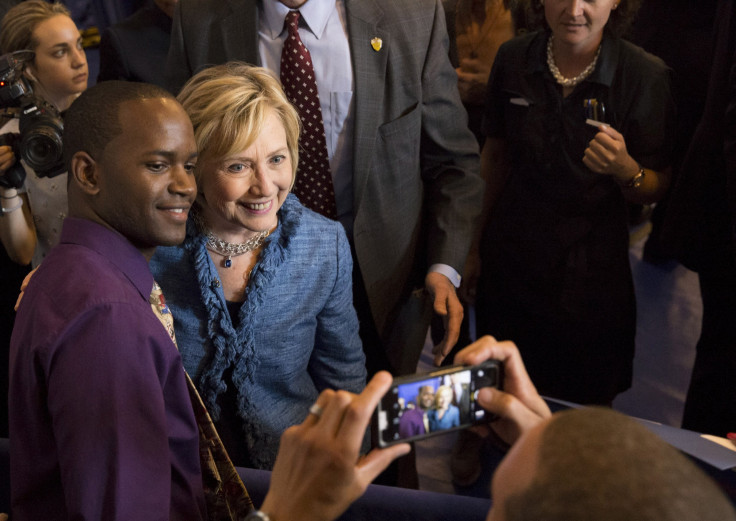 Democratic presidential candidate Hillary Clinton this weekend is expected to make yet another attempt to court the black vote when she becomes the first guest of the Rev. Al Sharpton's all-new weekly "PoliticsNation" talk show on MSNBC. The show premieres on Sunday, Oct. 4, at 8 a.m. EDT.
The appearance will mark the second time in two months that Clinton sits down with the veteran civil rights activist. She appeared on Sharpton's syndicated radio show Aug. 6 to coincide with the 50th anniversary of the Voting Rights Act that outlawed voter discrimination against African-Americans.
Since launching her campaign in April, Clinton has crisscrossed the nation meeting with black voters at social justice conventions, outlining criminal justice reform policies and even meeting with activists in the Black Lives Matter social justice movement. But she has appeared to struggle at winning over African-American voters, unlike how former President Bill Clinton did when they occupied the White House in the 1990s.
Hillary Clinton is expected to speak to Sharpton about her campaign, her policies and the kind of president she would be, according to Sharpton's civil rights organization, the National Action Network. "I am excited to be starting out with some very important guests," Sharpton said in a statement released Wednesday. He previously hosted a daily political news show on MSNBC before it was canceled in August.
Hillary Clinton Presidential Candidate Profile | InsideGov
Sharpton's once-a-week program will add diversity to a small crop of Sunday political talk shows, an American broadcast tradition that stretches back to the creation of CBS's Face the Nation and NBC's Meet the Press in the 1950s and 1960s, respectively. "As the political season heats up, I intend to bring on the biggest names in the game to talk about the issues each week," Sharpton said in the statement.
Clinton is considered by many political strategists to be the front-runner for the 2016 Democratic nomination. Polls suggest that she is popular with black voters, even after a bruising defeat by Barack Obama in the 2008 primaries.
A national Public Policy Polling survey from April showed Clinton managed to garner black support anywhere from 70 to 90 percent when she was matched up against GOP rivals. In a March Gallup poll, Clinton got her best approval ratings from nonwhite men and women, who gave her a higher favorability rating of 71 percent than white women, with 50 percent, according to the poll.
© Copyright IBTimes 2023. All rights reserved.