The AL Wild Card Winner? Yankees vs. Rays, Red-Sox vs. Orioles Predictions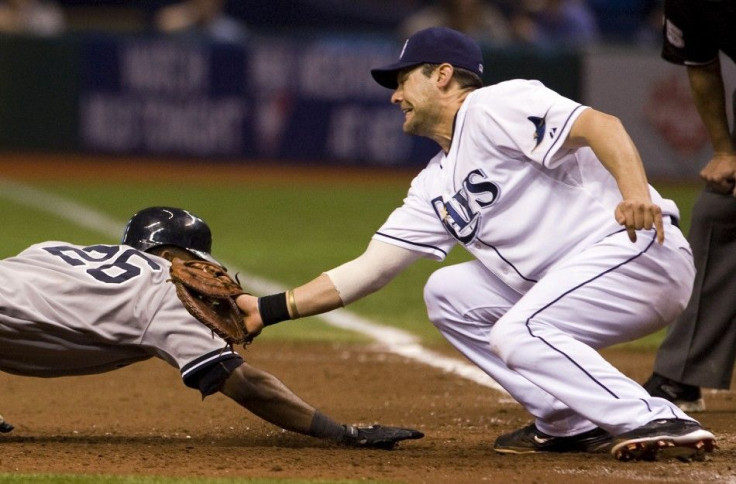 The Boston Red Sox (90-71) own a share of the AL wild card lead with the Tampa Bay Rays (also 90-71) heading into the final day of the regular season.
The Rays face the AL East champion New York Yankees and the Red Sox face the Baltimore Orioles on Wednesday night. The Rays, however, would host the Red Sox in a one-game playoff on Thursday even if both teams win.
It's been quite the race in just a matter of weeks. It all comes down to one game. Here are predictions for the games:
Boston Red Sox vs. Baltimore Orioles
The Red Sox held a nine-game lead over the Tampa Bay Rays on Sept. 3, but their 7-19 September record has put them in a rut. No team in history has ever failed to make the playoffs after holding a lead of nine or more games in September. Will the Nation become the first?
The ball is in the hands of one Jon Lester, who will be pitching on three days' rest at Camden Yards Wednesday night. The ace looks to continue his domination of the Orioles and help the Red Sox get back to the playoffs.
Lester (15-9, 3.49 ERA) is 14-0 with a 2.33 ERA in 17 career starts against Baltimore, winning all seven of his decisions in nine road games against Baltimore. On April 28 this season, he allowed two runs in eight innings of a 6-2 victory at Camden Yards.
Keep in mind, though, that Lester hasn't been as dominant in his last three starts, going 0-3 with a 10.54 ERA
Alfredo Simon (4-9, 4.85 ERA) takes the hill for the O's, looking to win for the first time since beating the Minnesota Twins on Aug. 23. The right-hander is winless in the month of September, posting a 6.52 ERA.
Simon, in his only career start against the Red Sox on July 9, gave up three runs and eight hits in 4 2/3 innings, which resulted in a 4-0 defeat at Fenway Park.
The Red Sox's bats are banged up a little, but still have an offensive firepower that far outmatches the Orioles'. Gonzalez, Ortiz, and MVP candidate Jacoby Ellsbury can do damage.
Boston owns the regular season series 10-7. They know what it means to be behind and how to overcome. They'll do their job, especially if closer Jonathan Papelbon finishes in the end.
Result: Boston over Baltimore 5-2
Tampa Bay Rays vs. New York Yankees
The Rays have fought tooth-and-nail to catch Boston since early September. They look to match a season high with a fifth consecutive victory Wednesday night against the Yankees at Tropicana Field.
The Rays have given the nod to their own ace, David Price (12-13, 3.35 ERA). They would like him to pitch on Wednesday as well as he did in a 5-1 win at New York on Aug. 12, when he allowed just one run in eight innings. However, Price is just a .500 pitcher against the Bombers this season, only 1-1 with a 4.26 ERA.
The Yankees (97-64), who will have home-field advantage throughout the AL playoffs, should be playing most, if not all, of their starters, to avoid negative momentum going in.
Manager Joe Girardi has yet to name the Yankees' starter. It's not likely that Sabathia, Nova, Burnett, or Colon will go. Rookie relievers Andrew Brackman and Dellin Betances could be possible choices.
As far as the offense goes, the Rays' Ben Zobrist may give the Yankees problems. He is 8 for 21 with four homers and seven RBIs in his last six games. Three of those homers are against New York.
The status of Casey Kotchman, Rays first baseman, is uncertain after he was taken to a hospital Tuesday as a precaution after experiencing chest tightness. Kotchman is batting a team-leading .305.
Meanwhile, Yankee outfielder Curtis Granderson, MVP candidate and arguably the team's greatest offensive weapon, is slumping. He is 0 for 17 in his last four games and 5 for 28 with two homers and 10 strikeouts versus Price.
The Yankees slightly lead the season series 9-8. Though the Yankees technically don't really have anything to play for, they will still play with meaning. Nevertheless, the Rays have always been a pesty team playing the Yankees and their postseason hopes are on the line with their ace on the mound. If Price goes up against a rookie reliever, he should be able to pull off the victory.
Result: Tampa Bay over New York 8-6
So, with these predictions, look for a one-game playoff between the Rays and Red Sox on Thursday. Should be a good one.
© Copyright IBTimes 2023. All rights reserved.