Alan Gross Nears Fifth Year In Cuban Prison As Senators Signal Positive Signs For Release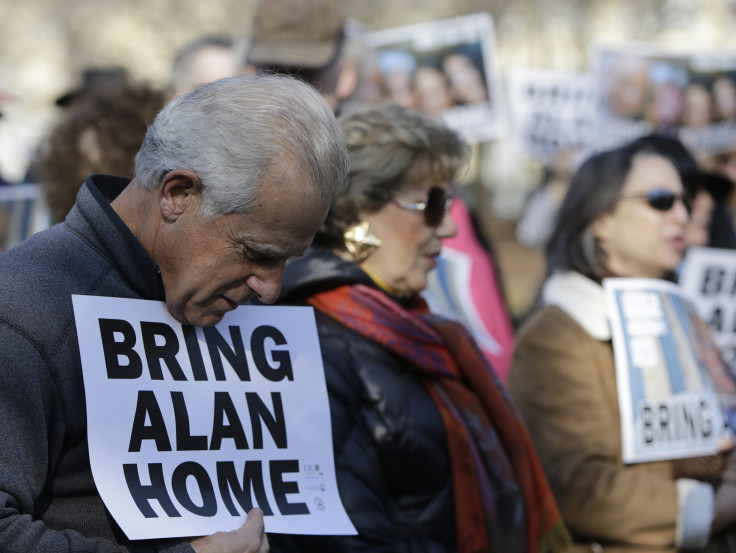 Alan Gross, former subcontractor for the U.S. Agency for International Development (USAID), is nearing his fifth year in a Havana prison after being accused of trying to destabilize the Cuban regime. But the prospects for his release may be looking up, according to two senators who visited Gross during a trip to Cuba this week.
Sens. Jeff Flake, R-Ariz., and Tom Udall, D-N.M., returned from Cuba on Wednesday after visiting Gross in Havana, where he has been imprisoned since 2009. They met with Gross for two hours on Tuesday during a trip that also included meetings with Cuban officials. Although the senators did not disclose details of the meetings, they waxed positive about the chances for Gross's release.
"I do feel we're closer there, one, because Alan Gross has said himself: This is going to end one way or another," Flake said during a press conference in Havana Tuesday, when asked about prospects for Gross' release. "We've gone on five years and I think any benefit that the Cuban government may have seen has to have evaporated by now in that regard."
This may likely be the last year Gross remains imprisoned in Cuba, as he has threatened to end his own life if he has not returned to the United States by his next birthday, which is in May. Now 65, Gross has battled depression, shed more than 100 pounds and lost much of his vision in his right eye during his time in prison, according to his lawyer, Scott Gilbert.
Gross was arrested in Cuba in 2009 while working for Development Alternatives, an international development firm subcontracted by USAID. He had been on his fifth trip to the island in eight months, and was bringing communications equipment to set up Internet connections for Cuba's Jewish community. Cuban authorities accused him of trying to foment regime change on the island, while Gross maintained he had no knowledge of any covert plans. In 2011, he was sentenced to 15 years in prison.
In recent months, Gross had refused visits from U.S. diplomats in protest against the Obama administration's slow progress in negotiating his release, but he agreed to meet Udall and Flake. The two senators have been vocal proponents of normalizing U.S.-Cuban relations.
"I do feel hopeful about this resolving," said Sara Stephens, executive director of the Center for Democracy in the Americas, an organization that regularly arranges fact-finding trips to Cuba for members of the U.S. Congress. She said that while it's difficult to glean what conversations may be going on behind the scenes between U.S. and Cuban officials, there have been some encouraging signals in recent months.
"As always with Cuba, it's about sort of reading the tea leaves. There've been a lot of gestures over the last months that are small but meaningful, and I think they point toward a real opportunity to hash this out," she said, pointing out recent niceties between the U.S. and Cuba on Ebola cooperation as one example.
Cuban authorities have repeatedly called for a prisoner swap in exchange for Gross' release, specifically requesting the release of three of the remaining members of the so-called Cuban Five who remain in U.S. custody. U.S. authorities arrested the group in Miami in 1998 on espionage-related charges for attempting to infiltrate Cuban exile groups in Florida. Two members were released, one in 2011 and the other in 2014, after completing their sentences. The Obama administration has flatly refused the possibility of a prisoner exchange.
USAID's so-called democracy promotion programs have also come under harsh scrutiny in light of the Gross case. An Associated Press report earlier this year said the U.S. government covertly tried to spur pro-democracy activism through a microblogging platform called ZunZuneo, popularly thought of as a "Cuban Twitter." Over the summer, the AP also reported that USAID had hired Latin American youth to recruit democracy activists in Cuba under the guise of an HIV prevention program. Although USAID has maintained that its programs are not covert, the State Department said Monday that it was reviewing its democracy promotion programs in Cuba.
Flake referenced the potential end of secretive USAID programs in Cuba on Tuesday, saying it showed another positive sign for Gross's potential release. "There's been a realization that there won't be covert programs run out of USAID anymore, and that's a good thing," he said.
Stephens said the senators' visit this week was "helpful to creating a climate for something to happen" regarding Gross' release, but said that only direct talks between the two governments would bring about a concrete result. "The only way anything's going to happen is when the U.S. and Cuba directly negotiate with each other based on humanitarian interests and needs of both countries," she said. "It can very well be happening right now, and I hope it is."
© Copyright IBTimes 2023. All rights reserved.
FOLLOW MORE IBT NEWS ON THE BELOW CHANNELS