Alaska Wildfires Prompt Second Evacuation Order, Card Street Fire Grows To Nearly 2,000 Acres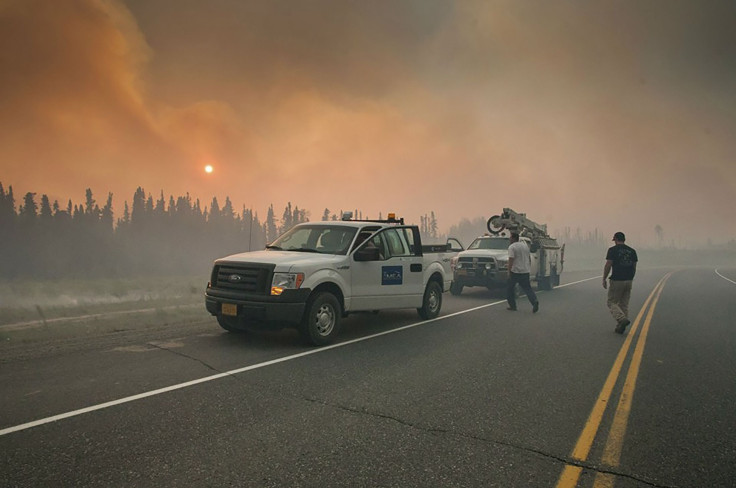 A second evacuation was ordered Tuesday for the Kenai Keys subdivision in Alaska, after two wildfires continued to burn north and south of Anchorage, Alaska. Firefighters scrambled to the area to protect rural homes and cabins while air tankers dropped over 30 loads of fire retardant to curb the fire, KTVA News, a local news network, reported.
One of the fires forced the authorities to restrict traffic on a major highway that connects the state's two major cities. Officials expressed concern about crews battling blazes in high temperatures, low humidity and lightning strikes, Reuters reported.
"Considering the weather we are dealing with, these guys are going to be challenged," Sam Harrel, a spokesman for the Alaska Forestry Division, said, according to Reuters.
The first fire, the human-caused Sockeye Fire that destroyed 45 homes, began on Sunday near Willow. It quickly spread to about 6,500 acres and reached 7,500 acres by Monday. The second fire started Monday in Card Street, Sterling, on the Kenai Peninsula, where a grass fire grew to 650 acres and led to the evacuation of about 200 homes. The fire grew to nearly 2,000 acres by Tuesday, local reports said.
Forest officials said, according to 2 KTUU, a local news network: "Firefighters are holding it out of the area but they want to get people out in the event wind associated with thunderstorm cells building to the east produces winds that could fan the flames."
About 300 people are working on the Sockeye Fire, which has been spreading during the day and slowing in the night, Tim Mowry of the Alaska Division of Forestry and a spokesman for the Alaska Interagency Coordination Center, said, according to the Associated Press (AP). The firefighters were reportedly using forest roads to protect the fire from reaching the highway communities of Caswell Creek and Montana Creek in the north.
"We get a lot of calls from people who want to get into their houses now and cut trees down around their house and do stuff that they should have been doing a while ago," Mowry said, according to the AP.
The officials at the Sterling Community Center, where the evacuation center was arranged, told the evacuees on Tuesday that the Card Street fire was more difficult to tackle than the Sockeye Fire.
"We're in a bad situation. We're struggling to hold what we have," Terry Anderson, a representative from the Forestry Division, said, according to 2 KTUU News, adding: "Things are as bad as they ever get in Alaska. They don't get worse."
© Copyright IBTimes 2023. All rights reserved.