Alex Hribal, 16, ID'd As Pennsylvania High School Stabber Suspect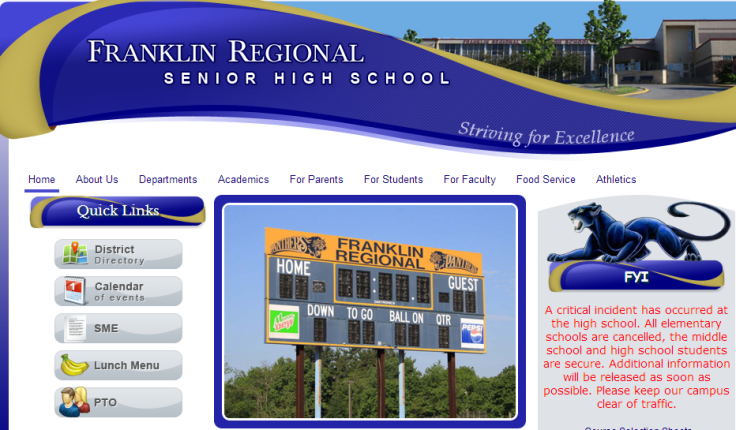 Alex Hribal has been identified as the 16-year-old sophomore who allegedly stabbed 20 people, including 19 students, at Franklin Regional High School in Pennsylvania Wednesday.
Pittsburgh CBS affiliate KDKA confirmed that the name of the Franklin Regional High School stabber was Alex Hribal (pictured here). According to reports, Alex was armed with two knives when he began the stabbing spree around 7 a.m. Wednesday inside the Murrysville, Pa., high school. A vice principal and a school resource officer helped subdue the suspect until authorities arrived.
Not much is known about Alex, although a Franklin Regional High School student told ABC News that he was a "pretty normal kid."
Four victims were said to have serious injuries, including a boy who had a stab wound just millimeters from his aorta. The boy is on life support and was in critical condition as of Wednesday afternoon.
Murrysville Police Chief Thomas Seefeld said the suspect sustained injuries to his hand and was being treated for his wounds.
Seefeld credited a quick-thinking student and stabbing victim, later identified as Nate Scimio, for preventing more stabbings by pulling the fire alarm and screaming to get the students' attention.
"A good thing was done," Seefeld said, adding that police "saw a chaotic scene with people running everywhere" due to the fire alarm being pulled.
Scimio posted a selfie to Instagram in which he is wearing a hospital gown and a bandage is wrapped on his right forearm.
Aside from the 19 students, a school officer was also injured in the stabbing attack. He was discharged from the hospital.
A motive for the high school stabbing was under investigation. Police are looking into whether there was a threatening phone call between Alex and another student the night before the attack, according to KDKA.
© Copyright IBTimes 2023. All rights reserved.