Alibaba Group Holding Ltd (BABA) Stock Price: How Long Can Shares Soar?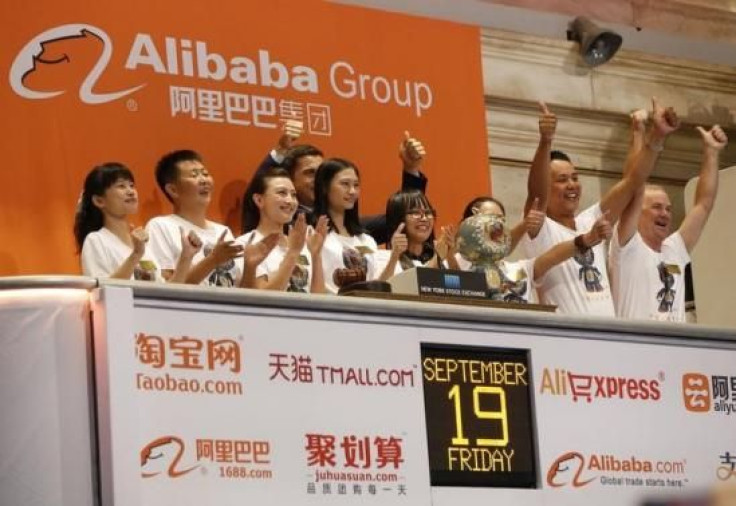 Alibaba Group Holding Limited (NYSE:BABA) shares jumped 38.07 percent on Friday to close at $93.89 following the e-commerce giant's first day as a publicly traded company. The stock opened for trading at $92.70 per share and has a market cap of nearly $230 billion.
"Today's IPO looks to have been a big success and went off without a hitch," Mark Newton, chief technical analyst at Greywolf Execution Partners, said to IBTimes. "However, reality often doesn't live up to the hype with large IPOs. It's often tough to speculate on where BABA goes in the near-term."
Newton pointed out that LinkedIn Corporation (NYSE:LNKD), Zynga (NASDAQ:ZNGA), Facebook, Inc. (NASDAQ:FB) and Twitter Inc. (NYSE:TWTR), four of the most hyped Tech IPOs of the last few years, all dropped in the first few days of trading. All, except Facebook, rose after a few weeks, but were all down six months later.
"Fundamentally, most current numbers about valuation, revenue growth and ongoing escalation in users and degree of penetration right now in the Chinese market are impressive," Newton said. "It should likely help this company continue to grow and support a long-term valuation at levels near where the stock opened today."
Despite how crazy some might feel about Alibaba's opening price and run-up making this company worth more than many of the banks that brought it public, Newton pointed out that the e-commerce giant does have a more established track record than companies, such as when Twitter went public last year.
"If you look at history, such as Twitter in 2013, Facebook in 2012 and LinkedIn in 2011, shares in four of the five largest companies to list on U.S. exchanges, with exception of Visa, fell considerably in the year after floating," Newton said.
Meanwhile, Martha Stokes, chartered market technician and chief executive officer of TechniTrader, is concerned about Alibaba's growth in the long-term.
"Alibaba has been growing exponentially, and that's a big red flag," Stokes said to IBTimes. "How far can it go before it has reached market saturation? Also, China's GDP has been on a steady decline for several years and you have an aging population. There are some huge issues as to whether Alibaba can continue to grow exponentially," Stokes added. "But is the party already over before it gets out there?"
As China's population ages, an inverted pyramid is beginning to develop where there will eventually be more people over the age of 50 than under. Stokes said too few workers might be left supporting retirees.
"This means the consumer based economy will deteriorate because older people don't buy products like younger people," Stokes added. "Unless you have a younger population that's significantly larger like India, you can't have the exponential growth that you see in Alibaba right now. China is expected to invert in a few years."
Shares of Alibaba edged down 0.20 percent to $93.70 in after-hours trading.
© Copyright IBTimes 2023. All rights reserved.