Alison Lundergan Grimes 'Skeet Shooting' Ad: 'Mitch, That's Not How You Hold A Gun' [VIDEO]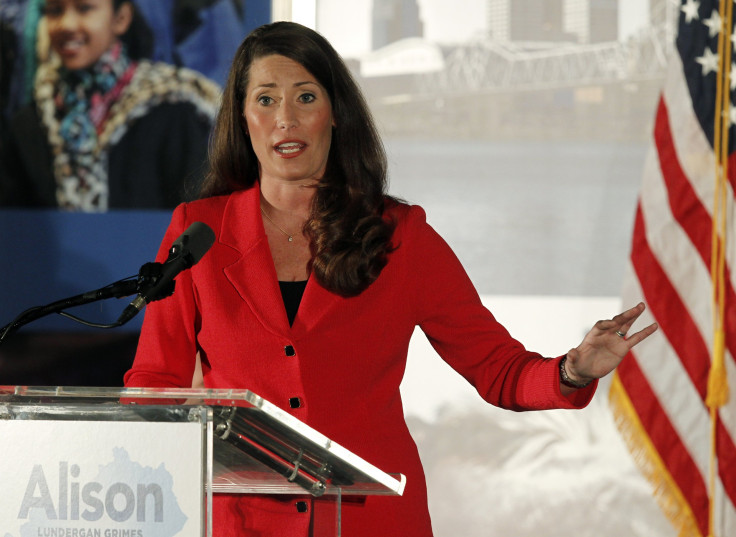 Alison Lundergan Grimes, the Democratic U.S. Senate candidate challenging Senate Minority Leader Mitch McConnell in Kentucky, came out swinging in a new ad against the Republican. Or came out skeet shooting, to be more accurate.
Grimes, who trails McConnell from anywhere between four and eight percentage points in the latest polls, mocked the Senate leader for mistakenly using footage of the Duke basketball team instead of the University of Kentucky in one of his ads. She also attempted to distance herself from President Barack Obama in her ad, titled "Skeet Shooting." Grimes, Kentucky's secretary of state, said she opposes the president on "guns, coal and the EPA."
"Mitch McConnell wants you to think I'm Barack Obama," Grimes says in a voiceover as she loads a shell into a gun and aims to skeet shoot. "Mitch is the same guy who thought Duke basketball players were UK., or who's attacking me on coal, after doing next to nothing while we lost thousands of coal jobs. He even said it's not his job to bring jobs back to Kentucky."
Grimes, holding a gun and wearing protective eye gear, then turns to the camera.
"I'm not Barack Obama. I disagree with him on guns, coal, and the EPA," she says, referring to the Environmental Protection Agency.
An image is then showed of McConnell holding a gun upside down at the Conservative Political Action Conference, or CPAC.
"And Mitch, that's not how you hold a gun," Grimes says. The ad was scheduled to begin airing in Kentucky starting Monday.
Check out the full ad below:
© Copyright IBTimes 2023. All rights reserved.