Is Allen Iverson Most Influential Player In NBA History?
NBA legend Allen Iverson continues to impact sports in various ways even after retirement.
Upon entering the league, Iverson instantly became one of the most sought-after NBA sensations and has become ultimately famous for revolutionizing the crossover move. His unique on and off-court personality has truly made him an influential sports icon.
Aside from taking the crossover move to another level, "The Answer" also started a trend in NBA – the in-game accessories. Back in 2000, the Sixers star appeared wearing a sleeve due to an arm injury. Since then, fans and other NBA players followed the trend. In fact, in 2015, 65% of NBA players wore at least one sleeve during game.
In his recent appearance on Complex's "Tunnel Takedown," Iverson looked back at how he changed the name of the game in terms of in-game fashion. According to the legend, he finds it crazy how the NBA implemented a dress code to get rid of his "hip-hop" inspired style, only for present-day players to get back to wearing whatever they like off the court.
"The crazy part about it is they put in a dress code but then after a while, everybody started going back," Iverson stated.
"I'm seeing dudes on the sidelines with blazers on with no shirt on," Iverson added.
Even now that he's officially retired, Iverson is still considered an impactful presence in sports. Just recently, Asian sports betting operator, Ballbet has announced Iverson as its new brand ambassador, Insider Sport reported.
Confirming the partnership, the firm emphasized that Iverson, one of the greatest basketball players with a distinctive style of play and a rich legacy, shares similar values as Ballbet.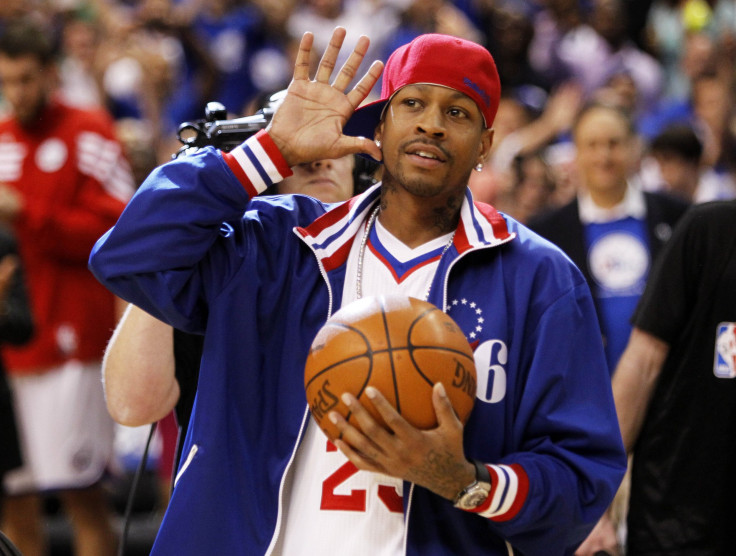 Inside the court, the 2001 MVP also played a huge role in the legacy of some of his peers. His 2001 NBA playoffs rival Vince Carter recalled how Iverson "brought the best out of him." According to "Vinsanity," he himself was a prolific scorer but Iverson was just on a different level.
"Going against him brought the best out of me. As far as that playoff series, it was probably one of the best in my career," Carter said about battling Iverson.
"I knew I had to score, and that didn't mean going shot for shot, point for point. Couldn't do that. Allen Iverson is Allen Iverson," Carter added.
Iverson's influence is still felt in the modern day NBA. In fact, Sixers guard Trey Burke once said that he is grateful to be compared to Iverson as the legendary Sixer is indeed one of the most influential athletes in the world.
"We couldn't believe what we were seeing, a six-foot guard winning MVP, winning scoring titles. It was influential, in my opinion he's one of the most influential athletes there ever was," Burke said about Iverson.
© Copyright IBTimes 2022. All rights reserved.
FOLLOW MORE IBT NEWS ON THE BELOW CHANNELS