Allen Iverson Suspended By Big3 For Absence, Pictures Showed AI At Chicago-Area Casino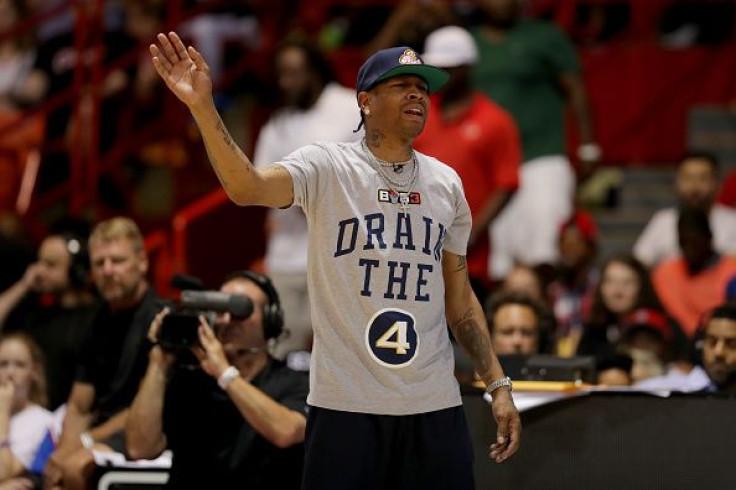 Allen Iverson, among the most high-profile names in the fledgling Big3 basketball league, was suspended by the league Wednesday for his unexplained absence from a Sunday game in Dallas.
Iverson, who serves as a player and coach for Three's Company, failed to give advanced notice for his absence. He issued an apology Wednesday in a statement on Instagram.
READ: Allen Iverson Skips Big3 Basketball Game, League To Investigate Absence
"First and foremost, I apologize to Ice Cube and my Big3 family, my fans and everyone disappointed by my absence in Dallas this past weekend," Iverson said. "I have spoke with Ice Cube directly regarding the details of my absence. I will do my best to make up for this moving forward on the Big3 tour."
The former Philadelphia 76ers superstar never explained why he skipped the game. Photos showed Iverson gambling in a Chicago-area casino on the night of the game, TMZ reported Monday.
After Big3 investigated Iverson's absence, it announced a one-week suspension. He will miss a game in Kentucky this weekend.
The 42-year-old may be skating on thin ice with fans and the league after missing a highly anticipated Philadelphia homecoming game on July 16. Iverson disappointed fans when the league announced he wouldn't play, just minutes before tip-off.
Rapper Ice Cube, the league's co-founder, issued a statement ensuring the league takes Iverson's actions seriously.
"Well, we talked about holding up the legitimacy of the league and he knows that him not showing up hurts us," Ice Cube told USA Today on Wednesday. "Who's happy to be suspended? Nobody. But he understands that it's a necessary step in the development of the BIG3 who don't believe what we're doing and what we're going to do in the future. Our league is bigger than one man, and we've got Hall-of-Famers, champions, All-Stars, first-round picks, and we have to think about them. He understands that."
Ice Cube added, "We don't want to be a league of nostalgia and not a league of competitive basketball. Just with the names we have, nostalgia comes with it. But getting these guys to play hard is key."
READ: Allen Iverson Disappoints Philadelphia Fans During Big3 Homecoming Game
Iverson was among the biggest additions to Big3's three-on-three tournament. But he hasn't played much, suiting up for just three of his team's six games. He played a total of just 27 minutes, scoring just six points.
Ice Cube and entertainment executive Jeff Kwatinetz co-founded the league in January. The league announced their 3-on-3 tournament would comprise of mostly retired NBA stars with Iverson considered among the most well-known names.
The Big3 league consists of eight teams play each other in different cities. The league instituted an eight-week regular-season schedule, where all games are played on a Sunday, with a week off between games.
© Copyright IBTimes 2023. All rights reserved.