Amazon Forest Fire Threatens Indigenous Lands In Brazil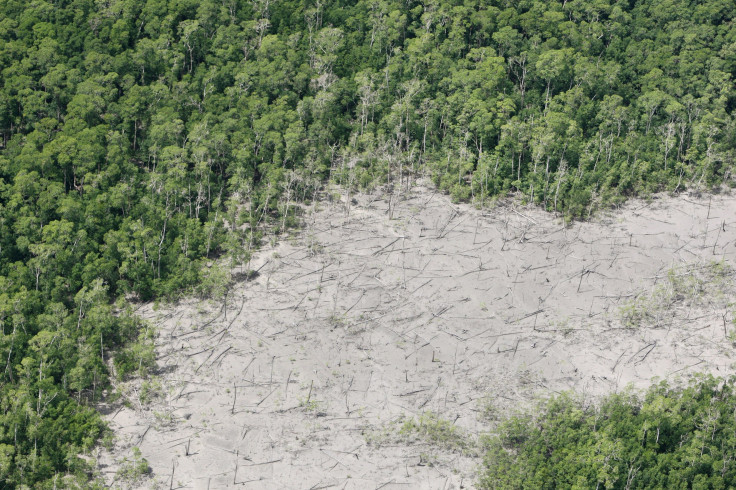 A massive wildfire has been raging in the northern Brazilian state of Maranhão for nearly two months, ripping through some 734 square miles of Amazonian forest and threatening indigenous communities and an uncontacted tribe, the Guardian reported Friday. The local and state governments have declared a state of emergency as more than 250 firefighters have taken to the Indigenous Territory of Arariboia to battle the blaze that has surrounded the Guajajara indigenous communities of 12,000 people.
The 80-member Awá-Guajá uncontacted tribe is also thought to be in danger from the flames. "This is certainly the biggest fire we have seen in recent years," Gabriel Zacharias, fire combat coordinator of the Brazilian Institute of the Environment and Renewable Natural Resources, told the Guardian.
The area has seen long-standing conflict between the indigenous communities and illegal Brazilian logging companies, who have been responsible for much of Maranhão's deforestation. Activist organizations such as Greenpeace have speculated that loggers ignited the forest fire deliberately as punishment for the local tribespeople's efforts to defend their land.
"Illegal logging in indigenous lands is happening all over Brazil. And as indigenous peoples take measures to stop it, retaliation — like violence or starting fires in the forest — grows," Greenpeace activist Danicley de Aguiar told Phys.org. "Beyond putting out the fire, the main worry is guaranteeing the survival of these peoples."
Critics have claimed that the illegal logging is largely due to Brazil's lack of an effective policy to protect indigenous lands. Protestors confronted President Dilma Rousseff last week at the opening of the Indigenous Games in Palmas over a law under discussion that would give the Brazilian Congress the power to delineate the borders of indigenous lands. The communities have argued that such a law would strip their government bodies of authority and instead transfer it to Brazil's notoriously corrupt government.
© Copyright IBTimes 2023. All rights reserved.